Summary :
Do you know how to get Netflix on Switch? A large number of people are searching for answers to the question. If you don't clear about it either, you can refer to this full guide from MiniTool to watch Netflix on Switch.
Can You Watch Netflix on Switch
Netflix is available for platforms like Android, iOS, Windows, and various streaming devices such as Nintendo Switch, Firestick, Roku, etc. However, Netflix is not available for Switch. So, you can't watch Netflix on Nintendo Switch in theory.
Tip:
1. Nintendo Switch supports a few streaming services like YouTube and Hulu on it, but Netflix is not included. It indicates that you can't go into the Nintendo eShop and download a Netflix app. Additionally, you can't watch Netflix by using the console's web browser.
2. Netflix is supported by Nintendo's 3D family including New Nintendo 3DS, Nintendo 2DS, New Nintendo 3DS XL, Nintendo 3DS XL.
Though the two firms have cooperated before with other Nintendo hardware to bring Netflix to other Nintendo platforms like Wii U, no official words from either company stating that Netflix will come on Switch.
Even so, millions of users have already watched Netflix on Nintendo Switch. How to watch on Netflix on Nintendo Switch? To obtain the detailed information, keep reading the content below.
You may also like: Discord on Xbox One (How to Get It and Use It on Xbox)
How to Get Netflix on Switch
The process to get Netflix on the Switch is complicated, so you need to read the step carefully before starting. Then follow the given steps to get Netflix on Nintendo Switch via TV.
Step 1: Open up the back cover of the Nintendo Switch dock.
Step 2: Connect the USB plug from the Nintendo Switch to the AC adapter, and then connect the other end of the AC adapter to a wall outlet.
Step 3: Now, plug one end of the HDMI cable into the terminal of HDMI OUT and connect the other end into an HDMI port on the television.
Step 4: Switch on your TV and select a correct HDMI input.
Step 5: Launch Nintendo Switch on TV and open home menu with the login credentials.
Step 6: After accessing the home screen, pick the e-shop icon.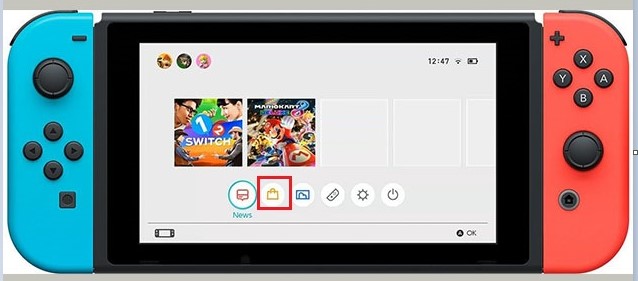 Step 7: Choose the box next to the search box to obtain the on-screen keyboard.
Step 8: Type Netflix in the search box and click OK.
Step 9: Click on Netflix app from the listed search results.
Step 10: Install Netflix and sign in with Netflix ID to enjoy streaming on Nintendo Switch.
Alternatively, you can also watch Netflix on Switch by using the following steps.
Step 1: Move to the home screen of Nintendo Switch and choose the e-shop icon.
Step 2: Click on the Menu button from the upper right of the touch screen.
Step 3: Choose the Search option.
Step 4: Select Add Search Filters and pick the standards like Platform, Genre, as well as Publisher and Price.
Step 5: Pick the specific filter and click on Apply Filter.
Step 6: Choose Netflix from the listed search filters and then install it on Switch.
Apart from the above methods, you can get Netflix on Switch via Android as well. For that, you are required to install Android OS on Switch first. You need to note that this operation can void your warranty. Think twice before executing the operation. After that, you can download Netflix, Spotify, Twitch, and other services on the Switch.
Note: The battery life of Switch can be affected and Joycons might not be compatible with all applications.
Also read:
How to Unban Someone on Discord? Read This Guide
How to Change Xbox Gamertag on Different Devices? Here's a Guide