Have you encountered the "Imm32.dll is missing" error on your computer? The Imm32.dll missing error is one of the most common errors faced by Windows users. How to fix this error? Well, this article from MiniTool Partition Wizard shows you how to do that.
What Is Imm32.dll
The Imm32.dll file is associated with Microsoft Windows Input Method Manager. DLL files control various input methods, including typing commands from your mouse/keyboard on your computer and translating them into actual processes on your device. Like other DLL files, it can be helpful for your Windows PC.
Without it, your computer might not be able to access certain files and throw you errors like imm32.dll is missing.

What Causes Imm32.dll Missing
Your computer can not find imm32.dll for a variety of reasons:
Malware Infection: When your computer is infected with a virus or malware, it can result in DLL corruption or deletion.
Accidental Deletion: If you uninstalled a program that used the Imm32.dll file, the file might have been deleted.
Bad Sectors on Hard Drive: Bad sectors on a hard drive can cause many problems, one of which can be missing DLL files.
Corrupted DLL file: If the DLL file is corrupted, you may not be able to use the file. Therefore, you may encounter the "Imm32.dll is missing" error when you try to start an application or game that uses DLL files.
How to Fix Imm32.dll Is Missing
Here we summarize several ways to solve the Imm32.dll not found problem. You can try them one by one until the error gets fixed.
Way 1: Run a Malware Scan
Imm32.dll missing can occur when your computer is infected with a virus or malware. To remove infections from your computer, you need to run a malware scan with a reliable antivirus tool.
Step 1: Type Windows Security in the Search box, and then click Open.
Step 2: Go to Virus & threat protection and click Scan options.
Step 3: Select Full scan and click Scan now. Then it will scan your PC to find if there is a malware infection.
Way 2: Restore the Imm32.dll File
If you accidentally delete the Imm32.dll file, you can open Recycle Bin and see if the Imm32.dll file is in it and restore it. Alternatively, you can use a free data recovery program to recover the lost Imm32.dll file if you emptied the Recycle Bin.
Way 3: Check Bad Sectors on Hard Drive
As mentioned above, bad sectors on the hard drive may cause the Imm32.dll missing. So, you should check if there are bad sectors on the hard drive. If yes, you should remove the bad sector.
To do so, you should try a professional partition manager called MiniTool Partition Wizard. It is designed to deal with a lot of disk and partition matters. For example, it can be used to test disk speed by the Disk Benchmark feature.
Here is a full guide as follows:
Step 1: Download and install this software on your computer. Then run it to get its main interface.
MiniTool Partition Wizard FreeClick to Download100%Clean & Safe
Step 2: Select the target hard drive and select the Surface Test feature from the action panel.
Step 3: Inside the disk Surface Test window, click on the Start Now button.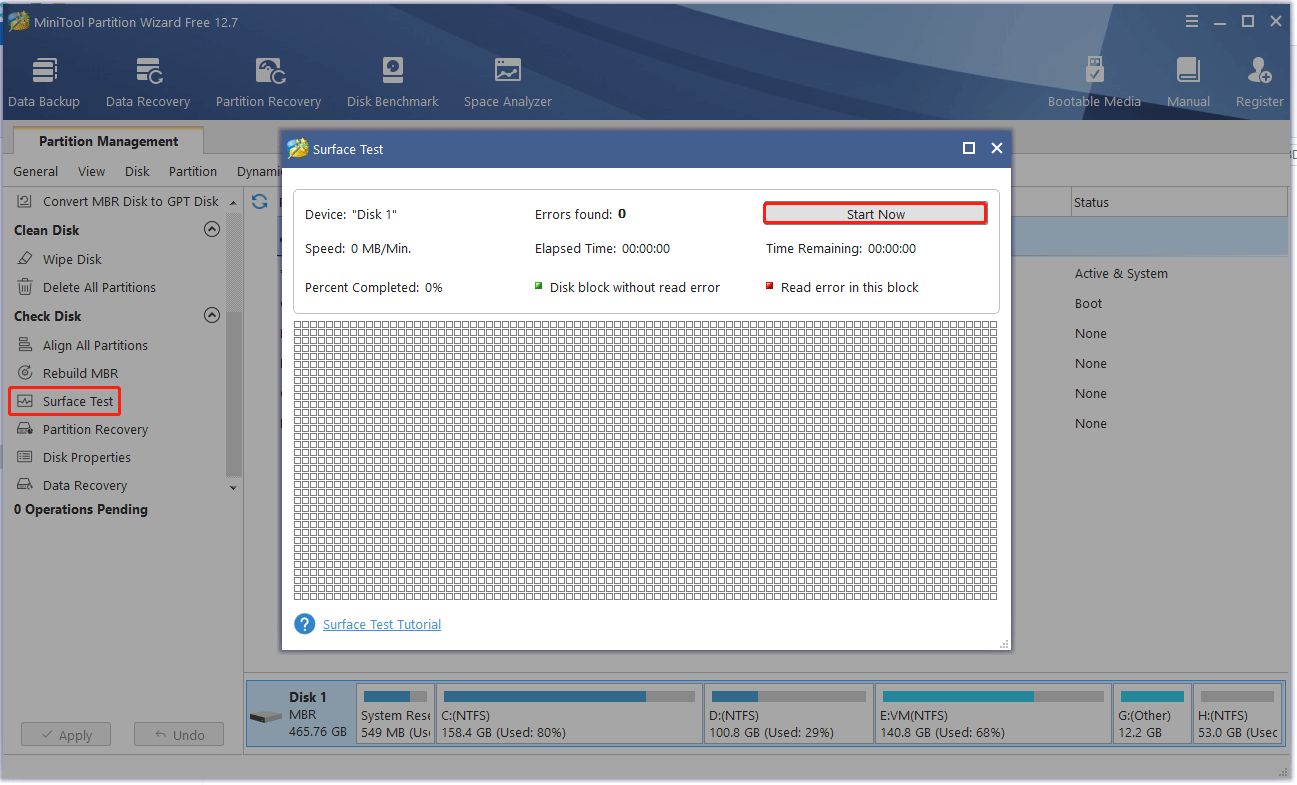 Step 4: Afterwards, the program will automatically detect the hard disk and display the detection results. If there are bad sectors on this disk, the disk blocks will be marked in red. Conversely, disk blocks without bad sectors will be marked green.
If your hard drive has bad sectors, you can read this post to remove bad sectors from the hard drive.
Way 4: Copy the IMM32.dll File from Another System
If the imm32.dll file is corrupted, you can resolve the issue by copying this file from a computer with the same operating system and pasting it to your computer.
Imm32.dll files are usually stored in C:WindowsSystem32 or C:WindowsSysWOW64 location.
Way 5: Reinstall the App
If you encounter the "imm32.dll is missing" error while opening any program. This means that the program is corrupted and causing the imm32.dll error. In this case, uninstall and reinstall the specific application causing the error.
In addition to the ways above, you can try the following solutions: