If you have issues with lag when playing online games – other gamers appearing, disappearing and constantly jumping around, it could be caused by the high ping. So, how to fix high ping? Here, MiniTool will offer you the reasons for the high ping and solutions to lower your ping.
What Makes the High Ping
Before answering the question "what makes the high ping", you need to know what does the ping means. Ping refers to a network utility indicating the signal sent out across the Internet to another computer and then that computer will send back its own signal.
This signal is measured by milliseconds in order to let you know the time of sending a data package from a computer to the Internet Server and returning back. You may ask why my ping so high is. Here are 5 main factors.
Internet service provider quality
Internet connection speed
Inadequate bandwidth
Configuration of firewalls
Geographical location
Once you get the high ping, the online game cannot respond quickly or the page fails to load. That will affect your game experience seriously.
If you are a gamer, you may be also interested in this: How to Get Red Dead Redemption 2 PC Recommended Disk Space
How to fix high ping? Here are some effective solutions that can fix the high ping. Keep reading the article to lower your ping.
Fix 1: Close Bandwidth Hogging Applications
As Bandwidth hogging applications slows down your network, the high ping issue occurs in your game. You need to remember to close the resource-hungry applications running in the background before booting LOL. Here is the answer to how to fix high ping.
Step 1: Open the Run dialog window by pressing Win plus R keys, and then type resmon and hit Enter.
Step 2: Click the Network option in the pop-up Resource Monitor window. Then observe the Total volume. You will know what programs are occupying most of your network resources in this way.
Step 3: Right click the application that uses much of your bandwidth, and then select the End Process option from the function menu.
Tip: Make sure you select a right program to end. Don't shut down the process that you are not acquainted with.
Step 4: Click End Process in the pop-up checkbox. Then check whether the high ping is solved or not.
Fix 2: Disable Windows Auto-Updates
Windows will update automatically even without your permission, and thus the updates may be running in the background while you are playing game. As you are unable to pause the update that already started, you may have a bad online game experience due to high ping. How to fix high ping?
Disabling Windows auto-updates helps, and there's how to do:
Step 1: Open Settings, and then navigate to Update & Security. Click Windows Update in the left action panel, and then scroll down the right side of the page to click on Advanced options.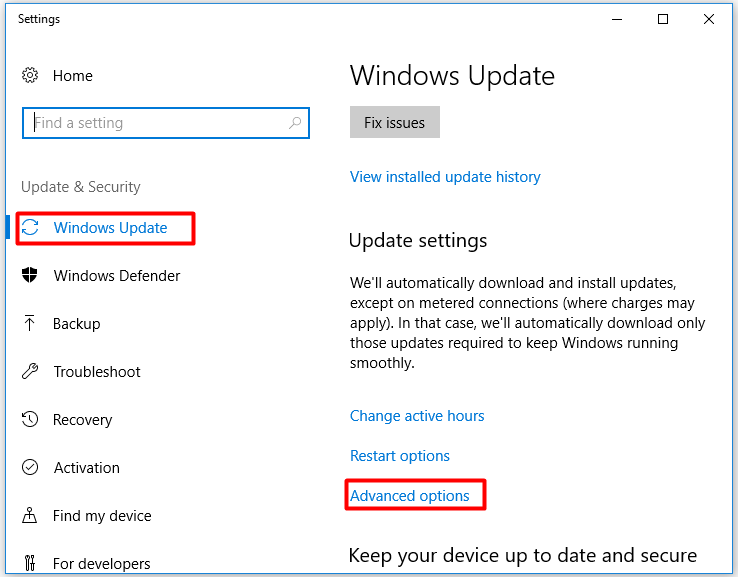 Step 2: Find and click on Delivery optimzation in the pop-up page.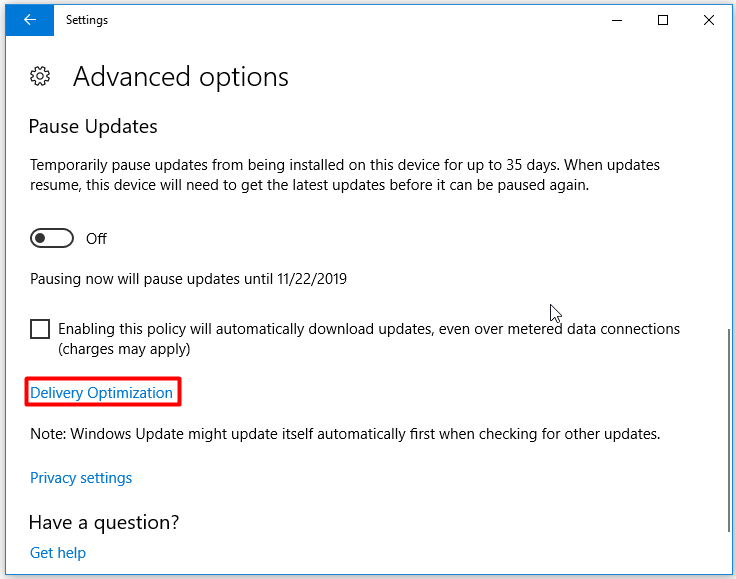 Step 3: Click Advanced options from here.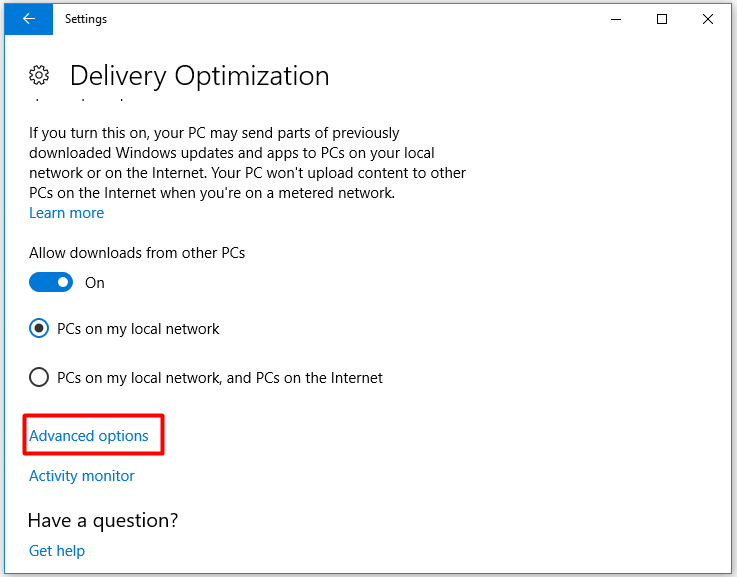 Step 4: Check the two settings as the picture shows, and then drop down the upload and download bandwidth percentage to 10%.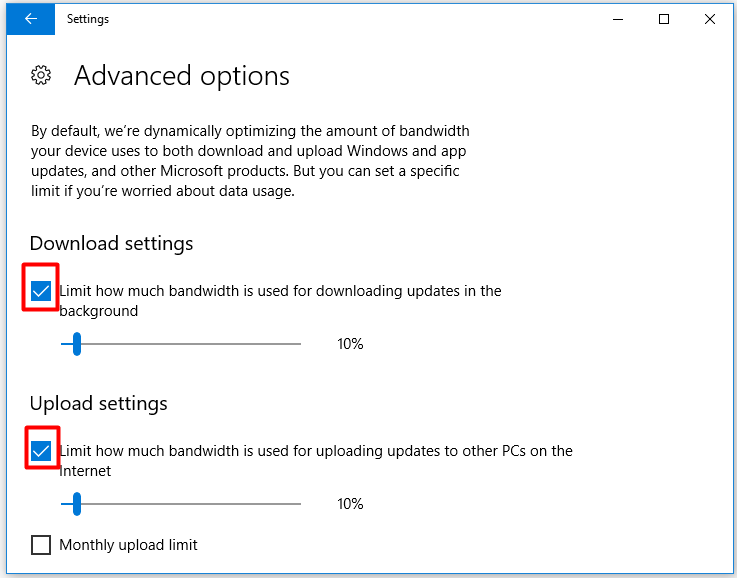 Alternatively, you can choose to inform Windows that your network is metered. That is to say you need to connect to another Wi-Fi or turn the metered connection off to download Windows update.
Follow the path below to finish the operation.
Open Settings > Network & Internet > Ethernet > Set as metered connection.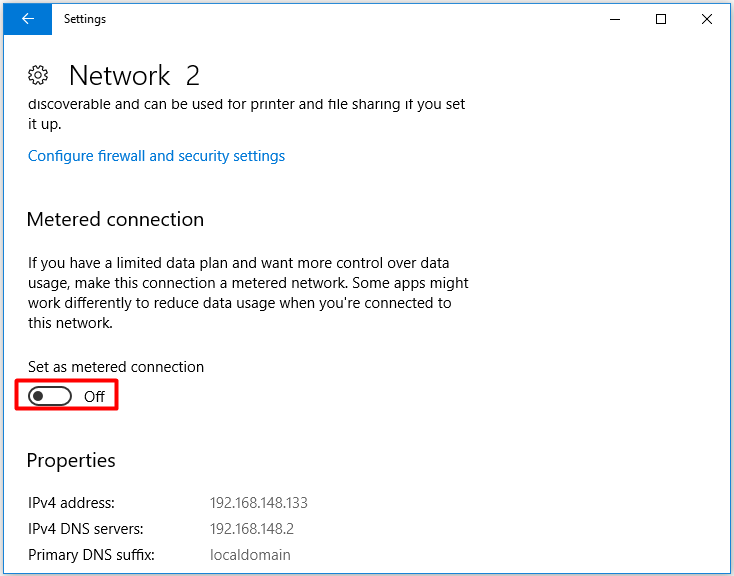 You may also be interested in this: Top 5 Internet Usage Monitors in 2019 [Pick One Randomly]
Fix 3: Swap Wi-Fi to an Ethernet Connection
There is no denying that wireless network is not as stable as wired network. When your computer connect to Wi-Fi, you will obtain more interruption. For instance, when you play LOL in a room far away from the router, the received Wi-Fi signal would be very weak and hence the high ping issue happens.
How to lower ping? Try swap Wi-Fi to an Ethernet network. You can finish this switch in Settings easily. However, this method is not suitable for all users. Alternatively, you are able to buy a powerline Ethernet adapter extending the reach of your home network to places with poor wireless coverage.
Top Recommendation: Xbox One Won't Connect to WiFi? Try These Fixes Now!
Fix 4. Update Network Drivers
It is always a good idea to have the latest network driver that works with your current version of Windows. Driver Easy Pro can detect all outdated drivers and update them with just one click. Here is the guide: 
Step 1: Install Driver Easy and launch it. Click the Scan Now button.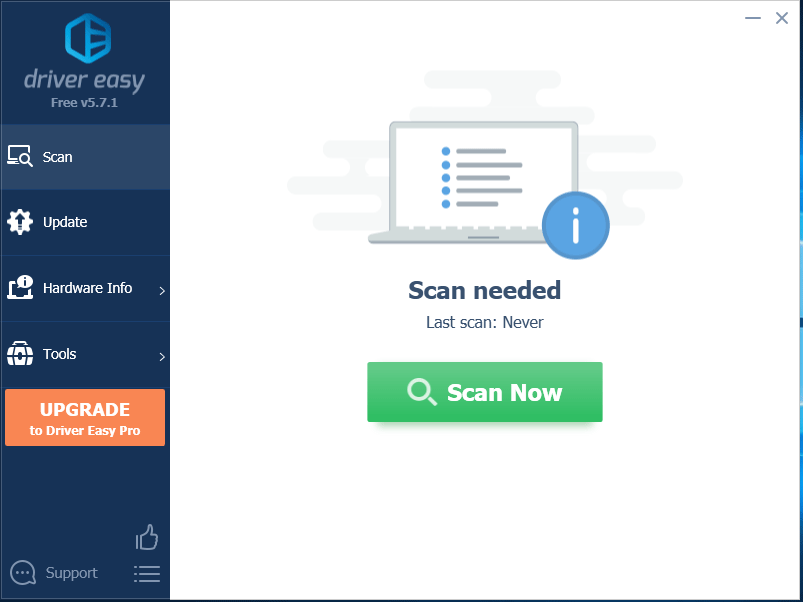 Step 2: After the scanning process is completed, click the Update All button to download and install the latest drivers for all devices with outdated drivers.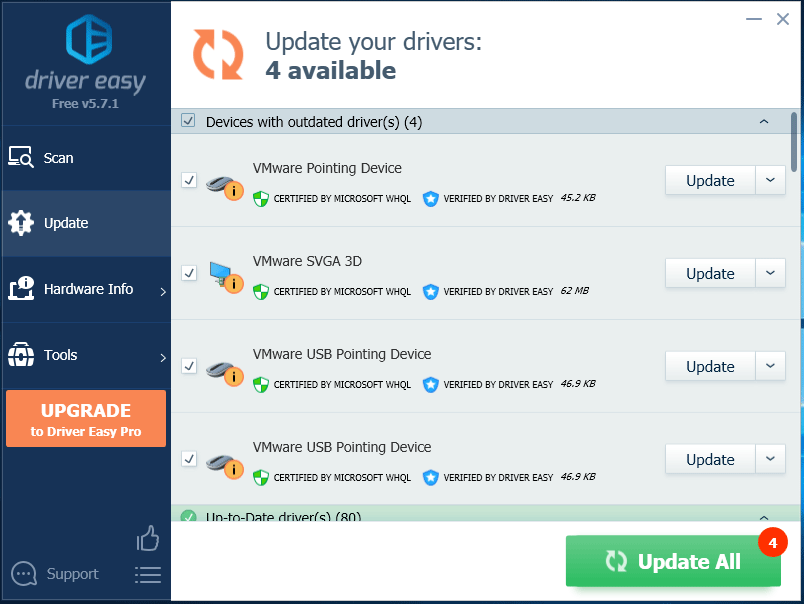 When the network issue is solved, your high ping may also be fixed too. How to reduce ping? How to decrease ping? The above are the answers.