Discord is a popular communication app, which is beloved by numerous people especially by gamers. It provides users with a lot of bonus and options. Actually, Discord is a place where game players can coordinate the use of private servers that come with voice-chat and text options. When you play the favorite game, the Discord will work in the background.
Generally speaking, Discord can recognize newly installed games and show them in the Library section. However, not all the games will be installed on Discord automatically. Instead, you need to install the game by yourself. How to add games to Discord library? If you don't know how to do that, move to the next section.
How to Add Games to Discord
It is very easy to add games to Discord. In fact, each time you install a game on your computer, it will be added to the library of Discord. If you install Discord for the first time, the moment you first launch the program then the games will appear.
Since Discord doesn't recognize certain games, you might not see the older games (or the newer games) that are installed on your computer in Discord. However, what game is going to be supported and what game will not be supported are not clear.
So, if you don't see the game in the Library section of Discord, it indicates that the game probably is not supported. You can check it with the following steps and then follow the tutorial.
The tutorial on how to add custom games to Discord.
Step 1: Launch Discord app and go to the Home tab in the upper left corner of the Discord.
Step 2: Click on Home tab and choose Library option from the prompted menu.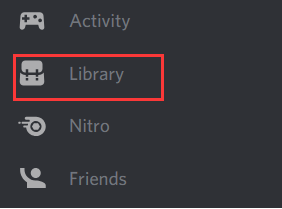 -image from discord.com
Step 3: Then you will see all the installed games. If you don't find the game that you would like to play, add it manually.
Step 4: Back to the main interface, and then click on User Settings option at the bottom left corner of the main interface.
Step 5: Click Game Activity tab in the left pane and click Add it option. Then search for your game. Once you find it, choose it. Then, it will run automatically.
How to Enable Game Activity
How do I enable game activity on Discord? You may have such doubt if you want to stay connected with others. It is because that other games can see the status (including the time you spent playing the game, active or not, profile) of yours once you have enabled the game activity.
How to enable it? Here are steps for you.
Step 1: Launch Discord to enter its main interface, and then click User Settings option to continue.
Step 2: Then click Game Activity under the Settings menu. Then turn on the Display currently running game as a status message option. Then the game activity will be enabled.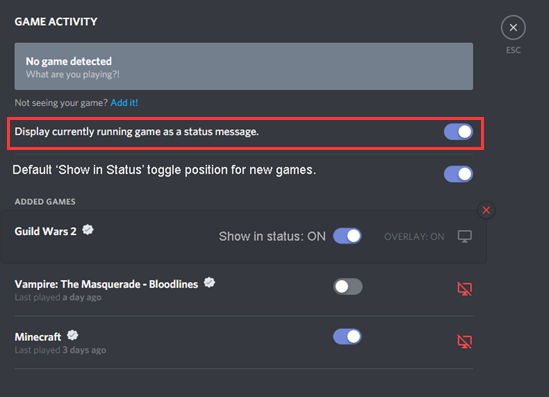 -image from discord.com
Further reading:
Discord offers you 4 online status cases (online, idle, do not disturb, and invisible). You can set to the specific status according to your demand. Right click your avatar in the Discord client and choose a status. You are required to change it manually when you need to. This case usually happens when you restart Discord as the status will go back automatically.
Are you still bothered by how to add games on Discord? This post shows you all the details. Add games with this guide now!