Recently, Windows 10 May 2019 update is hit by the high CPU usage bug again. Microsoft has confirmed the IME high CPU usage on certain Windows platforms and provided a workaround as well. In this post, MiniTool software brings detailed information about this bug for you.
Details about High CPU Usage Bug Due to IME
Recently, plenty of users reported that the IME consumes high CPU or fails to launch after they applied Windows 10 KB4515384 update.
Further reading:
KB4515384 is Microsoft's latest Cumulative Update that has been pushed to PCs running the Windows 10 May 2019 Update (1903). According to the report, Windows 10 KB4515384 update has caused adapter failure, bugs on Search / Start / USB and Audio and other problems.
Windows Input Method Editor, commonly abbreviated as IME, is an operating system component or program that allows any data to be received as input. With this tool installed in Windows, users can enter characters and symbols not found on their input devices, such as complex characters in Asian languages.
A user has written on Microsoft's Feedback Hub About IME high CPU usage bug in this Windows Cumulative update this time:
"The input method was failed to launch after installing the patch, and there was no way to get it fixed. Eventually, I uninstalled this update, and the IME successfully came back. FYI, I use multiple IMEs on my PC, and all of them were down after the update. So, I assume this issue is not limited to occur with a specific language in the IME."
Luckily, Microsoft has been aware of unresponsive IME or high CPU usage caused by IME. According to the statement of the company on the official website, this bug is confirmed and the affected IMEs include Chinese Simplified (ChsIME.EXE) and Chinese Traditional (ChtIME.EXE) with Changjie/Quick keyboard.
The high CPU usage bug due to IME can appear on particular Windows versions. The affected platforms including:
Client: Windows 10 version 1903/1809/1803/1709/1703/1607; Windows 10 Enterprise LTSC 2019/2016.
Server: Windows Server version 1903/1809/1803/1709/2016; Windows Server 2019
Workaround for Fixing This Bug
It is good news that Microsoft is "investigating an issue where some Input Method Editor (IME) may become unresponsive or may have high CPU usage".
What's more, Microsoft has also updated the support document to detail a workaround for fixing high CPU usage bug due to IME. If your Windows 10 PC is affected as well, you can follow the steps below to fix it.
Step 1: Open your Cortana and type Services in the search box. Then click the search result from the appeared list to get the main interface of the Services app.
Step 2: Among the listed items, just locate Touch Keyboard and Handwriting Panel Service under Name column. Then right-click this service and select Properties from the context menu.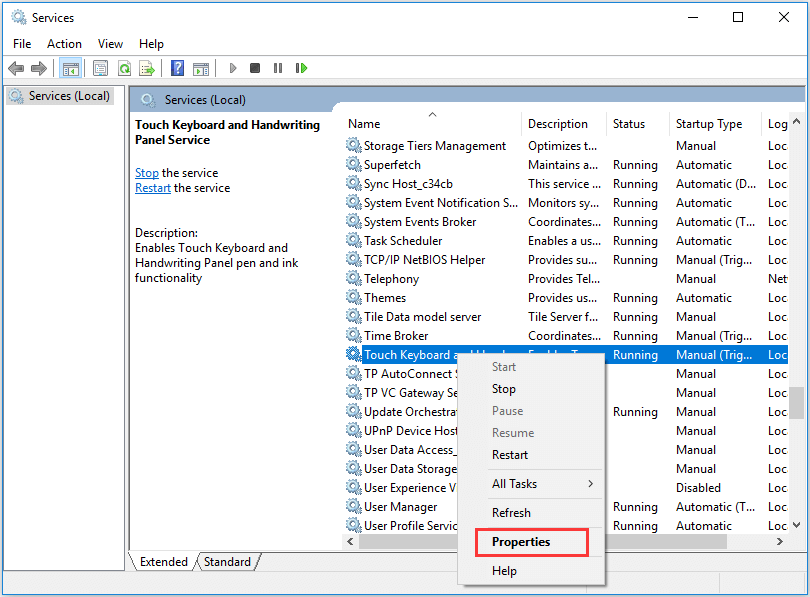 Step 3: In the pop-up window, go ahead to the General tab. Then, locate Startup type and choose Manual from the drop-down menu. Finally, click on Apply button and then the OK button.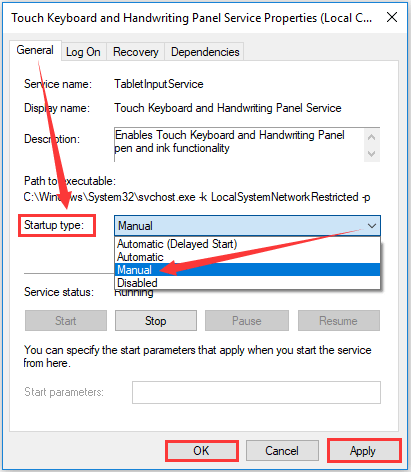 After finishing this operation, the specific service should be in the default configuration, restricting your device from automatic running. The Input Method Editor should work as expected and remove the high CPU usage bug due to IME.