Have you encountered problems after installing the update KB4515384? Read this post to know more about KB4515384 and get some methods to fix the related problems. In addition, with MiniTool Partition Wizard, you can fix some problems occurring after this update.
KB4515384
On September 10, Microsoft released another update, KB4515384 (OS Build 18362.356), to solve the high CPU usage caused by SearchUI.exe. In addition, this update also included protections against security vulnerabilities and security updates for the Microsoft Edge browser and other applications.
Unfortunately, this update also triggered some problems. For example, it caused new search problems, broke the Start menu, Action Center and USB connections, and also caused audio problems.
Further Reading:
On August 30, Microsoft released an update, KB4512941 (OS Build 18362.329), which aims to resolve problems such as high CPU usage caused by switching applications, an issue that certain games are prevented from leveraging Spatial Audio capabilities, blank tiles appearing in the Start menu, etc.
However, this update also triggered two problems. The one is that the resulting images may have an unnatural orange tint when you create screenshots or use similar tools, which is caused by the Eye Care mode feature of Lenovo Vantage.
The other problem is that a small number of users may not receive results when using Windows Desktop Search and may see high CPU usage from SearchUI.exe. This issue only occurs on devices that have disabled searching the web using Windows Desktop Search.
Note: Some users report that this update also breaks the Cortana/Taskbar Search function.
How to Fix These Problems Caused by KB4515384
Bug 1. Windows 10's Start menu stops working
Some users encountered broken search function problem after installing the latest update. Therefore, one affected user quipped that "Typical Microsoft, fixes the CPU usage by completely breaking search so it can't even be used."
In general, Windows 10's Start menu stops working with the following two errors:
We'll try to fix it the next time you sign in.
Critical Error – Your Start menu isn't working.
Users on Reddit have suggested fixes for the Start menu issue, including creating a new local account and deleting the old user profile, as well as using the Registry Editor.
If you use the Registry Editor, you should locate the HKEY_CURRENT_USERSoftwareMicrosoftWindowsCurrentVersionSearch folder, then find the CortanaConsent entry and change the value for this entry from 0 to 1.
Bug 2. Action Center and USB problems
Apart from the above problem, some users also reported that the Action Center in Windows 10 can't be opened anymore, or the USB HID device is no more recognized, after installing KB4515384. If the Action Center can't work, you can try uninstalling the update. If the USB device is not recognized, you should try methods shown in the following post first.
Bug 3. Audio problem
This update breaks more than action center. Users reported that this cumulative update broke down audio or reduced the volume when playing games. If so, you can try changing Windows Audio format to 16 bit (DVD quality) according to the following steps:
Right-click the Sound icon on taskbar and Sounds
Skip to Playback tab and double-click the Speakers
Go to the Advanced tab and change the setting to 16 bit (DVD quality).
Click on OK to apply changes.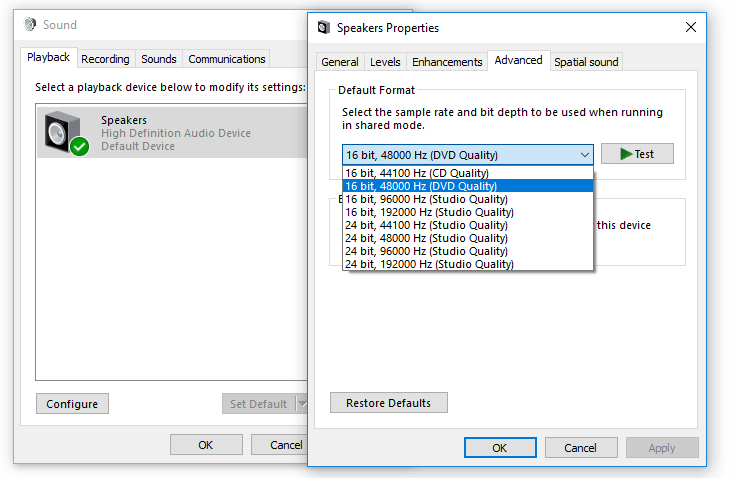 If you want to uninstall KB4515384 to get rid of all the above problems, you can refer to the following steps:
Open Start menu and navigate to Settings.
Click on Update & Security and navigate to Windows Update
Click on View update history > Uninstall updates, and choose the update. In this case, you have to select KB4515384.
Click on Yes when asked and restart your device.
Although Windows users are always industrious and some have found workarounds for these issues, they wait for an official fix. Fortunately, Microsoft says they are investigating the issue and a fix will be included in the upcoming release.