Nowadays, more and more people have upgraded from Windows 7/8 or other system to Windows 10 as this system is quite excellent. But you can improve Windows 10 experience with free tools, like MiniTool Partition Wizard.
How to improve Windows 10 experience? You can try the following free tools for improving Win 10 experience. Some of them come from Microsoft Store and one of them comes from third party.
Recommended Free Tools From Windows Store
Have you ever downloaded apps from Microsoft Store? Microsoft Store offers various free apps for you. Some Microsoft Store's useful tools as discussed below can improve your Windows 10 experience.
TranslucentTB
Have you ever tried to make your taskbar become transparent completely with Windows Registry Editor? If yes, you failed with no doubt.
Here I recommend TranslucentTB for you. It is a free, lightweight and open-source app.
With this app, you can make your taskbar become completely transparent and make only your pinned apps show up against your wallpaper. The function of this app sounds great. How to use this app? You can refer to the guide.
EarTrumpet
The 2rd recommended tool from Windows Store is EarTrumpet. This app replaces the existing volume mixer in Windows 10 completely. It is compatible with all versions of Windows 10, including the S mode.
With this app, you can adjust the volume level for each app. I think this function is so attracting that you want to get it from Microsoft Store.
Furthermore, EarTrumpet supports hotkey. This means that you can change the volume with keyboard shortcuts.
How run this app? You can right-click the icon of the app that is next to the sound icon in the system tray.
QuickLook
QuickLook is also one of the free tools for improving Win 10 experience. This app brings macOS's Quick Look Feature to Windows 10. This means that this app provides a very quick preview of file content just by pressing the Spacebar. That is time-saving. But large files may take extra few seconds to load.
Xpo Music
How long you listen to music with your computer? If you are a music fan, I recommend Xpo Music for you. This app is different from Spotify app as it does not have a side-bar with too many options. The app provides your music choices the priority.
Recommended Free Tool From Third Party
The free tools from Microsoft Store you can use to improve Windows 10 experience have been introduced. Now, I want to recommend a tool from third party. That is MiniTool Partition Wizard.
MiniTool Partition Wizard is a third-party program. This program is free and 100% clean. Until now, it has over 70,000,000 fans. With it, you can manage your disk and partition more easily and keep your system optimized.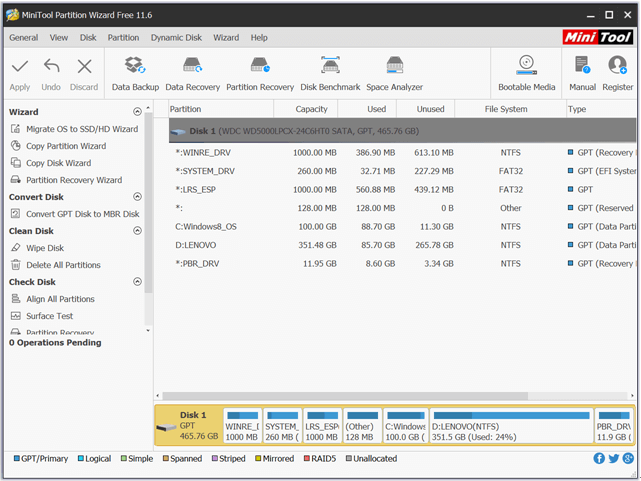 Although Windows 10 is the safest operating system till now, there is still a risk that your data is under threat. In case something bad happens, you can back up your system effortlessly with MiniTool Partition Wizard.
I Want Your Voice
All the recommended free tools for improving Win 10 experience have been displayed. Your opinions are quite important, so do not hesitate to share your experience with us after using TranslucentTB, MiniTool Partition Wizard, or other tools. You can write down your opinions in the following comment.