Do you know a little Linux desktop distribution called Deepin? It has been chosen by Huawei to ship on their MateBook laptop lineup. In addition, the Deepin Cloud Sync is also a killer and forward-thinking feature that every Linux distro needs to adopt.
Looking toward 2020, Deepin is poised to be absolutely stunning. If you haven't been paying attention to it, you should put it on your radar from now.
Deepin Features
Deepin has a slide-out control center that resembles something sexy and sensible straight out of the future. The control center seems like the following picture: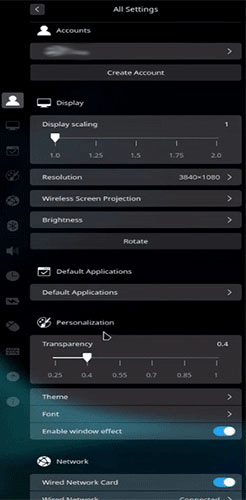 In addition, Deepin has a beautiful desktop environment that outclasses Windows 10 and macOS. Every senior computer user may admire it as an elevated Desktop Linux distribution and salivate over it. It's not only elegant, but also boasts "wow factor" that makes using it to be exciting and not merely a daily necessity.
The Deepin desktop is shown like the following picture:
On the whole, the UX of Deepin is more intuitive and more enjoyable than macOS and Windows 10. However, if you are not accustomed to the Deepin desktop, just through a quick setting, you can transform Deepin to resemble the traditional Windows or macOS desktop paradigms that you're already comfortable with.
Deepin v20
Recently, the Deepin Linux Youtube channel quietly released a preview of its Deepin v20 Launcher (just one component of the forthcoming OS), and it's bound to turn some heads.
Apparently, the Deepin developers have devoted most of 2019 working on the upcoming version, Deepin v20 beta, expected to be released in November. In this tease video before that release, from the category-driven app browser and animations, to the basic desktop layout, things appear quite polished already.
Deepin has extended beyond being a Linux distribution. It has been integrated into openSUSE, Manjaro, Gentoo, Fedora and Ubuntu among others. At the same time, it's also a standalone desktop environment that you can install on top of any current Linux distribution.
If you're feeling adventurous, give it a spin. You can't grasp how slick Deepin is until you run it on your PC. Fortunately, it's available in English and 31 other languages. Just have a try!
It can be said that Deepin's every element is thoughtfully designed, up to and including the wallpaper chooser, even Deepin's system monitor app is gorgeous. 
There's not much information about Deepin v20. What we do know is that it will be released in some iteration this November and will almost certainly be based on Debian 10.
However, it's very possible that the released version in November is an early developer / beta preview, since Deepin's major version numbers usually correspond to the initial year released (Deepin 15 = 2015, Deepin 20 = 2020).
Before the release of Deepin 20, you can install Deepin 15, which has seen eleven updates since launching. All of these updates have introduced noteworthy features and improvements to an already polished desktop OS.