Netflix is a service allowing you to watch TV shows, movies, and anime online. To use this service, you need to subscribe to certain plans with your account. It would be trouble if you forgot Netflix password of the account. To solve the problem, you might need to change Netflix password. In this post, MiniTool Partition Wizard introduces a detailed tutorial.
Netflix, a subscription-based streaming service, provides online streaming from a library of films and television series. This service is available on various devices, including smart TV, game consoles, computers (Windows and Mac), etc.
When you used the service for the first time, you had to create a Netflix account with an email or phone number. After that, you need to input your email or phone number and the password to access your Netflix account.
If you forgot Netflix password, you are unable to sign in and enjoy your subscribed services. To solve the problem, you can change your password.
How to Change Netflix Password
To change Netflix password, here are three optional methods.
Method 1: Netflix Change Password by Email
An easy way to change Netflix password is to ask Netflix to send you an email for resetting the password. And here are the detailed steps.
Step 1: Launch a web browser and visit the official website of Netflix.
Step 2: On the sign-in page, click the hyperlink Need help.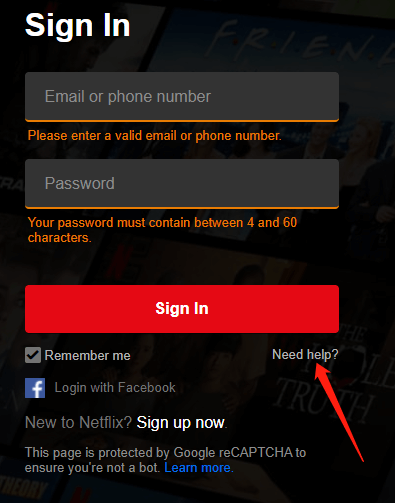 Step 3: On the next page, select the Email option and input the email address that you use to create the Netflix account in the box. Then click the Email Me button.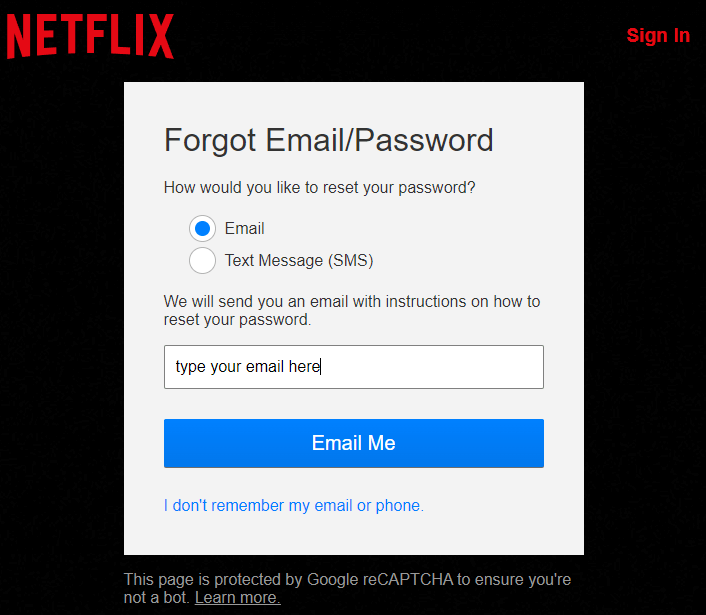 Step 4: When you see the following Email Sent screen, check your inbox and open the email from Netflix.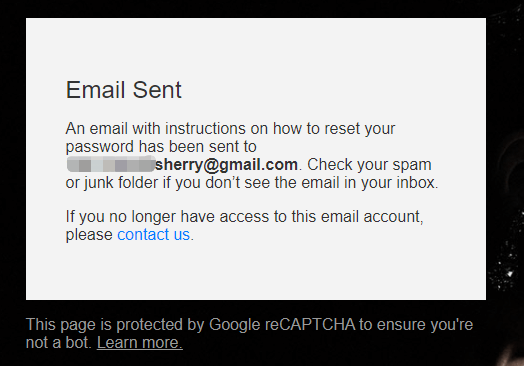 Step 5: Click the Reset Password button.
Tip: Please note that the email will expire after 24 hours. If it expires when you check the email, you need to visit the Netflix website and send yourself another email.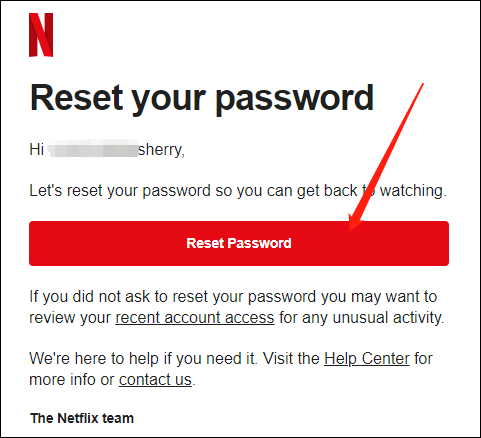 Step 6: In the pop-up window, input your new password twice and click the Save button. You can check "Require all devices to sign in again with new password" if you need.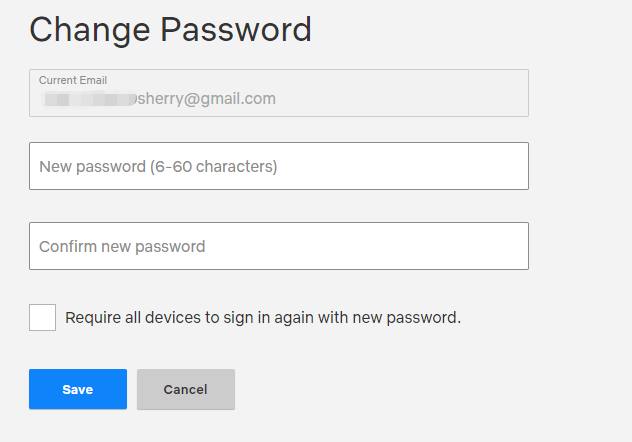 Then you can sign in to Netflix with your new password.
Method 2: Netflix Change Password by SMS
If you created your Netflix account with your phone number, you can perform a Netflix password change by text message (SMS). Just follow the steps below.
Step 1: Visit the sign-in page of Netflix on a web browser. Then click Need help.
Step 2: On the next page, select Text Message (SMS) instead of Email. Then select your country, input your phone number in the box, and click Text Me.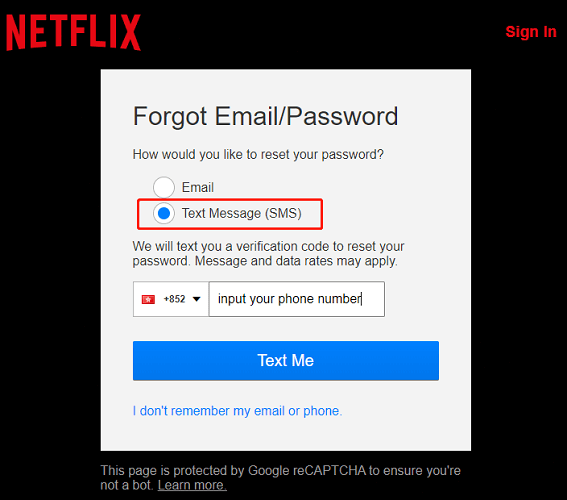 Step 3: Check the message and type the verification code. Please note that the verification code will expire after 20 minutes.
Step 4: Type your new password twice and click Save.
Method 3: Find Your Account Info via Billing Information
If you don't remember your email account or phone number, you can use billing information to recover your account information, as long as you are billed by Netflix. You just need to:
Visit the sign-in page of Netflix.
Click Need help.
Click I don't remember my email or phone.
Input your first name, last name, and credit or debit card number.
Click Find Account.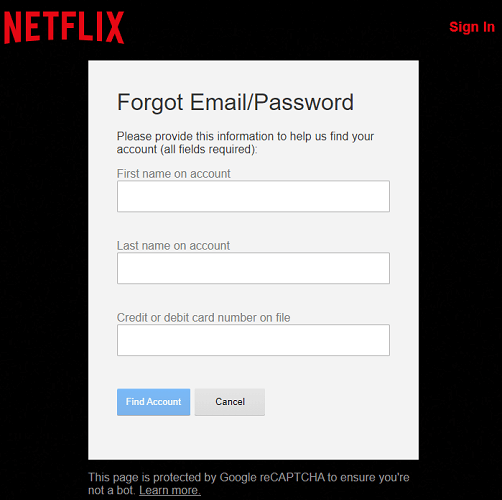 You can also contact Netflix support for help.