This post from MiniTool Partition Wizard provides top 10 CCleaner alternatives. If you are looking for a way to clean up your PC and improve its performance, you can take them into consideration.
About CCleaner
Piriform CCleaner is one of the longest-established system cleaners. It is developed by Piriform and was first released in September 2003. Now it is available on various platforms, including Windows, macOS and Android.
It is designed with a variety of features, such as deleting unwanted files left by uninstalled programs, and cleaning browsing history, cookies, log files, system caches, problematic registry keys and other junk files. Besides, CCleaner 2.27 and later versions can be used to wipe the entire disk or the free space of the hard drive to protect your privacy.
It is a helpful tool for many users. However, it also comes with disadvantages. On one hand, users need to pay for some advanced features. On the other hand, some users may worry about the safety of CCleaner, as Windows Defender (a built-in antivirus for Windows 10) detects CCleaner as a PUA (potentially unwanted app) recently.
It indicates that the software is bundled with extra bits and pieces like browser add-ons. The bundled apps of CCleaner include Google Chrome browser, Google Toolbar and so on. In 2017, Piriform was acquired by Avast, a multinational cybersecurity software company. Since then, Avast Free Antivirus became one of the bundled applications of CCleaner.
They are legitimate apps, but they would lead to unexpected software activities and might have negative influence on user experiences. The CCleaner spokesman has announced that they are engaging with Microsoft to figure the problem and CCleaner is no longer flagged as a PUA now, but some users might still be concerned about the problem.
Fortunately, CCleaner is not the only software for PC cleaning. You can find 10 CCleaner alternatives in the following contents.
The Best CCleaner Alternatives You Can Find
What is the best alternative to CCleaner? Actually, there are diverse third-party programs which are designed for cleaning up and optimizing PC on the market. Some are paid software while others are free CCleaner alternatives. Everyone has different opinions about these tools, and you can pick one according to your demands.
10 CCleaner Alternatives
Clean Master Official
Advanced System Optimizer
Total PC Cleaner
Wise Care 365
Advanced SystemCare (ASC)
MiniTool Partition Wizard
AVG PC Tuneup
Glary Utilities
Ace Utilities
PrivaZer
Option 1: Clean Master Official
Clean Master Official is a nice alternative to CCleaner. It provides powerful privacy protection and junk cleaning. If your computer is running slow and piled up with junk files, you might need the following features:
Checking and cleaning junk files automatically.
Removing browsing history.
Securely destroying sensitive files.
Stopping unnecessary startup programs and optimizing system.
Scanning and fixing over 5,000,000 devices and drivers.
This CCleaner alternative has Standard and Professional versions. The Standard version is free but it only supports two features: Junk Clean and PC Boost. For more features, you need to pay $29.9 to get the Professional version.
To get Clean Master Official, you can search it in your browser. Then download it from its official website and install it on your computer by following the onscreen instructions.
After installing the program successfully, you can double-click the shortcut to launch it. Then select the feature you want to use from the left action panel, click Scan to start the process, and follow the instructions to finish the process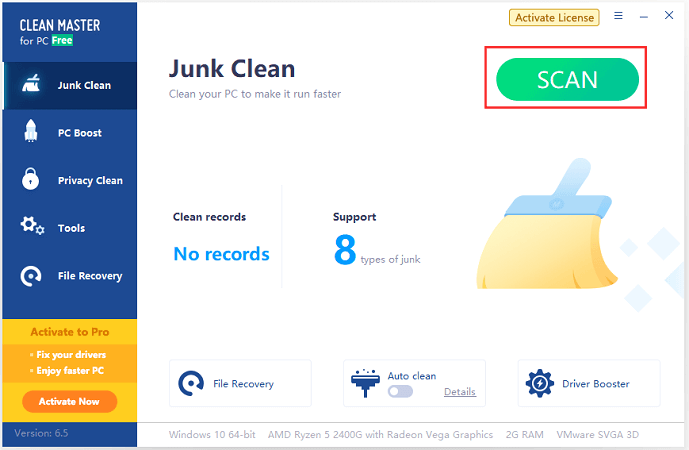 Option 2: Advanced System Optimizer
The second CCleaner alternative is Advanced System Optimizer. It is supported on Windows 10/8.1/8/7/Vista/XP (both 32-bit and 64-bit) and you can use it to:
Clean and optimize disk: Advanced System Optimizer is able to help users clean the hard drive and remove junk and obsolete files from PC, which could speed up PC.
Ensure system security and protect privacy: It protects your PC from being attacked by malware, spyware and Trojans, and detects and removes any malicious files before your PC gets infected.
Optimize Windows: This alternative to CCleaner includes built-in utilities like Game Optimizer, Memory Optimizer, Improved Game Performance and Driver Update. They are helpful to maintain and optimize your Windows PC with ease.
Back up and recover data: You can also use it to create a backup or recover lost files.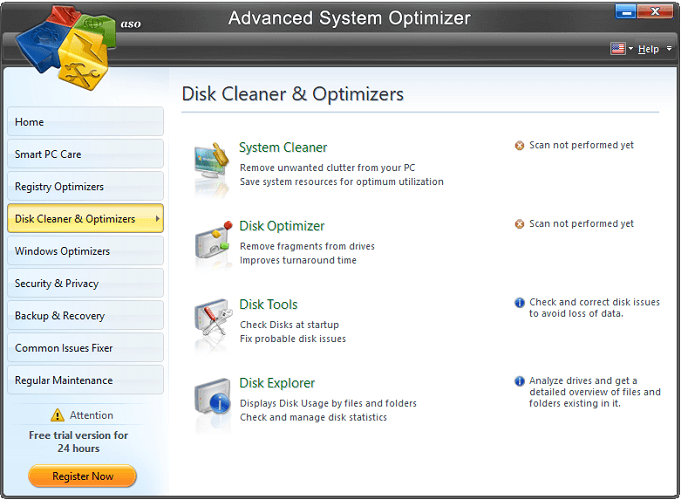 Compared with the first CCleaner alternative, Advanced System Optimizer has more features, but it is also more expensive. You can download the free edition with limited functions to have a try, or pay about $50.4 to enjoy the program completely.
Option 3: Total PC Cleaner
Total PC Cleaner is a free CCleaner alternative. But if you want more advanced features, you can upgrade it to Pro edition which is about $71/year. You can get it from Microsoft Store.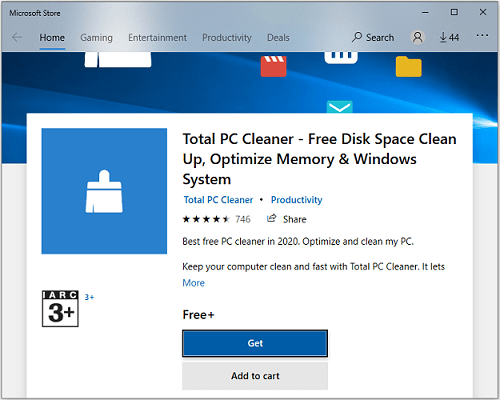 This tool can scan your hard drive to find junk files and large files you haven't opened for months. It performs as well as some other PC cleaners.
Total PC Cleaner is designed with simple interface which is easy to operate and there are no pesky pop-up suggestions. These pros make it popular among Windows users. However, compared with CCleaner, it might be slower and shallower while scanning.
You can download it to have a try. It doesn't matter if you are not satisfied with it. You can move on to get another fantastic CCleaner alternative.
Option 4: Wise Care 365
Wise Care 365 is a PC cleaner, system cleaner, system tuneup, privacy protector and system monitor.
You can remove invalid Windows registry entries, browsing history and cookies in your browsers. You can also use it to optimize PC performance and defrag disks, or control the running processes.
For the versions, Wise Care 365 offers more choices. Features including PC Checkup, Clean & Speed-up Computer and Hardware Inventory are available in the Free version. If you need more features, you need to upgrade it to Pro version. You can choose different types of licenses for the Pro version according to your needs.
Option 5: Advanced SystemCare (ASC)
Advanced SystemCare (ASC) has been working to keep PC clean and improve user experiences for years. You can get faster PC, more stable system and safer browsing within a few clicks by using this tool. It is equipped with the following features:
Deep cleaning & optimizing PC.
Fixing common PC problems, including registry errors, disk errors, Windows security issues, outdated drivers, etc.
Monitoring system resourcesin real-time.
Protecting your online privacywith brand-new Privacy Shied and Digital Fingerprint Protection.
Removing ads and blocking malicious websites.
Similar to other cleaners, Advanced SystemCare (ASC) provides a Free edition and Pro edition, too.
Option 6: MiniTool Partition Wizard
Minitool Partition Wizard is a wonderful disk manager. To measure the disk space usage, you can use the feature named Space Analyzer in MiniTool Partition Wizard instead of CCleaner. In this way, you can find useless large files on your PC and decide whether to delete them to free up the disk space.
You can click the following button to get the tool and follow the steps below to have a try.
Step 1: Launch MiniTool Partition Wizard to get its main interface.
Step 2: Click Space Analyzer form the tool bar.
Step 3: In the following window, select a drive and click Scan.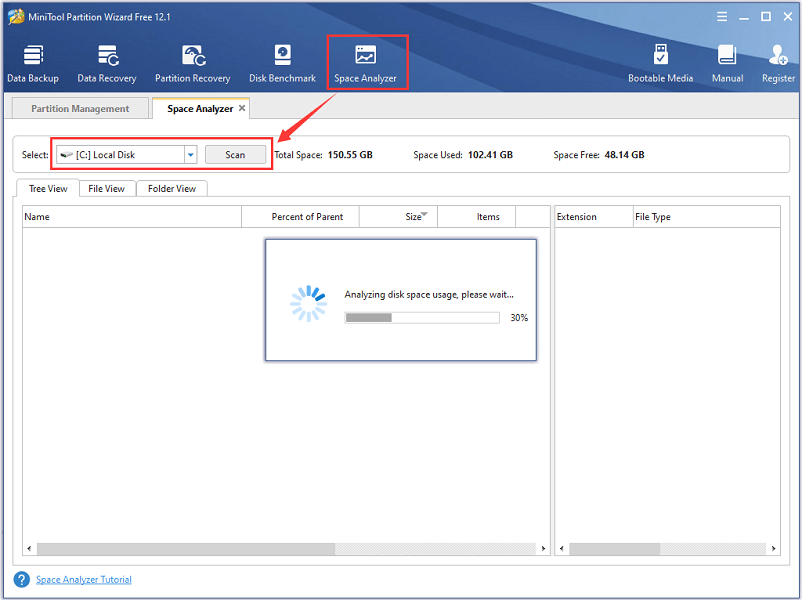 Step 4: In the scanning results, right-click the unwanted file/folder and select Delete (to Recycle Bin) or Delete (Permanently).
After deleting some large files and folders, you will get more free space on the drive. Then you can store more new data or extend the size of any other partitions with the free space.
To extend a partition, you can also use MiniTool Partition Wizard. You just need to right-click the partition you want to enlarge and select Extend. In the pop-up window, decide where to take free space and how much space to take. Then click OK and Apply to confirm the operation.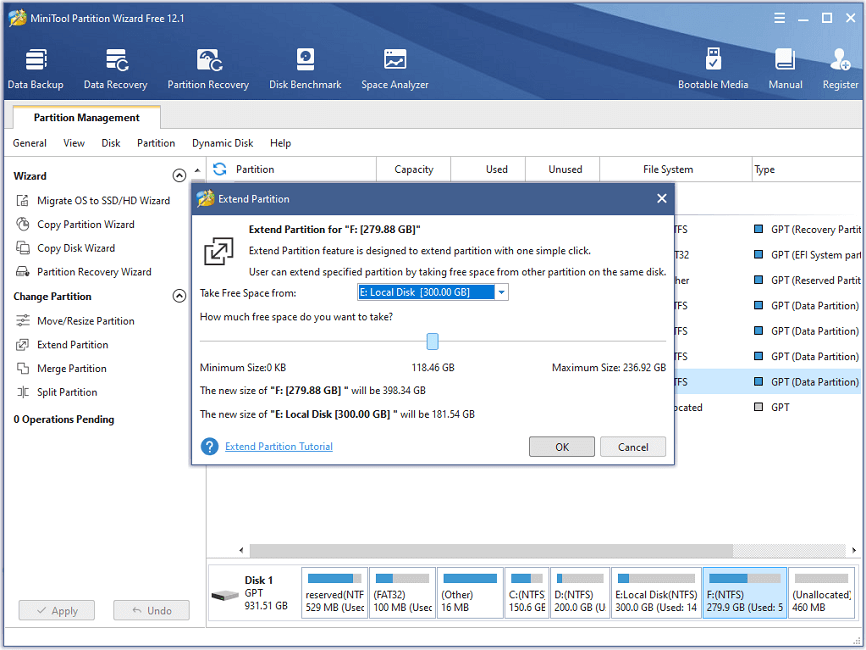 In addition, you can also use this tool to back up or recover data.
What is the best alternative to CCleaner? Pick one from this post.Click to Tweet
Option 7: AVG TuneUp
AVG TuneUp (previously called AVG PC TuneUp) is also an excellent PC cleaner. You can try it free for 30 days. After 30 days, you need to pay about $13.34 to use it. This tool has easy-to-use and intuitive interface and it is able to help you:
Identify issues in the registry and fix them automatically.
Clean up browsing data, cookies, cache files and program leftovers, and remove unwanted and junk programs.
Optimize and speed up PC with Sleep Mode.
Deeply clean the hard drive.
Update programs with one click.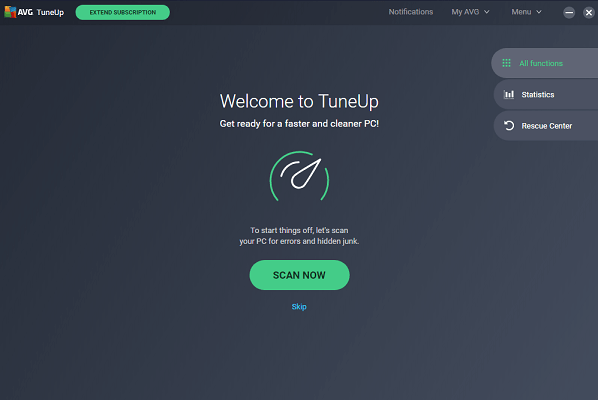 Option 8: Glary Utilities
You can also try Glary Utilities as an alternative to CCleaner. It provides multiple features to maintain and fix your PC, including:
Clean up & Repair: It can help you remove junk data, clean up registry, find and remove empty folders and uninstall unwanted programs.
Optimize & Improve: It's useful for managing startup items, optimizing memory, manage disk and updating installed software.
Privacy & Security: It is able to erase all the traces, cookies and browsing history. Besides, it is also a nice tool for file recovery and encryption.
Files & Folders: This utility could help you analyze space usage and search certain files/folders quickly.
System Tools: This is for backup and system restore.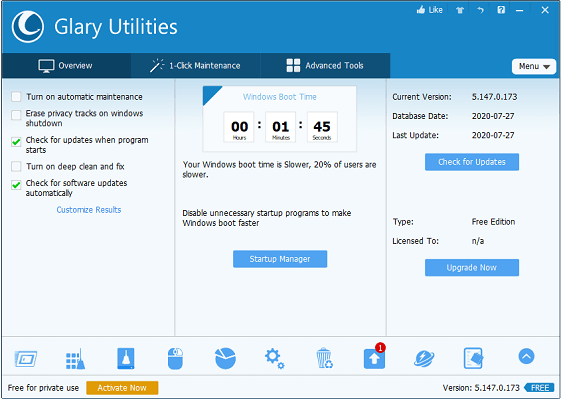 This CCleaner alternative has relatively complete functions and is worth trying. For the Pro version, you need to pay about $19.97.
Option 9: Ace Utilities
Ace Utilities is another collection of tools which can be used as a CCleaner alternative to optimize and clean up PC. It can be used to:
Clean up your system
Securely delete your data.
Analyze disk space.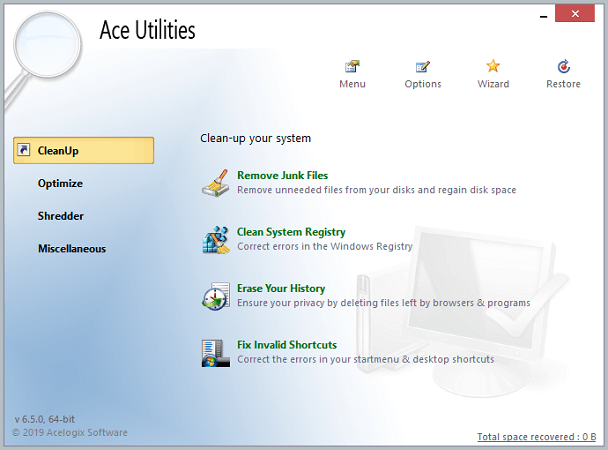 Option 10: PrivaZer
If you don't want to cost much on cleaning up your PC, you can try PrivaZer. It is a free utility that could permanently remove unwanted traces of your activity on PC. Here are 4 major functionalities:
Check and display system and external storage devices.
Clean data and prevent it from being recovered.
Smart clean up cookies, browsing history and jump lists.
Clean up or restore registry.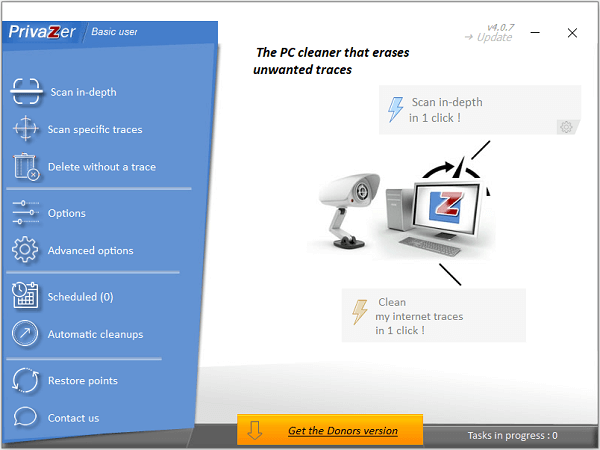 Compared with the first 9 CCleaner alternatives, PrivaZer is more limited in functions, but it is enough to clean or free up disk space for common users.
Tip: For more details about these PC cleaning tools, you should visit their official websites.
Here are top 10 CCleaner alternatives. Read this post to get more information and choose one you prefer to have a try.Click to Tweet
Bottom Line
Are you looking for the best alternative to CCleaner? This post introduces top 10 CCleaner alternatives. They are similar to each other in some features, but some of them are more powerful. They have some differences and you can choose one you prefer to have a try.
If you'd like to share your ideas, you can post them to the following comment section. For any questions about MiniTool Partition Wizard, you can contact our team via [email protected].
CCleaner Alternative FAQ
Can CCleaner be trusted?
Unfortunately, CCleaner was hacked in 2017. The event made millions of users face the risk of being infected by malware. Although it has been solved nowadays, there are still users who are not sure whether CCleaner can be trusted. You can read the following article to get more information:
Is CCleaner Safe? Here Are Answers and Alternatives
.
What is the best alternative to CCleaner?
The answer could be different for different users. There are numerous applications which can be used as a CCleaner alternative. Here are top 10 of them and you can choose one according to your needs.
Does defragmenting damage SSD?
Defragmentation might shorten the
lifespan of an SSD
 as it could wear out in the process. And it doesn't require defragmentation to improve the performance for SSDs. Therefore, it is not recommended to defrag an SSD so frequently.