Recently, many people complain that they can't post to Facebook. Fortunately, this issue can be fixed easily. In this post, MiniTool would analyze the possible causes behind this error and then offer you some fixes.
Why Can't I Post on Facebook
You can't post to a Facebook group when the group admin has temporarily turned off your ability to post and comment in his group. To be specific, he might have temporarily muted you, temporarily limited how frequently you can post or comment, or slowed down comments on a post.
In addition to that, you can't post to Facebook due to the following factors.
You log into a wrong account.
The third-party application authentication gets lost.
The account had a role removed.
A Facebook bug is breaking posts.
The account breaks the rules.
Note: You can receive a notification at the top of the group stating when you are able to post and comment again. Alternatively, you can check the Support Inbox for any additional information about your ability to post and comment.
When you are unable to post on Facebook, you may receive messages like "There was a problem updating your status" and This message could not be posted to this timeline". It is very likely that Facebook is experiencing network or server issues. If the issue remains for couples of days, you'd better to reset browser cache.
Why can't I post in my Facebook group? You may have learned the reasons after reading the above content. Here are 5 available fixes for you.
Fix 1: Relaunch Facebook
Once you can't post to Facebook, try relaunching your account again. This operation enables your browser to reload account's data and refresh the connection with Facebook's servers so that some common issues with Facebook can be fixed during the process.
Here's how to re-login Facebook on a browser.
Step 1: In the Facebook main page, tap the Accounts button from the top navigation bar.
Step 2: Click Log out to exit the current account.
Step 3: Then input your login information and click the Log in button to launch Facebook again.
Fix 2: Delete Browsing Data and Cookies
The browser usually stores temporary data on the PC to boost the loading time of websites. This brings you much convenience. However, it can cause issues if these data get corrupted. The "can't post to Facebook" error is one them. Therefore, consider deleting browsing data and cookies when this issue appears.
If you use Google Chrome, you can refer to these steps.
Step 1: After opening Google Chrome, click on the three-dot icon at the upper right corner of the browser.
Step 2: Click on the Settings option in the prompted menu.       
Step 3: In the next page, click Privacy and security in the left panel and then click Clear browsing data in the right panel of the page.

Step 4: In the Clear browsing data window, select the content that you want to remove and click time range from the drop-down menu. Then click Clear data to execute the operation.
Tip: To clear cookies, you can directly check the Cookies and other site data option from the list or click it under the Privacy and security section.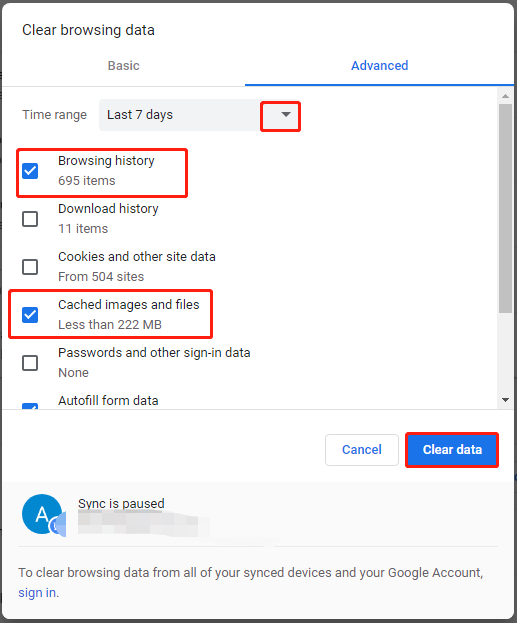 Fix 3: Disable Browser Extensions
As browser extensions interfere with how certain websites works and then cause problems, it is recommended to turn off third-party apps and extensions on your browser if you run them.
Here, I would like to show you how to disable browser extensions on Google Chrome.
Step 1: Likewise, open the Settings menu at first.
Step 2: Click on Extensions in the left panel of the Settings page.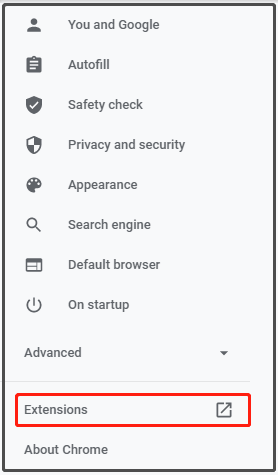 Step 3: Change the status of your browser extensions to Off.

Fix 4: Update Facebook to the Latest Version
Like other apps, Facebook also rolls out updates to offer great user experience. These updates may include some new features and patches to the known bugs in previous versions. If you can't post to Facebook, try updating Facebook to the latest version.
For that, please refer to steps below.
Step 1: Open Microsoft Store on your computer, and then type Facebook in the search bar and hit Enter.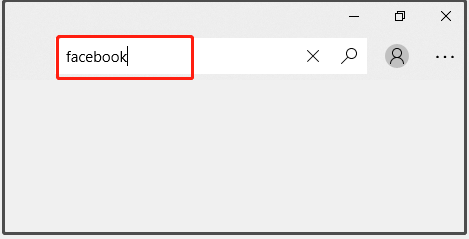 Step 2: Click on Facebook from the search results. Then tap the three-dot icon on it and click the Update option in the pop-up menu.
Step 3: Follow the on-screen instruction to finish the update process.
Also read: Genshin Impact Failed to Check for Updates [4 Solutions]
Fix 5: Try Other Browsers
A certain website may work improperly on a browser but would function properly on another browser. You can see if the browser is the fault source by trying a different browser. For instance, if you run Google Chrome at present, try browsers like Firefox, Opera, and others to see if you still can't post to Facebook.
Are you still wondering that Facebook won't let me post? This post tells you potential reasons and offer you some troubleshooting methods.