In recent years, cable connection technology has evolved rapidly, and manufacturers have been designing more streamlined laptops. Therefore, they usually have fewer ports. Therefore, a Thunderbolt 4 dock is now a must-have device. Not only do they offer fast transfer speeds and charging over a single cable, but you can also connect multiple high-resolution displays.
The best Thunderbolt 4 docks feature multiple ports for quick connection and use. Here we list the 4 best Thunderbolt 4 docks. Just keep reading.
# 1. Caldigit Thunderbolt Station 4 (TS4)
–Image from https://www.bhphotovideo.com/
The CalDigit TS4 has the most ports of any Thunderbolt 4 dock on the market today. A total of 18 ports are spread across the front and rear of the dock, with the host Thunderbolt 4 port and two additional downstream Thunderbolt 4 ports on the back. One of these is for a native DisplayPort 1.4 connection.
The dock can use both UHS-II SD and microSD card readers. The dock supports dual 4K displays with a refresh rate of 60Hz each, or an 8K display with a refresh rate of 60Hz. When connected to a host laptop, the dock can deliver up to 98W of power.
Its pros:
18 high-end ports
5Gb Ethernet
230W power
Dedicated DisplayPort
Flexible design
Its cons:
DisplayPort means only two downstream TB4 ports
# 2. Caldigit Thunderbolt 4 Element Hub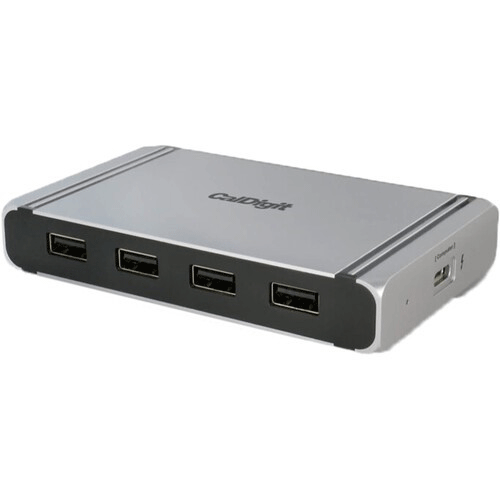 –Image from https://www.bhphotovideo.com/
The Caldigit Element Hub is another great dock from CalDigit. It has high-performance accessories that can handle everything from an eGPU to a RAID storage setup to multiple high-resolution monitors.
The Caldigit Element hub can handle up to dual 4K displays at 60Hz, a single 8K display at 30Hz, or 5K Thunderbolt displays at 60Hz in extended or mirrored mode. If you're connected to high-speed external storage, expect read speeds of up to 3,000MB/s.
As long as you're not looking for a variety of ports and want to add USB-A and Thunderbolt 4, this is a great dock that's not as expensive as many other options. And it's also a great option if you're short on desk space.
Its pros:
Four Thunderbolt 4 ports
Four Fast USB-A ports
150W power supply
More affordable
Its cons:
No ethernet
No SD card reader
A larger AC adapter makes it difficult to carry
# 3. Kensington SD5700T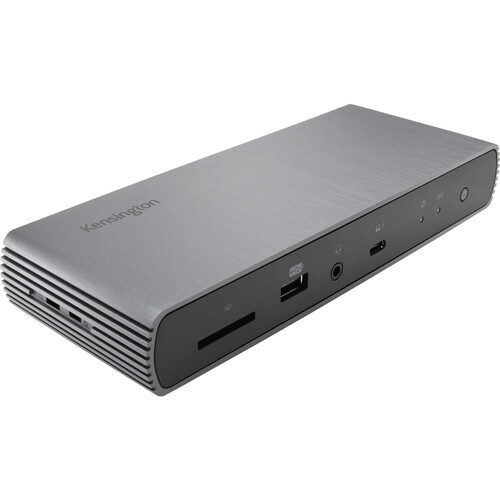 –Image from https://www.bhphotovideo.com/
The Kensington SD5700T Thunderbolt 4 dock is another great option if you have enough room on your desk. It's a little bigger than the Element hub, but it adds a better port mix. While it doesn't have as many ports as our top pick, it doesn't cost as much. If you need Ethernet, a UHS-II SD card reader, or a 3.5mm audio jack, this dock is a solid choice.
The SD5700T Thunderbolt 4 can charge laptops at up to 90W (for PCs with dedicated GPUs that need more power) and supports a single 8K display at 30Hz or dual 4K displays at 60Hz.
There's also the SD5750T, which is designed for the latest Surface PCs, including the Surface Pro 8 and Surface Laptop Studio. It's one of the best Thunderbolt 4 docks if you've bought Microsoft's latest offering.
Its pros:
Up to 90W host charging power
Includes SD card reader and Ethernet
11 fast ports
180W power supply
Its cons:
Costs more than other options
Take up more desktop space
# 4. OWC Thunderbolt Hub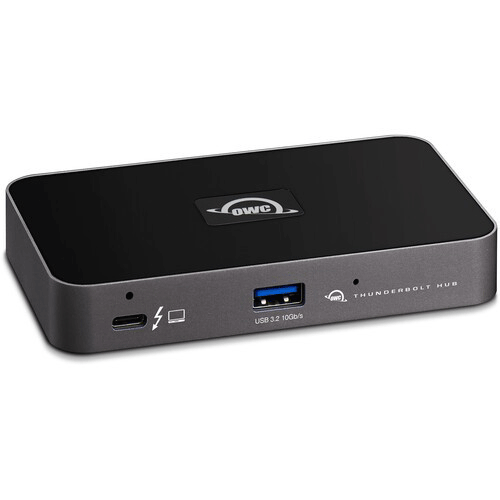 –Image from https://www.bhphotovideo.com/
The OWC Thunderbolt Hub's Thunderbolt 4 dock is nearly identical to Kensington's SD5700T in many ways, including port selection, port layout, and lock slot. One notable difference, however, is price.
Its pros:
Cheaper than other docks
Up to 90W host charging
It cons:
What is the best Thunderbolt 4 dock on your list? You can share your idea with us in the following comment zone.