Thunderbolt 4 was already released in July 2020. Then, what's the difference between Thunderbolt 4 and Thunderbolt 3 as well as USB4? In this post, MiniTool Partition Wizard will introduce those to you.
Thunderbolt 4 vs Thunderbolt 3
Thunderbolt 4 was announced at CES 2020 and the final specification was released in July 2020. Then, comparing to the previous Thunderbolt 3, what are the optimizations of Thunderbolt 4?
In general, Thunderbolt 4 is based on Thunderbolt 3 and it doesn't bring us earth-shaking changes. Its throughput is still 40Gbps and it still uses USB Type-C port. But Thunderbolt 4 makes some small improvements based on Thunderbolt 3. Here are the optimizations that Thunderbolt 4 makes:
It is compatible with USB 4 (released later than Thunderbolt 3).
It will offer docks with up to four Thunderbolt ports and universal cables up to 2 meters in length.
It doubles the minimum video and data requirements of Thunderbolt 3: from one 4K display to two 4K displays or one 8K display; from PCIe at 16Gbps to PCIe at 32 Gbps for storage speeds up to 3,000 MBps.
For thin-and-light laptops that require less than 100 W to charge, Thunderbolt 4 requires them keep at least one computer port for charging.
It allows you to wake your computer from sleep by touching the keyboard or mouse when connected to a Thunderbolt dock.
It supports Intel VT-d-based direct memory access (DMA) protection that helps prevent physical DMA attacks.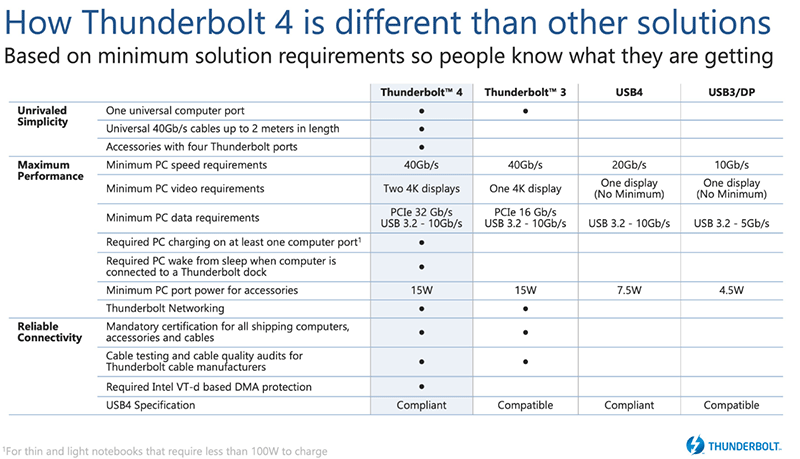 Thunderbolt 3 vs USB C: Look the Same But Differ Greatly
For customers, the most intuitive benefits are as follows:
The display performance loss will be smaller when an external graphics card is connected.
The speed will be faster when an external high-speed mobile solid-state hard disk is connected.
If a thin and high-performance computer wants to use the Thunderbolt 4 interface, it must support charging, eliminating the need for heavy power device.
The above are the main differences between Thunderbolt 4 vs 3. Then, let's talk about Thunderbolt 4 vs USB4.
Thunderbolt 4 vs USB 4
The USB4 specification was released on 29 August 2019 by USB Implementers Forum, based on the Thunderbolt 3 protocol specification. Therefore, its throughput is the same as that of Thunderbolt 3/4 (40Gbps) and all of them use USB Type-C port.
The USB 4 Standard Is Announced: It's A Big Upgrade
Then, what is the relationship between Thunderbolt 4 and USB4?
Both Thunderbolt 4 and USB4 are based on the underlying protocol of Thunderbolt 3, so they are complementary and compatible with each other. Besides, because both they use Type-C port, they will coexist for a long time and will not affect the process of notebook external port "all-in-one".
But there is still a little difference between Thunderbolt 4 and USB4. In general, USB4 is more versatile and requires lower requirements, while the "lower limit" of Thunderbolt 4 has been greatly improved.
Thunderbolt 4 defines strict product functions, verification tests, and certification requirements, so devices supporting Thunderbolt 4 will have better user experience, and of course the price will be more expensive.
In short, Thunderbolt 4 is by far the most comprehensive interface protocol. Not all USB4 ports can be equal to Thunderbolt 4 ports.