When Does the Windows Need to Be Activated?
In general, if your PC is bought from PC vendors like HP, Dell, Lenovo, etc., you don't need to activate Windows separately because the PC vendors have written the Windows license into BIOS.
However, if your PC is built by yourself, you need to purchase a Windows license from Windows Store separately and then use the license to activate Windows. 
Once your computer is activated, usually, you don't need to activate it again, even if you reinstall Windows, or you upgrade your Windows versions (eg. from Windows 10 to 11) during the free upgrade period.
However, if you want to upgrade your Windows editions (eg. From the Home edition to the Pro edition), you need to purchase a new license and use it to activate Windows again.
Why Does the Activation Error 0x80041023 Occur?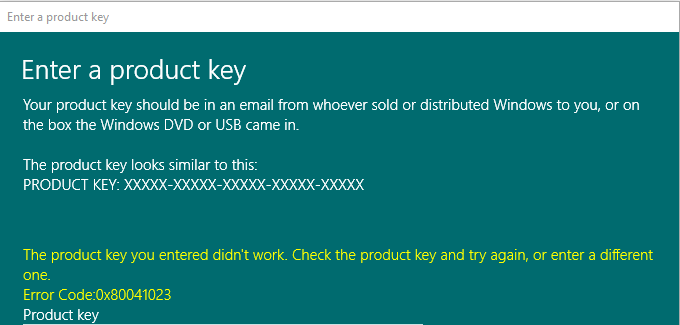 When you use the license to activate Windows, you may get the error code 0x80041023 for the following reasons:
You have entered an incorrect license code.
You are using an OEM license to upgrade your Windows.
Windows is still trying to use the BIOS stored license.
Your license is one-off.
You may want to know what an OEM license is. In general, Windows licenses are divided into three types:
Retail license: It is the license bought by individuals from Windows Store or Stores authorized by Microsoft. You can use this license to activate different computers but only one device is active at a time.
MAK license: It is the volume activation license bought by enterprises from Microsoft. These licenses are usually one-off and can't be used to activate Windows again after computer formatting.
OEM license: It is the license bought by PC vendors from Microsoft. These licenses are written into motherboards. Once the PC is connected to the Internet, the activation process will be completed automatically. However, this license can't be used on devices that have ever been activated, and it will be tightly bonded with the motherboards.
How to Fix the 0x80041023 Error?
How to solve the activation error 0x80041023? The solutions are as follows:
Solution1. Make Sure You're Entering the Right Product Key
The activation error 0x80041023 might happen if the Windows key you are entering is incorrect, so please enter the product key again and make sure you don't miss any characters or numbers when your type the license code.
Solution2.  Use Retail Product Key
If the activation error 0x80041023 occurs in the process of updating the Windows edition, you need to make sure the product key used for the update is not the OEM product key. Because the OEM product key can only be used for new machines having no licenses written.
For example, if your Windows edition is Home but you want to upgrade it to Pro or another higher edition, you need a new product key to activate your computer again. In this situation, if your new product key is an OEM product key, you may meet the 0x80041023 error.
If you want to fix this error, the only way is to buy a Retail product key from Windows Store to upgrade the computer.
Solution3. Active the Operating System With the SLMGR Command
If there is a license in the BIOS already and you don't delete it, the error code 0x80041023 may occur when you enter a new license. In this case, you can use SLMGR commands to activate Windows with the new license.
Software License Manager (SLMGR) is a license management tool added after Vista. It is the main component to manage system activation's keys and certificates. Here is the guide:
Press Windows and R keys to open the Run.
Type "cmd" on the Open: box and click the OK.
Input "slmgr /ipk <Windows Key>" and press Enter In the command replace the <Windows Key> with your own license key.
Then input "slmgr /ato" and press Enter key again.
Reboot your computer and the new product key will work.
Solution4. Make Sure the License Is Not One-Off
If all the above methods don't work, please check whether your license is a one-off. If your license is not bought from Microsoft or Stores authorized by Microsoft and the license is very cheap, you should consider this license as a one-off. 
Solution5. Contact Microsoft's Support
If you can't fix the error code 0x80041023 by the solutions above, you need to contact Microsoft's Support to ask for help. You can click this to check the specific number of your country or area.
After you answer some security questions to confirm you are the owner of the license, they will help you activate the Windows.