Do you know how to wipe your disk clean to protect data privacy before selling it? If you simply delete everything on your hard disk, the data can be recovered easily with a professional data recovery software. To wipe a hard drive clean completely, you will need a professional disk cleanser. This article will show you how.
When upgrading their computers, a lot of people choose to sell their old computers.
To prevent the leakage of sensitive and private information, many of them opt to merely delete all personal information, applications, and files on their hard drives. However, despite them doing so, data can still be easily retrieved by computer savvy people or professional technician. The best way to prevent this from happening is to completely wipe your hard drive before selling your PC.
How do you wipe a computer clean to sell it? To erase computer before selling, a free drive wiper is all that you need. MiniTool Partition Wizard is a good choice as data wiped by this program is unrecoverable.
How to Wipe Hard Drive Before Selling with MiniTool Partition Wizard
MiniTool Partition Wizard is a professional partition magic, which can help you format partition (See Alternative to FDISK Format Tool – MiniTool Partition Wizard), extend partition, merge partition, copy partition, migrate OS to SSD/HD and so on. It is an all-in-one partition manager.
It is also a free drive wiper. This free drive wiper provides 2 functions to wipe computer clean, namely Wipe Partition and Wipe Disk. They employ the same principle, and the only difference is that Wipe Disk operates on the entire disk while Wipe Partition just operates on a single partition.
Note: Before wiping your computer, make sure to back up important files to an external drive.
Next, let's take Wipe Partition as an example to demonstrate how to wipe a computer clean with MiniTool Partition Wizard.
Step 1.  Download MiniTool Partition Wizard Free Edition, install it on your computer and launch it.
MiniTool Partition Wizard FreeClick to Download100%Clean & Safe
Step 2.  Select the target partition to wipe clean and choose Wipe Partition  from the left panel.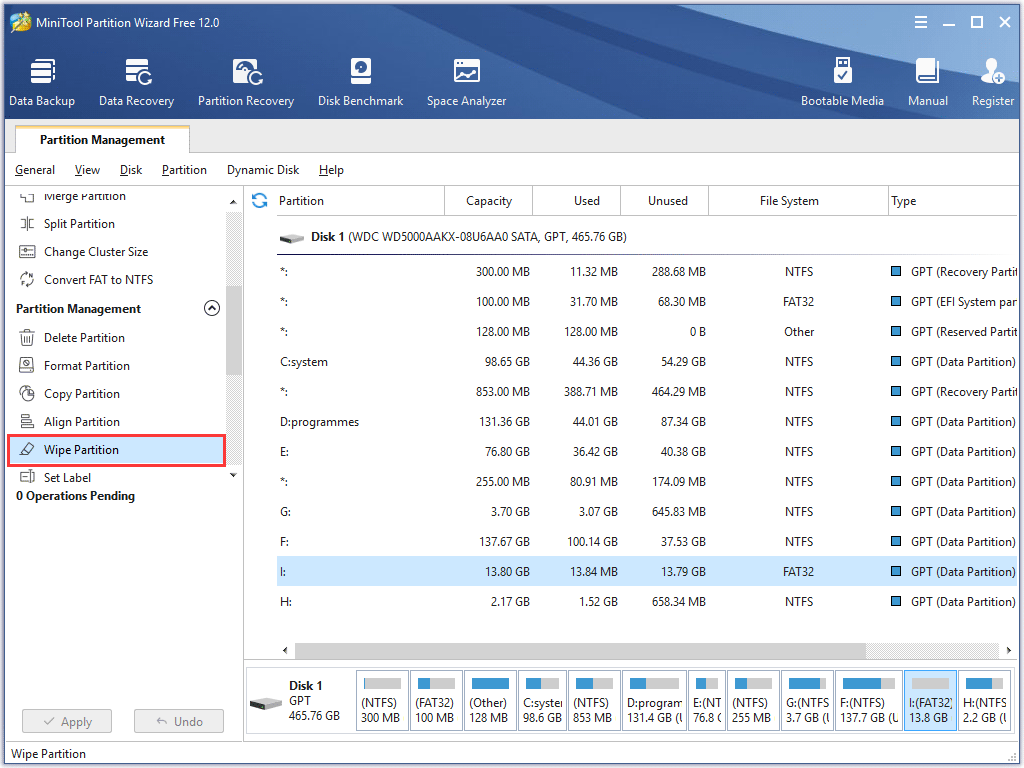 Step 3. Here, 5 wiping methods are given to wipe hard drive clean. Different mode requires different time and provides different results. Select a wiping method and then click OK to go back to the main interface.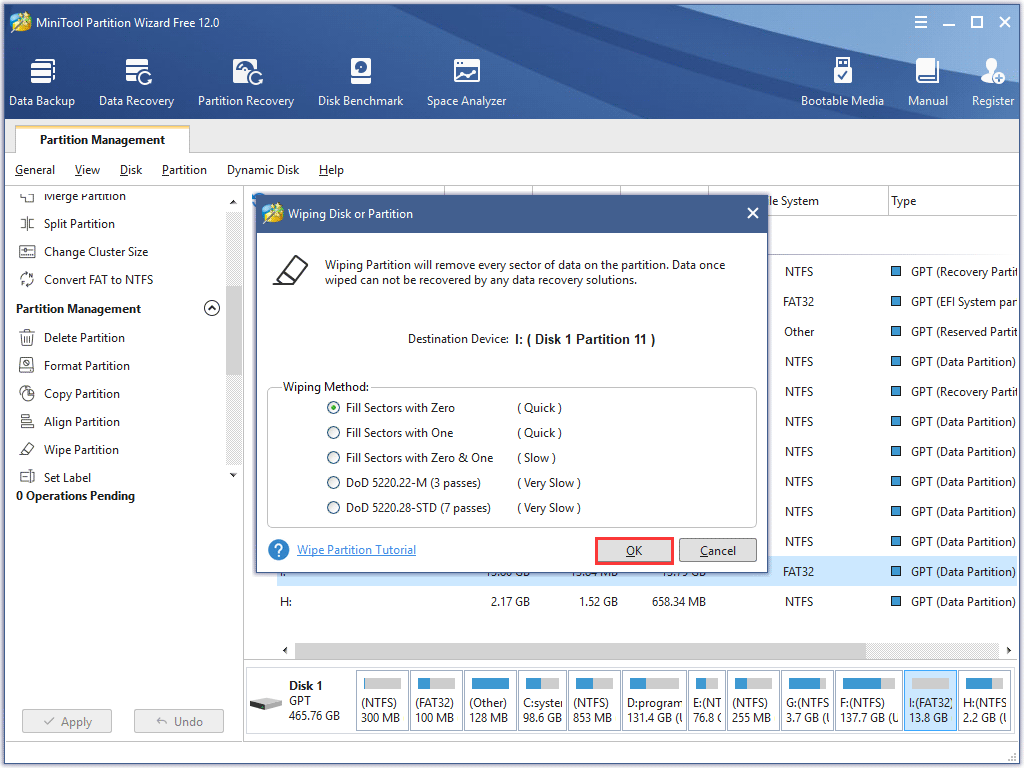 Step 4. Now you can see the selected drive has become Unformatted (if you want to use the partition again, you need to format it), but it is only for preview. Click Apply button to apply the change and permanantly erase all data on this parition.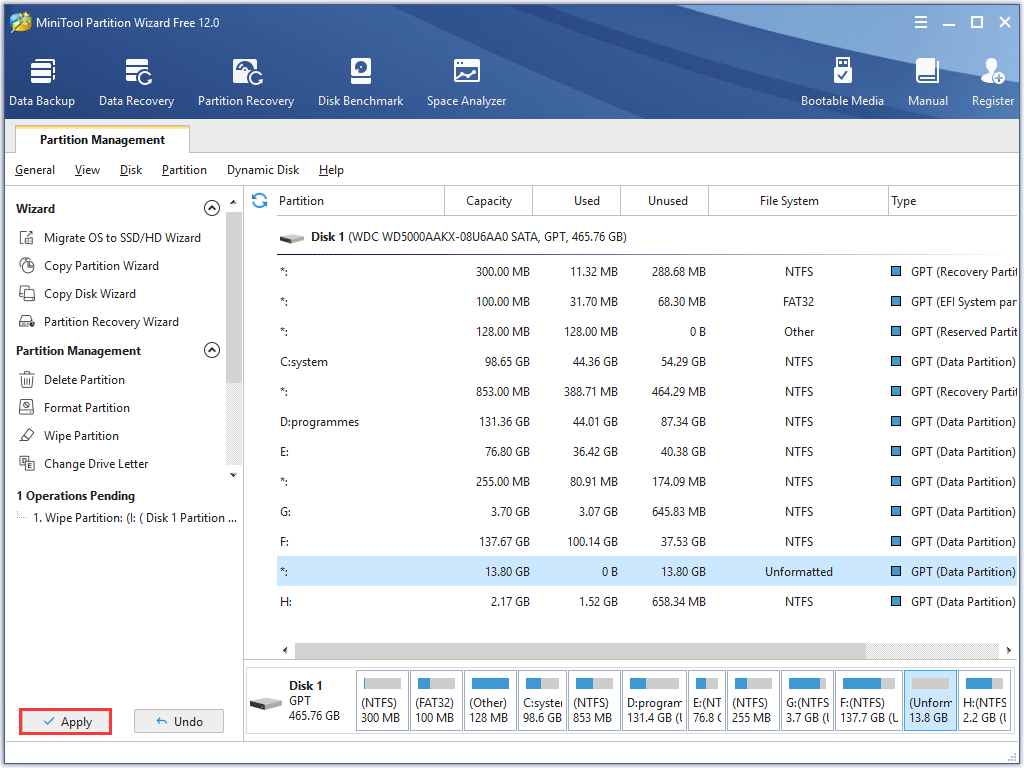 In conclusion, it is very simple to clean hard drive before selling by using the professional drive wiper MiniTool Partition Wizard.
Now you know how to wipe a computer clean with a third­party software ­ MiniTool Parition Wizard ­ before selling it.
"MiniTool Partition Wizard helped me wipe a hard drive selling. Now I can sell my PC and don't need to worry about data leak. It's an excellent hard drive eraser! I'd like to share this post with more friends who don't know this free hard drive eraser."Click to Tweet
Verdict
After learning how to wipe a hard drive clean, if you want to replace your old computer with a new one and sell the old one, remember to use MiniTool Parition Wizard.
If you have other good solutions on how to erase a computer before selling or if you have any question on how to completely erase a hard drive, you can leave a message in the following comment section and we will reply as soon as possible. If you need any help when using MiniTool software, please contact us via [email protected].