Do you know what FDISK is? Have you ever used FDISK format tools? If you have no idea about what is FDISK and its FDISK format tool, don't worry. This article will introduce you what is FDISK and show you how to format partition with a perfect FDISK Windows 10 alternative.
FDISK is the oldest and most classic disk partition tool that is included in all versions of MS-DOS and earlier versions of Windows system. With FDISK, you're able to delete, create, and partition your hard drive. However, with the introduction of Windows XP, FDISK was replaced with the graphical Windows Disk Management utility and Diskpart command. In this case, some users may not know what is FDISK. Here I will give you a brief introduction about what is FDISK.
What Is FDISK
Some users who have not heard about FDISK may wonder: what is FDISK, what is it for? Let's see FDISK's definition on Wikipedia.
For computer file systems, fdisk is a command-line utility that provides disk partitioning functions. It is available in DOS, FlexOS, OS/2 and Microsoft Windows operating systems. In versions of the Windows NT operating system line from Windows 2000 onwards, fdisk is replaced by a more advanced tool called diskpart. Similar utilities exist for Unix-like systems.Wikipedia
Originally, FDISK is one kind of DOS program so it can only work in DOS. With FDISK, you can divide disk into one primary partition and multiple logical partitions. After dividing, you need to format partition and allocate file systems for partitions.
However, earlier FDISK has no format function so that partitioning and formatting need to be done step by step, which means more operations and more DOS commands. For users who are not familiar with DOS, they are likely to operate with errors.
Finally, with continuous developing, FDISK has been added with FDISK format tool besides FDISK partition tool. After FDISK has been improved in compatibility with operating systems, disk size, and partition size, many users choose FDISK to manage partition.
FDISK Is Replaced by Diskpart
As FDISK is too difficult for common users, FDISK has been replaced by Diskpart, a command-line disk partitioning utility included in Windows 2000 and later. Diskpart is simpler than FDISK. Users can use Diskpart to partition hard drive, delete partition, format partition and so on.
Although Diskpart has satisfied users' demands for partition management to some extent, it is still a little complicated to manage for users who are not familiar with DOS commands.
In this case, it is strongly suggested to use MiniTool Partition Wizard that has a graphical interface and simpler operations. With MiniTool Partition Wizard, you can create, delete or format partition in just a few clicks. Besides, it also provides high-end features like Copy disk, Partition Recovery etc. It's a perfect Diskpart and FDISK alternative.
How to Format with FDISK Windows 10 Alternative – MiniTool Partition Wizard
MiniTool is a perfect FDISK Windows 10 alternative with its powerful features and simple steps. Compared with FDISK format tool, MiniTool Partition Wizard has better compatibility. It supports major 32-bit/64-bit PC operating systems, as well as hard drives with common ports like IDE, ATA, STATA, SCSI. Now let's see how to format with FDISK Windows 10 alternative MiniTool Partition Wizard Free Edition.
Step 1. Download MiniTool Partition Wizard Free Edition by clicking the following button and install the free FDISK format tool alternative on your computer. Then, run it to get the main interface.
MiniTool Partition Wizard FreeClick to Download100%Clean & Safe
Step 2. Choose a partition that you want to format and click Format Partition from the left.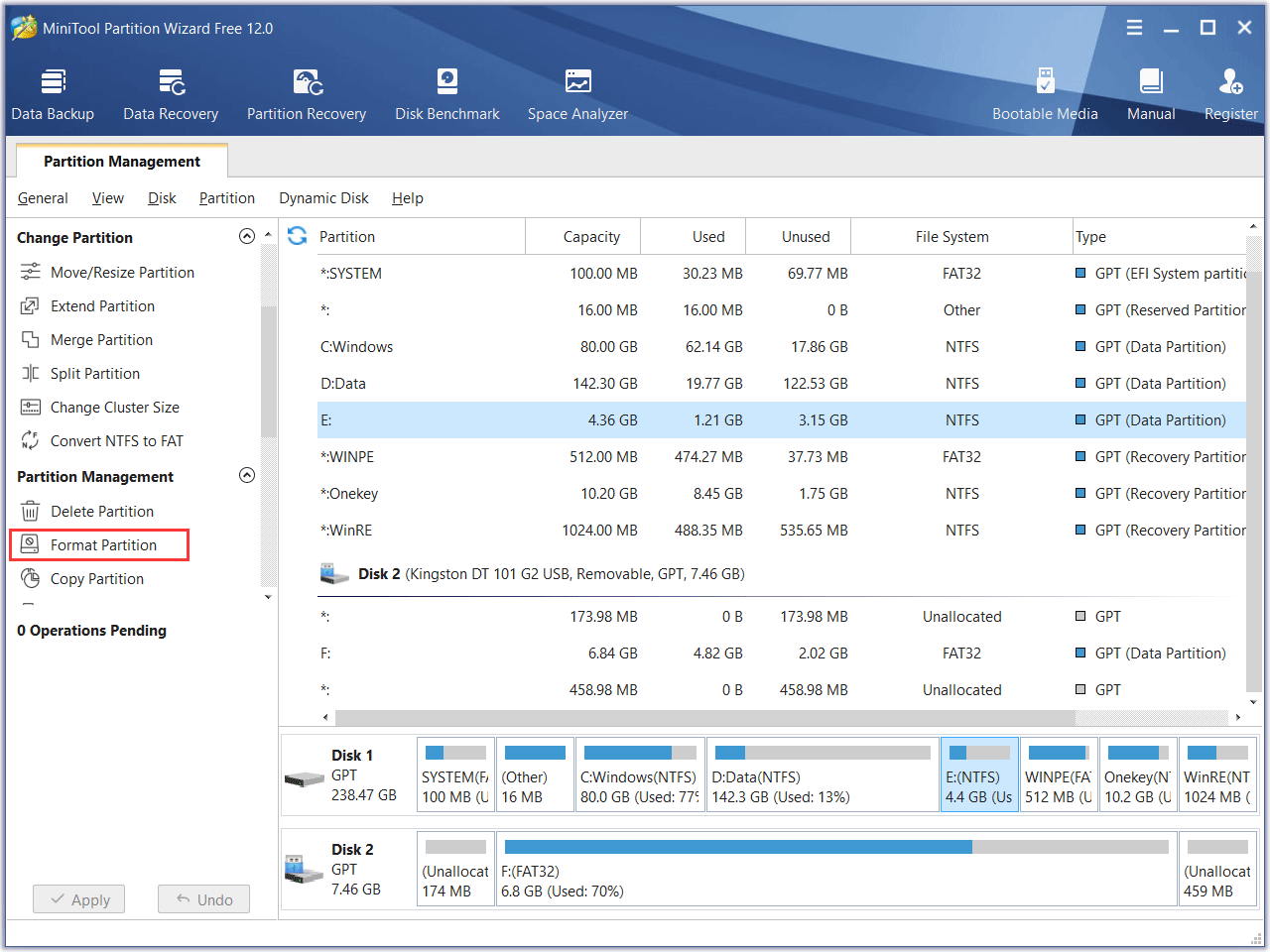 Step 3. You may reset the partition label, file system and cluster size by yourself. Then click OK.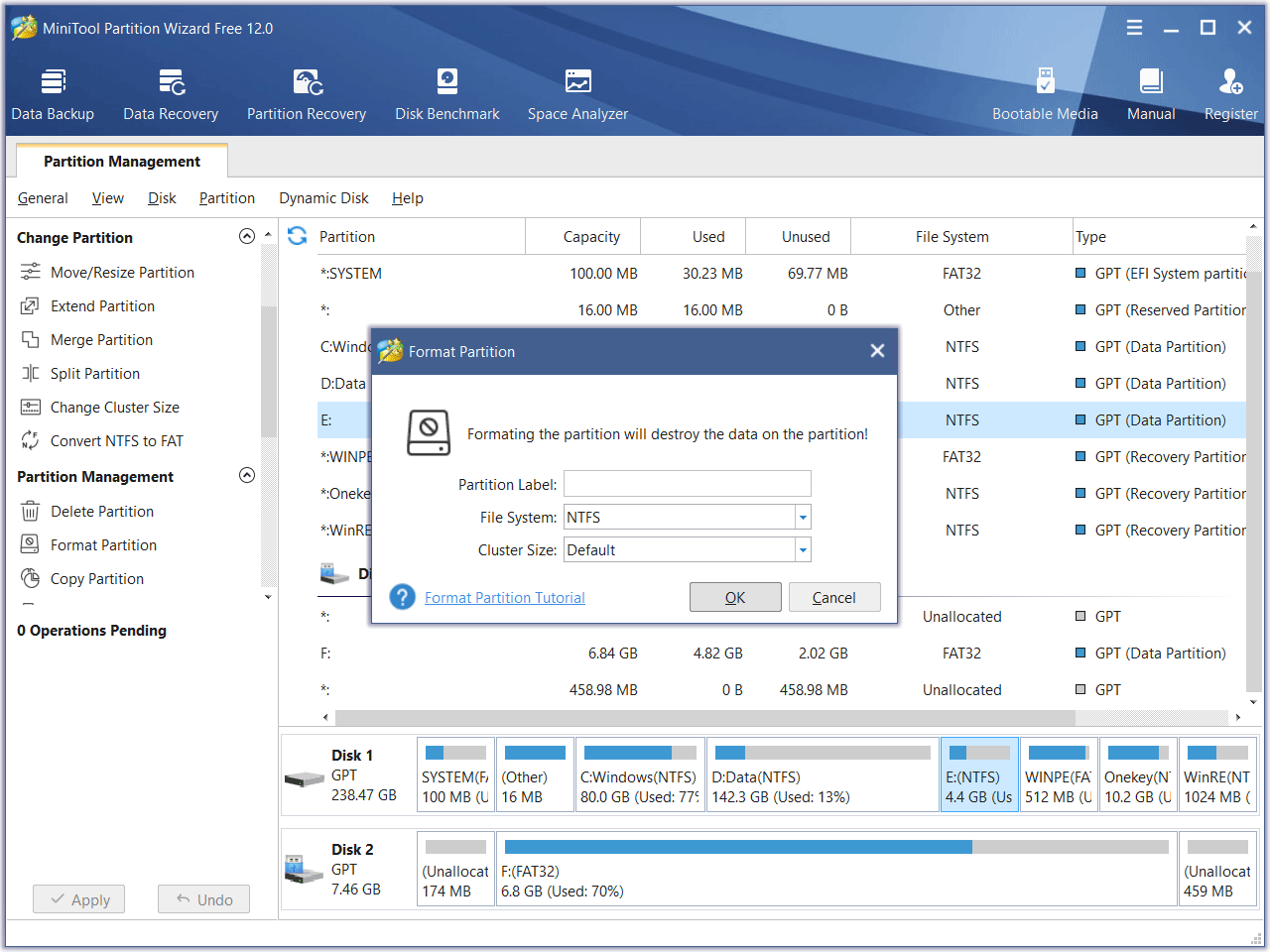 Step 4. At the main interface, you may click Apply on the upper left corner to allow the change.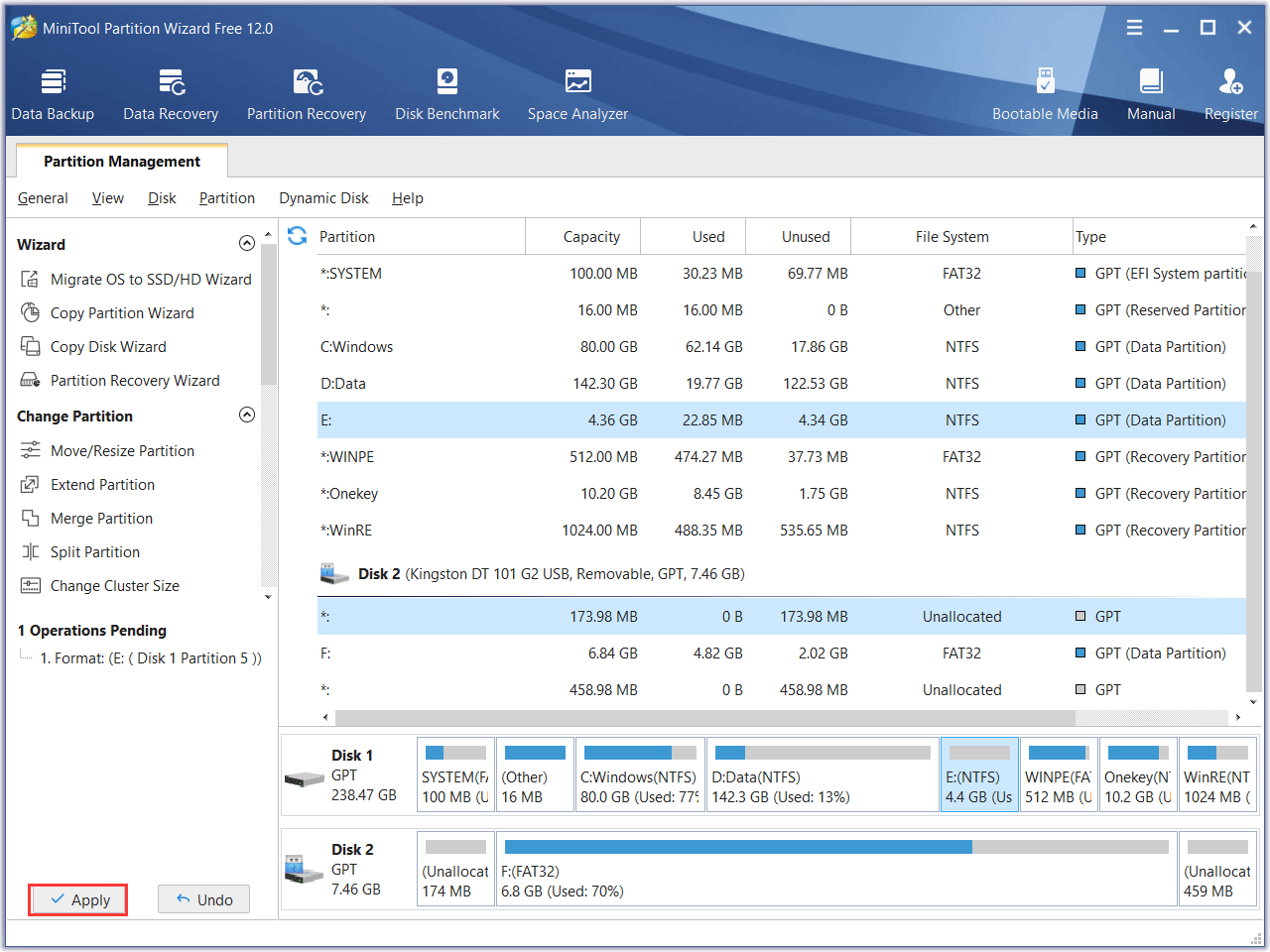 This is how I format a partition with MiniTool Partition Wizard Free Edition. Clear and visualized interface helps me finish format work in a short time.
FDISK format tool is just one part of FDISK tools. Similarly, format function is only one part of MiniTool Partition Wizard functions, too. MiniTool Partition Wizard provides us with daily needed partition management functions that most of the FDISK tools cannot do and it is free of charge. Download to optimize your disk performance now!
MiniTool Partition Wizard FreeClick to Download100%Clean & Safe
"I successfully formatted a partition in just a few clicks by using MiniTool Partition Wizard. Hopes this post helps more friends who need an excellent format tool to format partition."Click to Tweet
Conclusion
To sum up, MiniTool Partition Wizard is not only an alternative to FDISK, but has already surpassed FDISK and become indispensable partition magic with its multiple functions.
If you have any question about FDISK format tools or how to format partition with MiniTool Partition Wizard, you can leave a message on the following comment zone and we will response as soon as possible. If you need any help when using MiniTool software, you can contact us via [email protected].