Summary :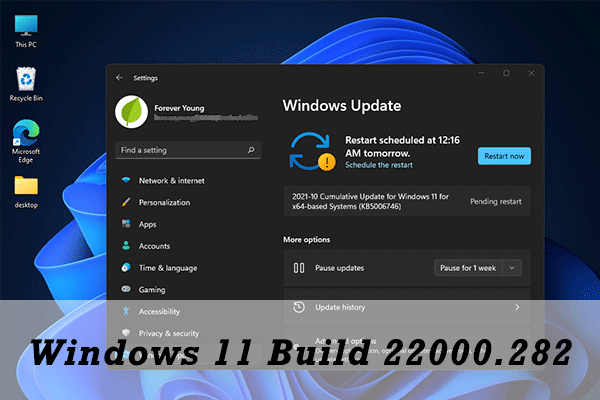 Microsoft released Windows 11 Build 22000.282 on October 15, 2021. It comes with many improvements, but is available only for Beta and Release Preview Channels users. For more details, you can refer to this post from the MiniTool Partition Wizard website.
About Windows 11 Insider Preview Builds
Windows 11, as the successor to Windows 10, is designed with a new outlook and some new features, which makes millions of people excited.
Since it was announced in June 2021, Microsoft has released multiple Windows 11 Insider Preview builds for Windows Insiders, which enables them to enjoy Windows 11 before the release of the official version that was released on October 5, 2021.
On October 15, 2021, a new Windows 11 Preview build, Windows 11 build 22000.282, was released to Beta and Release Preview Channels. It includes a lot of improvements.
Now, let's see what's new in the OS Build 22000.282.
Improvements in Windows 11 Build 22000.282
As it is known, Microsoft keeps releasing updates for Windows 11 to provide bug fixes and improvements. Windows 11 build 22000.282 is not an exception. It comes with a huge number of improvements and some of them are listed below:
Fixed an issue that the Windows 11 Start menu not working and prevents users from seeing updated taskbar design after upgrading to Windows 11 (original release).
Fixed the interrupt handling of certain processors issue that might cause devices to stop responding.
Fixed a threading issue that may lead the Windows Remote Management service to stop working when it is under a high load.
Fixed an issue that prevents users from writing to a WMI repository after a low memory condition occurs.
Fixed an issue that can't keep the NumLock state after a Fast Startup restart.
Fixed an issue that causes the lock screen to appear black when users set up slideshow.
Offered administrators the option to reset the zoom to the default for HTML dialogs in Microsoft Edge and Internet Explorer mode.
Updated the visual design and animations of the Chat icon on the Windows 11 taskbar.
…
For more improvements, you can visit the official websites of Microsoft. As for how to get the Windows 11 update 22000.282, you can refer to the following part.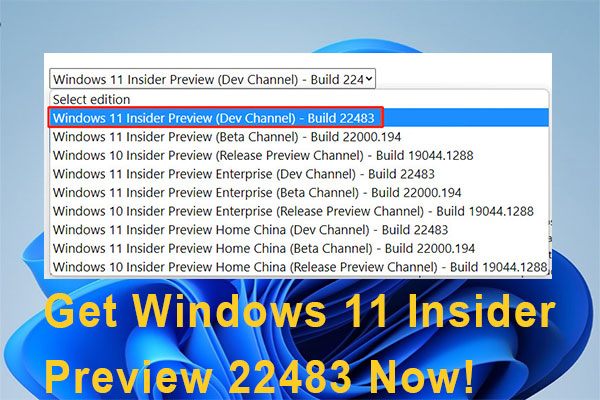 Microsoft released the Windows 11 Insider Preview 22483. Where and how to download the Windows 11 build 22483 ISO? Now, get detailed information from here.
How to Get the Windows 11 Update 22000.282
Windows 11 Build 22000.282 comes as an update KB5006746. Please note that Windows 11 update 22000.282 (KB5006746) is only available in Beta and Release Preview Channels. Users who are running Windows 11 in the Dev Channel will not receive this build.
If you want to get the update, you just need to press Win + I to open Windows Settings quickly. Then select Windows Update in the left pane. In the right pane, click the Check for updates button.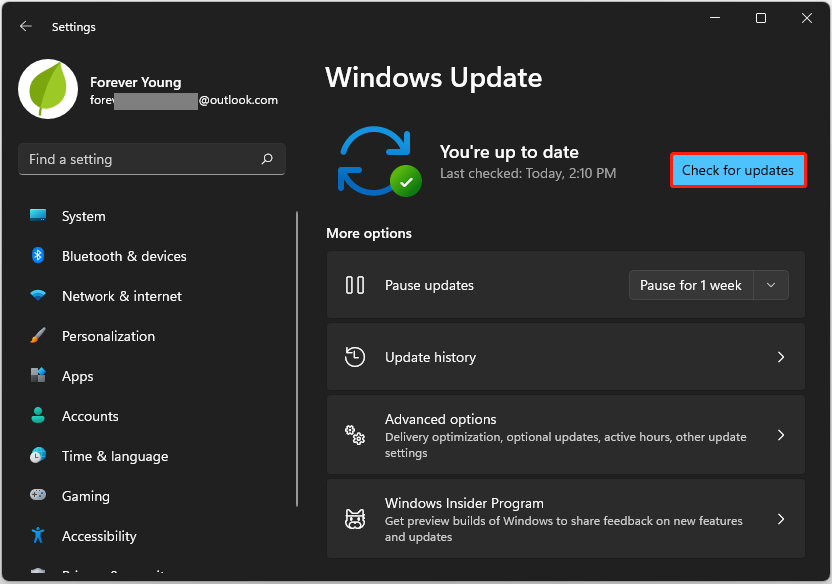 Then Windows will check for updates and download and install available updates automatically as long as you don't delay the Windows Update manually. During the process, you will need to restart your computer. Please make sure you have saved all your work before the restart.
To get the standalone package for Windows 11 update 22000.282 (KB5006746), you can go to the Microsoft Update Catalog website and search for this update. Then download the version you need and install it on your Windows 11.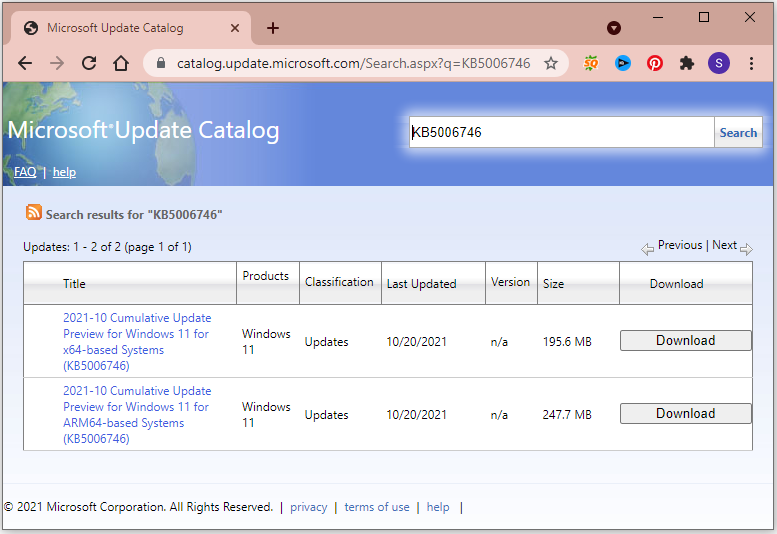 You might find some bugs in the newly released operating system Windows 11. Don't worry. Microsoft is keeping releasing updates to solve them gradually. Therefore, if you are running Windows 11, it is recommended to keep your operating system up to date.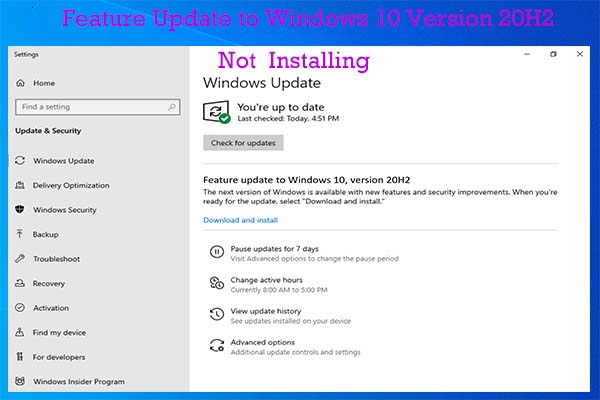 Do you encounter the feature update to Windows 10 version 20H2 not installing issue while updating it? If so, use the given methods to solve the issue now!