Windows 11 Insider Preview 22483 rolls out to the Dev Channel. Do you know where and how to download the Windows 11 build 22483 ISO file? MiniTool writes this post to introduce detailed information on the new build and the ways to install it on your PC.
Windows 11 Insider Preview Build 22483 Rolls Out to the Dev Channel
On October 21, 2021, Microsoft released the ISOs of Windows Insider Preview build 22483 to the Dev Channel. This build brings many new changes and improvements and fixes for the known issues based on the feedback from the Windows 11 build 22478.
Changes and Improvements:
Microsoft has optimized the ability to Right-click when you use the either Recommended or the More button in Start to refresh the items that are shown in the context menu.
Windows Sandbox can work on ARM64 PCs.
Some small improvements to the keyboard navigation and screen reader usage of the performance monitor.
Fixes:
The bug that causes the Search to go black and not show any content in the box has been fixed.
The searching for "display" returns in the Display Settings.
The cellular data not working issue on certain devices is fixed.
The issue with NTFS when the USN journal is enabled is resolved.
The "Publisher column in Task Manager not retrieving publisher names" problem gets fixed.
Of course, the Windows 11 build 22483 also has some known issues like system service exception BSOD when updating, Xbox Game Pass games failed to install, etc. To know more details, you can visit here.
Where and How to Download Windows Build 22483 ISO
Before you download the latest Windows 11 updates, we highly recommend you check the Windows 11 system requirements that you can install the Windows 11 build 22483 ISO successfully.
Processor: 64-bit at 1 gigahertz (GHz) or faster with 2 or more cores
RAM: 4GB or more
Storage: 64GB or larger
Graphics card: DirectX 12 compatible or later with a WDDM 2. X driver
Display: 9″ with HD Resolution (720p) or grater monitor
TPM: Trusted Platform Module (TPM) version 2.0
Where to Download Windows 11 Insider Preview 22483 ISO
Since the Windows 11 Insider preview build ISO files are not available for all users, you need to join the Windows Insider Program. After that, you can click here to access the Windows Insider Preview Downloads page and sign in to your account.
If you don't have an official account, you may consider getting the Windows 11 Insider Preview build 22483 ISO file from a third-party reliable site like UUP Dump.

How to Download the Windows 11 build 22483 Version
Step 1. Once signed in, scroll down to the Select edition section and select a proper Windows 11 Insider Preview (Dev Channel) – Build 22483 ISO edition based on your situation. Then click on Confirm to continue.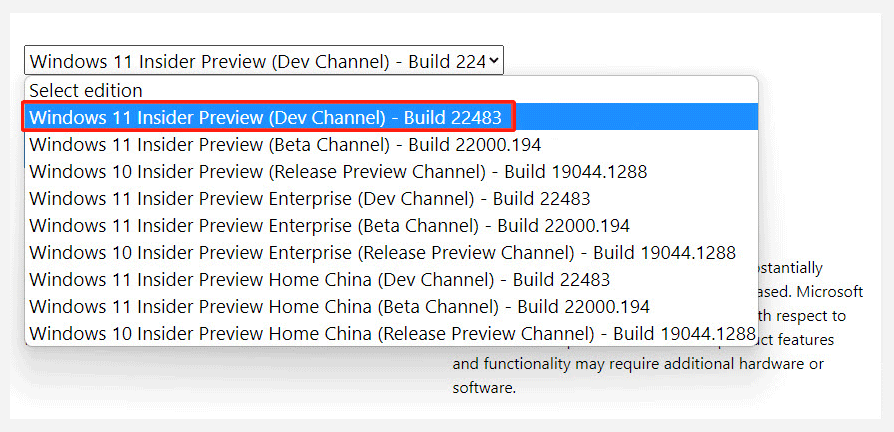 Step 2. Select the product language and click on Confirm.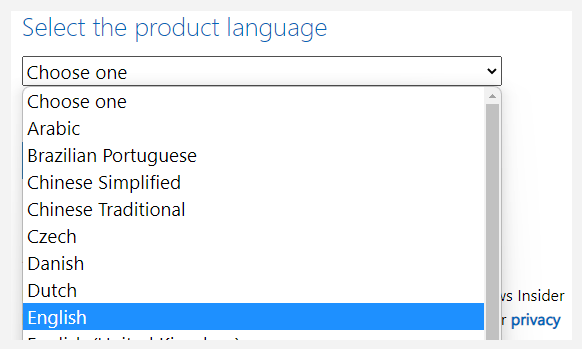 Step 3. Click on 64-bit Download to start downloading the Windows 11 Insider Preview build 22483 ISO file.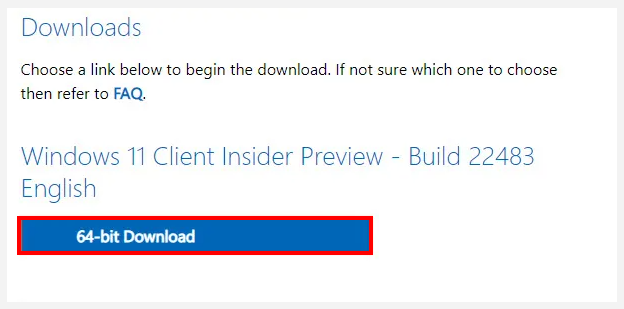 After the ISO file is downloaded, you can use Rufus to create a Windows 11 installation bootable USB and install Windows 11 from the drive.
Other Ways to Get Windows 11 on Your PC
In addition, there are some other ways to get the Windows 11 updates on your PC. The direct way is to upgrade to Windows 11 from 10 after you join the Windows Insider Program. To do so, right-click the Start menu and select Settings, and then go to Update & Security > Windows Update to check for updates. If there are available updates, you can download and install them.
Another way is to use Windows 11 Media Creation tool that provides you with 2 options to install Windows 11: Upgrade this PC now and Create installation media (USB flash drive, DVD or ISO file) for another PC. You can also use the tool to create a Windows 11 ISO image for future use.