You may be bothered with Windows 10 Inetmgr not found. But please don't worry, as this article offers the solutions to fix Windows 10 Inetmgr not found. By the way, you may find some important personal files disappear from your computer. In this situation, it is highly recommended you to use MiniTool Partition Wizard to restore such files to your computer.
Developed by Microsoft Corporation, the inetmgr.exe (sometimes it is called IIS Manager) belongs to internet Information Services (an extensible web server created by Microsoft for use with the Windows NT family).
As a system and hidden file, inetmgr.exe is usually located in the %SYSTEM% sub-folder and its usual size is 7,680 bytes.
As a Windows 10 user, you can access the ISS Manager by typing a short inetmgr command in the Run box.
But some Windows 10 users reported that Windows failed to respond to inetmgr command resulting in Windows 10 inermgr not found error.
How to fix Windows 10 inetmgr not found? Some solutions are listed below.
# Fix 1: Install or Enable IIS Manager
When you find that the inetmgr command does not start IIS Manager, one reason is that this app is not installed or enabled in your Windows 10 computer.
Therefore, in this situation, you can try installing or enabling this app. The tutorial on enabling or installing IIS Manager is displayed below.
Step 1: Type Control Panel in the Cortana's search box and select Control Panel.
Step 2: After accessing the Control Panel interface, please select the Programs option.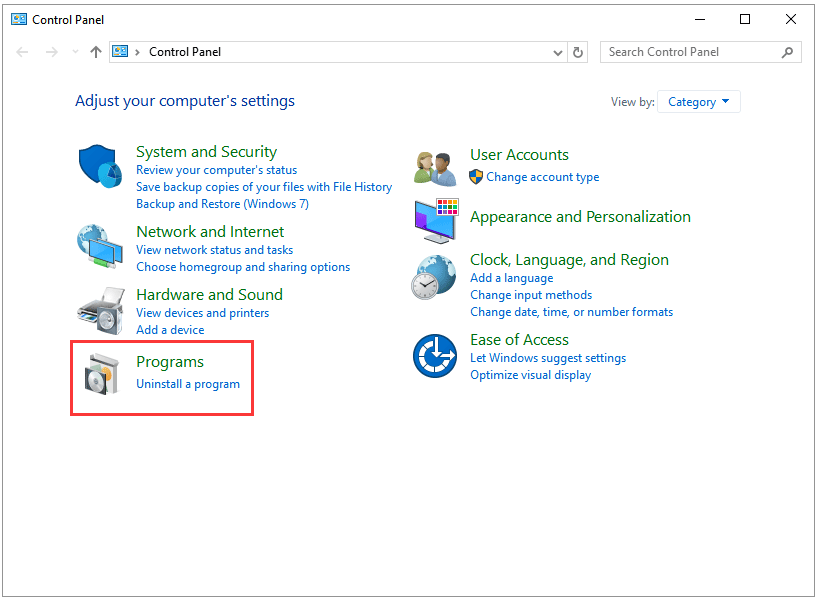 Step 3: Select the Programs and Features in the Programs window.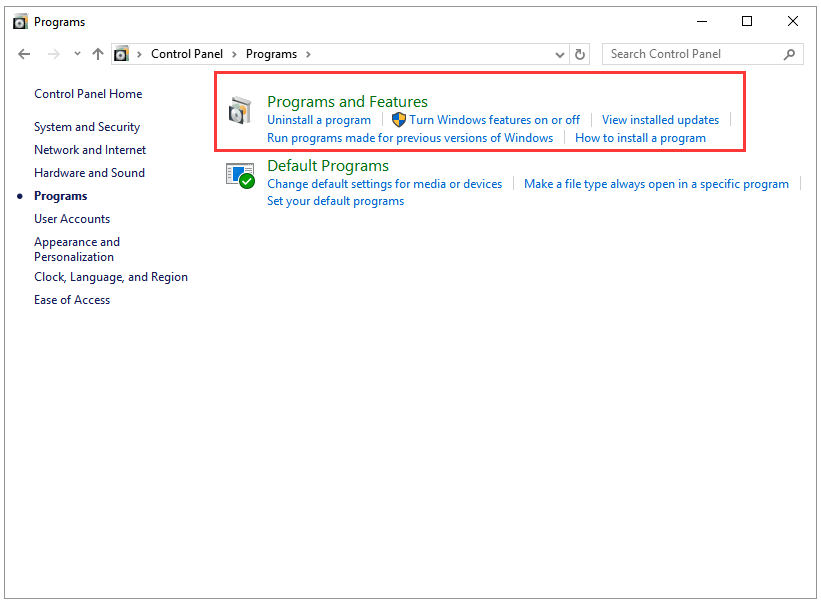 Step 4: Look at the left panel and choose Turn Windows features on or off. In the Windows Features window, find and check the Internet Information Service option, and click the OK button. 
Step 5: Wait for the Windows to enable IIS Manager and then restart the system.
Once your computer restarts, please hit the Windows icon and the R key on the keywords and type inetmgr in the Run box and this should open IIS Manager.
# Fix 2: Check for Alternate ISS Installation
The second reason for the situation that you cannot start ISS manager is that some alternate versions of IIS Manager such as ISS Express have been installed.
Therefore, in this situation, you should uninstall the alternate versions of ISS Manager > reboot your computer > run the inetmgr command to check this fix works or not.
# Fix 3: Check the Antivirus Program Installed in Your Computer
Another reason for Windows 10 inetmgr not found is that the installed internet and system security programs create issues with ISS Manager installation.
Therefore, you can try to temporarily disable such programs in your system (please note that  antivirus is necessary and it is not recommended to uninstall it), and try to install ISS Manager from Turn Windows Features On/Off option.
Check the Installed Version of IIS Manager in Windows 10
All fixes to Windows 10 inetmgr not found have been displayed. Hope these fixes can help you deal with this issue effectively. Now, let's see how to check the installed versions of ISS Manager in Windows 10.
Actually, you can check the installed version of ISS Manager in Windows 10 via Control Panel, Windows PowerShell, and Registry Editor.
Here I show you how to check the installed version of IIS Manager in Windows 10 via Registry Editor.
Step 1: Type the regedit in the search bar, and select the regedit option. Registry Editor window will open.
Step 2: Then go to the following options in order: HKEY_LOCAL_MACHINE > SOFTWARE > Microsoft > InetStp. This will display the version number installed.