Roku is a popular brand of streaming device that provides access to streaming media content from online services. It is also very easy to use and is supported by most smart TVs.
However, some users have reported that they encounter Roku overheating messages on the screen when they plug it into their smart TVs. This post will guide you through common reasons and solutions for this issue.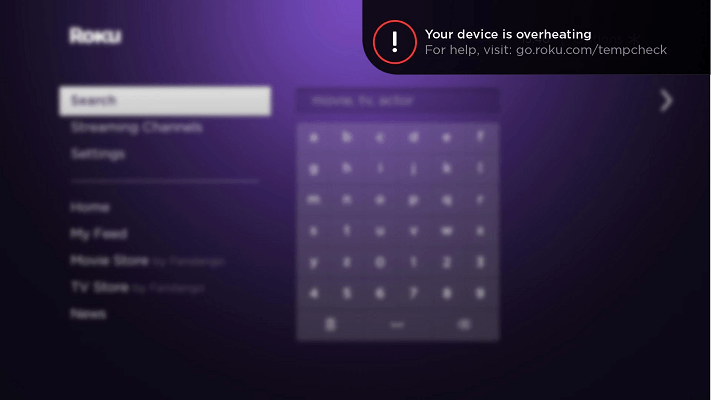 Why is My Roku Overheating?
Roku overheating issues are one of the most common issues Roku users encounter. There are various reasons that can cause Roku overheating issues. Here are some possible reasons why this can happen:
Roku device is stored in a closed environment or with limited airflow.
Roku device is exposed to direct sunlight.
Roku device is near heating instruments.
Prolonged use of the Roku device
Roku device is placed on top of or beside another electronic device that is running.
Roku device is using a faulty HDMI extender.
When you have a Roku device that is overheating, it always shows the following symptoms:
A solid red light is showing on the LED indicator light.
The device is too hot when touched physically. 
Get a Roku overheating message in the top-right corner of your screen, reading as follows: "Your device is overheating: For help, visit: go.roku.com/tempcheck".
After seeing the reasons above, you may already know the answer to "why is my Roku overheating?".  Let's see the solutions below.
Solution 1. Disconnect the Roku Device
Disconnecting your Roku device is a useful method for cooling down Roku device. You should give it a try. To do so, simply unplug your Roku device from the smart TV or similar output device, then plug it back in once it has cooled down.
Solution 2. Clean Your Roku Streaming Device
If you haven't cleaned your Roku device since the first time you used it, you'll notice it's covered in dust and debris. These things can prevent your Roku device's heat dissipation and result in a Roku overheating issue. So, you can try cleaning your Roku streaming device to fix this issue.
Solution 3. Move Your Roku to A Cooler Location
If your Roku device is placed in a closed environment or with limited airflow, you may encounter the Roku device overheating issue easily. In this situation, you'd better try moving it to a cooler location. It can prevent your device from overheating again.
Solution 4. Use an HDMI Extender
The temperatures of the television and heating devices can quickly rise. If you place your Roku device next to them, you may experience Roku overheating issues.
To avoid this situation, you can try using an HDMI extender to connect your Roku device and your smart TV and get some distance between them. For the HDMI extender, the good news is that Roku can ship a free HDMI extender to users.
To get this free HDMI extender, you just need to go to Roku's official website to check if your location is eligible for this free extender. At the same time, you also need to fill out some personal information.
Solution 5. Stop Using Third-party Power Plugs/Adapters
If you are not using the official power plug or adapter, you can encounter the Roku device overheating issue easily. If you are like this, you can replace them with an official power plug and adapter to fix this Roku overheating issue.
Bottom Line
If you are interested in MiniTool Partition Wizard and want to know more about it, you can visit MiniTool Partition Wizard's official website by clicking the hyperlink. MiniTool Partition Wizard is an all-in-one partition manager and can be used for data recovery and disk diagnosis.