Summary :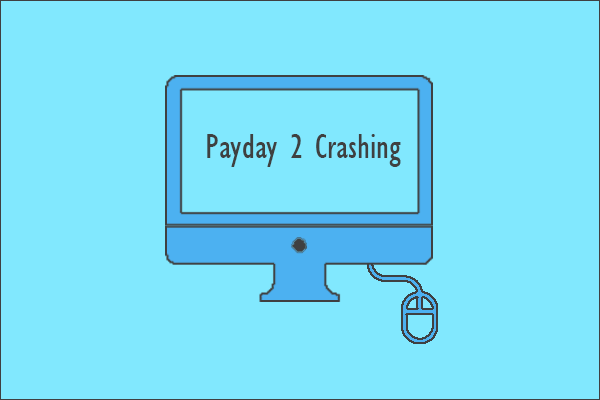 Payday 2 is a cooperative first-person shooter video game that has gained large popularity. However, lots of users encounter Payday 2 crashing. Why does the issue happen? How to get rid of this issue. All these are discussed in this post.
Payday 2 Crashing Randomly
Why does Payday keep crashing? Many factors can lead to Payday 2 crashing, such as the installed mods, Steam overlay, outdated drivers, and more. Based on these factors, some solutions are displayed below.
Tip:
If you are seeking a professional partition manager,
MiniTool Partition Wizard
is worth trying. MiniTool Partition Wizard is skilled in partition deleting/formatting/wiping/backing/recovering…
Fix 1: Run Payday 2 in Compatibility Mode
When Payday 2 crashes randomly, please try running it in compatibility mode.
Step 1: Go to the Payday 2 installation directory and locate the game executable file. Right-click the file and choose the Properties option.
Step 2: Switch to the Compatibility tab and choose an earlier version of Windows in the Compatibility mode section.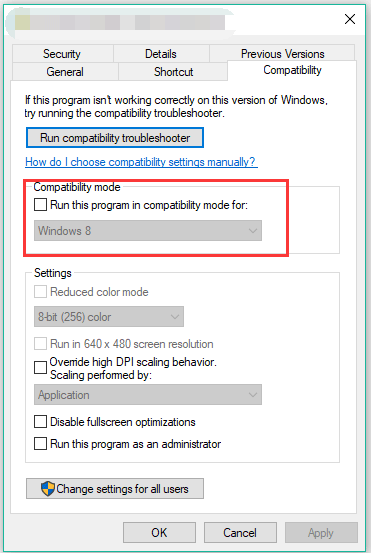 Step 3: Click Apply and OK to save changes.
Fix 2: Uninstall Mods
Are you using mods on Payday 2? Mods can enhance your gameplay but also cause a game to crash.
Therefore, if you encounter Payday 2 crashing while using mods on this game, please uninstall them to see if this game crashes again.
If the game works well, please stop using mods on this game. If Payday still crashes on PC, please try the fixes below.
Fix 3: Enable or Disable "Use HQ Weapons"
"Use HQ weapons" is a setting that provides gamers with more detailed texture. In different cases, using or not using this setting can lead to Payday 2 crashing.
If other players use new weapons but you have disabled the "Use HQ weapons" setting, Payday will crash. The other case is that enabling this setting will put more load on the graphic card, which means Payday will crash when your computer is unable to handle this request.
To enable or disable the "Use HQ weapons" settings you should:
Open Payday and go to the game settings.
Check your USE HQ WEAPONS setting. To enable it, check it; to disable it, uncheck it.
Restart your PC and see if the game will crash again.
Fix 4: Check If Steam Overlay Is Turned off
Turning off Steam Overlay can also be helpful. Follow the tutorial below to check if Steam Overlay is turned off.
Step 1: Launch Steam.
Step 2: Open Settings and switch to the In-Game tab on the left side.
Step 3: Locate Enable the Steam Overlay while in-game option on the right side and make sure it is unchecked.
Step 4: Click the OK button to save the changes.
After disabling Steam Overlay, you can run Payday 2 again and see if the issue persists.
Fix 5: Verify Game File Integrity
A corrupted game file is one of the culprits behind Payday crashing. So, verify your game file integrity.
Step 1: Open Steam and go to the LIBRARY tab.
Step 2: Locate Payday and right-click it to choose Properties.
Step 3: Switch to the LOCAL FILES tab and click the VERIFY INTEGRITY GAME FILES button.
When the process ends, click the Close button. Then, relaunch Payday again and see if it will crash.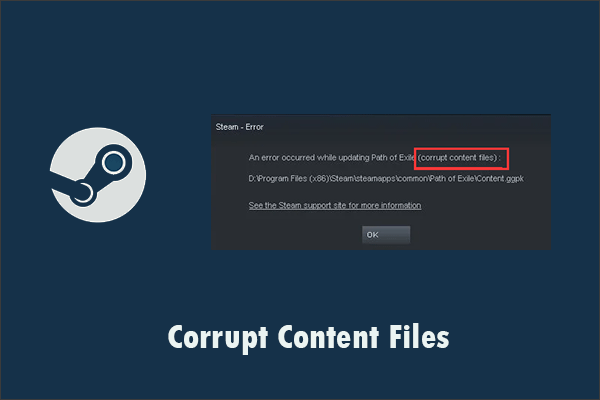 Steam users complained an error occurred while updating a game. The error is "corrupt content files". How to solve the issue? Try the fixes this article lists.
Fix 6: Update Your Graphics Card Driver
An outdated graphics card drive can also cause a game to crash. So, try updating your graphics card driver.
Step 1: Right-click the Windows icon on the taskbar and then choose Device Manager.
Step 2: Expand the Display adapters item and right-click your graphics card to select Properties.
Step 3: Switch to the Driver tab and then click the Update driver… button.
Step 4: Choose the Search automatically for updated driver software option.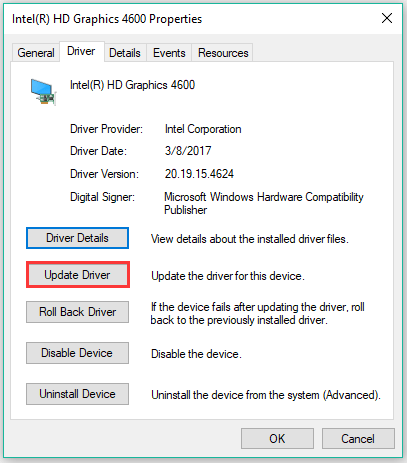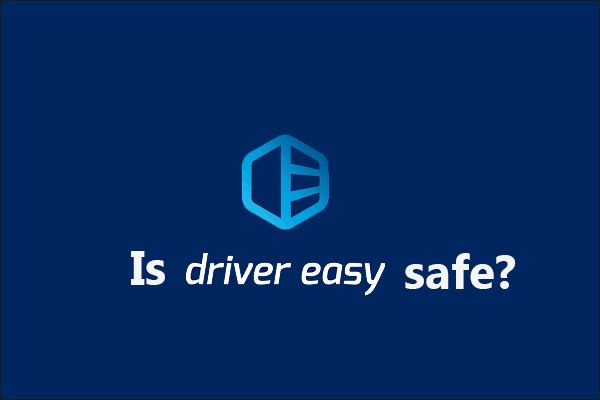 You may have heard Driver Easy when searching for things like driver update on google. What is Driver Easy? Is it safe? Read the post to get the answers.