From this post, you will learn the symptoms, possible causes, and troubleshooting methods of the
Outlook data file corruption
issue. If you are still bothered by this error, explore the post content with
MiniTool
now!
Two Types of Outlook Data Files
OST and PST, two main types of Outlook data files, are used by Microsoft Outlook. OST refers to Offline Storage Table, which is an Outlook data file allowing you to work offline when you are not connected to the Internet. It will synchronize the changes with the Microsoft Exchange Server the next time you connect to the Internet.
OST is used by IMAP accounts, Microsoft 365 accounts, Exchange accounts, and Outlook.com accounts to store a synchronized copy of your mailbox information on the local computer. Given that fact, you can still access all emails, calendar data, contacts, and tasks even though your connection to the mail server is interrupted or you are in the airplane mode.
When you work offline, you can check or create new appointments, search or add new contacts, and even read and write emails. Besides, changes made in the offline mode won't be synchronized with your account on Exchange Server unless the Internet connection is set up again.
Tip: Though the OST file is similar to the PST file, it only stores the mailbox data in offline mode.
PST (Personal Storage Table) is also a data storage file format of Microsoft Outlook that stores copies of messages, calendar entries, journals, and appointments on your system. It offers easy access to data. The mailbox information of POP accounts usually is stored in PST files.
Further reading:
In addition to OST and PST files, there is another sort of file in Outlook – group storage file (.nst). When you access a group in Outlook for the first time, a new type of Outlook data file (.nst) is created. With a ".nst" extension, the group storage file stores your Group conversations and other local Groups data.
As all of this information is synchronized between your computer and the email server, there is no need to back up this file or import it when you configure Outlook on a new PC.
Signs of Outlook Data File Corruption
Though OST files are pretty stable and wouldn't be damaged easily in most time, they sometimes can get corrupt due to a few reasons. After OST files are corrupted, they impact mailbox functionality and stop you from accessing your mailbox data like emails, attachments, contacts, notes, and so on.
Likewise, you may also encounter various errors after PST file corruption occurs. If you meet one of the following issues, it may indicate that you're suffering from Outlook data file corruption.
Outlook crashes.
The email can't sync with Outlook.com.
Outlook doesn't work after restarting.
Outlook data file can't be accessed.
Outlook PST file can't be opened.
The set of folders can't be opened.
The Outlook data file (.pst) format can't be used.
Items like email, contact, notes, calendar, and other stored contents become inaccessible.
Microsoft Outlook exited with the Outlook data file closed improperly.
The "errors have been detected in the file Outlook OST" message displays.
The "errors have been detected in the file Outlook PST" message shows up.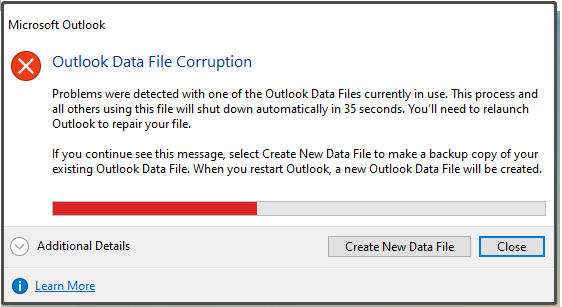 As you see, various errors would appear if there are corrupt OST files. To solve the issue, you need to figure out the reasons behind it. Well, you can find the detailed information in the next section.
Main Reasons for Outlook Data File Corruption
Various factors can cause Outlook data file corruption. They are roughly divided into two categories (hardware-related and software-associated).
Hardware Reasons
Hardware-associated reasons for Outlook data file corruption mainly include malfunctioning failure, or improper configuration of internal or external components of the PC like hard disk, power supply, network connections, etc.
The section below will illustrate them one by one.
Poor or unstable network connection: Stable Internet connection is vital for the synchronization process. If there is a poor or unstable network connection while synchronizing changes, it could result in OST file corruption. This situation often occurs when the OST file is stored on a network drive, and the case is true for PST files too. Hence, it is recommended to check the network connection and devices if you meet Outlook data file corruption.
Damaged or corrupted hard drive: When your hard disk where PST or OST files are stored gets corrupted, these files could be corrupted as well. If you find that your hard drive works slower than usual, it can be caused by the combination reasons of hardware faulty and bugs. Then the abnormal performance of the storage device leads to Outlook data file corruption.
Bad sectors on hard disk: It is one of the primary reasons for PST/OST file corruption. To be specific, the corruption issue will appear if a part of PST/OST data is stored on a sector that turns bad. If you encounter frequent Outlook data file corruption and disk performance issues, you should perform a surface test via MiniTool Partition Wizard to see if your hard disk contains bad sectors. If it indeed has bad sectors, you can follow this repair guide to shield them or directly replace the drive.
Sudden power outage: It is harmful for items like PCs, as well as applications and files associated to them. An unexpected power outage can result in hardware failure and even hard disk crash. However, the OST file corruption issue only happens only if power loss appears when Outlook is opened and you are working on it.
Improper termination of Outlook: Whenever you improperly close or end a running program, it can cause negative consequences. This operation affects both the application itself and files associated with it. The application may freeze or shut down suddenly, while the associate files can be damaged or get corrupted. To avoid that situation, you should exit all open windows and dialog boxes once you are done with all Outlook tasks.
Tip:
To detect errors with hard disks, MiniTool Partition Wizard is recommended. As an expertized disk manager, it enables you to find hard disk errors like bad sectors and damaged/broken file systems with ease. Besides, it allows you to execute other disk/partition related operations. 
MiniTool Partition Wizard FreeClick to Download100%Clean & Safe
Software Reasons
The software reasons behind PST/OST file corruption mainly consist of logical inconsistencies and incompatibilities.
Virus infection: It is one of the most common reasons for any type of file corruption. There's no exception for Outlook data file corruption too. Virus attacks damage whole system data including the PST and OST files. Malware infects a file in various ways like overwriting the file with junk data or deleting some part of the file. If you don't run a good enough antivirus program, you are possible to experience a virus infection.
Oversized Outlook data file: As every individual file being used for data storage is liable to specific storage capacities, you will receive Outlook data file corruption if the data storage is oversized. For instance, the OST file's recommended limit is 50GB in Outlook 2020 and above versions, it will become corrupt when it is about to reach or surpass the limit.
Incompatible Outlook plugin: Though third-party plugins are useful in many aspects, some installed plugins can slow down your Outlook performance and trigger Outlook data file corruption especially if they are faulty plugins or not compatible with the current Outlook version.
Issues with Outlook: According to user reports, the Outlook data file corruption issue sometimes occurs due to issues (created by Outlook) with the OST or PST files. These issues can only be rectified from the developer's end.
Word Frozen: How to Solve It and Recover the Lost Data
Outlook Data File Corruption Fixes
Fix 1: Disable Outlook Plugins
If PST/OST file corruption is caused by the incompatible Outlook add-ins, you can solve the issue by disabling plugins. For doing that, you need to open Outlook in Safe Mode and then disable COM add-ins from the MS Outlook Options menu. After that, check if the Outlook data file corruption issue is solved.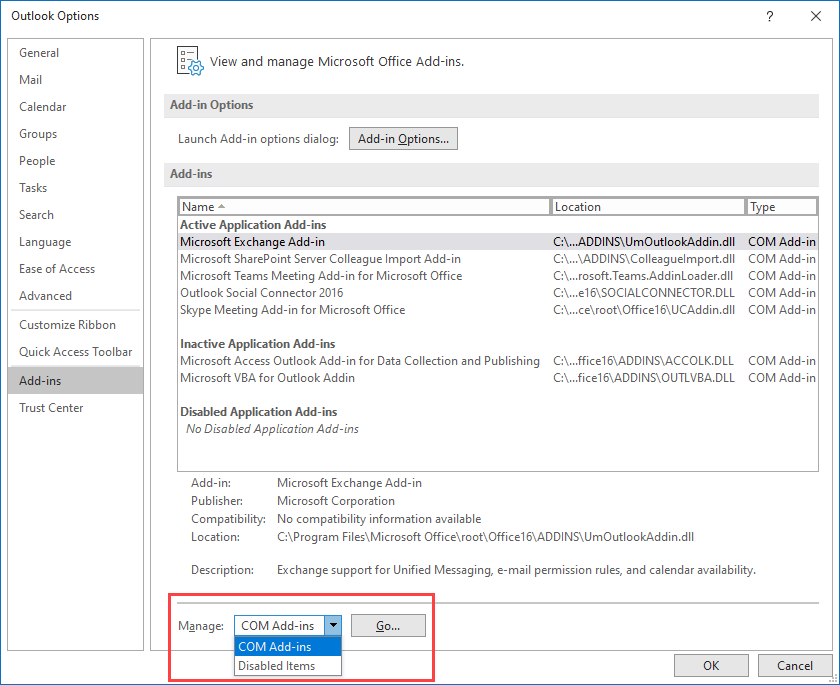 Fix 2: Repair Offline Outlook Data File
You have two options to repair your corrupt OST files.
Option 1: Convert OST to PST
You can convert OST to PST if you have some important data on the offline Outlook data file, or don't sure if it exists on the exchange server. This operation will fix the corruption issue and bring back your contacts, notes, emails, and other Outlook data. Besides, it creates a healthier PST file that you can access from Outlook.
Tip: You need an OST to PST converter to finish the conversion operation.
Option 2: Delete PST/OST File and Recreate It
If you have stored all the Outlook data on the server side, simply delete and recreate your Outlook data file to get rid of the corruption issue.
With the following steps, you can delete and recreate PST/OST file, and then connect it to the server to get back contents synced to the mailbox.
Step 1: Run Outlook and then click on the File tab.
Step 2: Tap Account Settings and choose Data File.
Step 3: Locate the corrupted Outlook data file with the .ost extension from the displayed list.
Step 4: Select the PST/OST file and tap on the file location at the top.
Step 5: Choose the PST/OST file and delete it.
Step 6: Launch the Outlook application again. Once the Send/Receive option is initiated, you can retrieve all the Outlook data.
Fix 3: Use Inbox Repair Tool
Inbox Repair Tool (Scanpst.exe), a built-in feature of Microsoft Outlook, is mainly used for fixing minor PST corruption issues. Here are steps for doing that.
Step 1: Exit Outlook. If you run Outlook 2013, locate to the destination by following the path "Program FilesMicrosoft OfficeOFFICE15 folder". Then find Scan.exe and double-click on it to continue. If you use other Outlook versions, pay attention to the following information.
For Outlook 2016: Program FilesMicrosoft OfficeOFFICE16
For Outlook 2010: Program FilesMicrosoft OfficeOFFICE14
For Outlook 2007: Program FilesMicrosoft OfficeOFFICE12
Step 2: Input the name of the .pst or .ost file to be repaired. Alternatively, you can also click Browse to choose the target file. After that, click Options and click Start.
Step 3: If any errors are detected, you will be asked to start the repair process to fix the errors. To get more information about the type of corruption, you can click on the Detail button before clicking Repair.
Tip: A backup file is created during the repair process.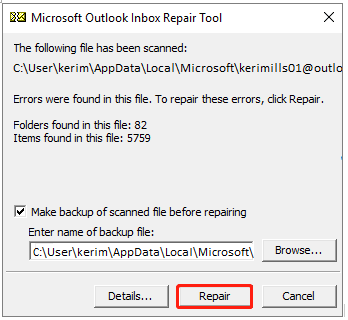 Step 4: If everything goes well, you will get a Repair complete window. Click OK to close the window and exit the operation.
Do you receive the "errors have been detected in the file Outlook OST" It is likely that you are experiencing Outlook data file corruption. This post summarizes potential reasons for the issue and offers you some fixes. Click to Tweet
Bottom Line
You can know if you are suffering from Outlook data file corruption through some symptoms. Well, this post lists some known signs of the error and summarizes its possible reasons. You can solve the PST/OST file corruption in Outlook using methods offered in the post or executing some operations based on the listed causes.
Do you have any thoughts about this topic? If you have something to share with us, please your words in the following comment zone. For any questions related to MiniTool Partition Wizard, contact us by sending an email via [email protected].