Many users complain that their Nexus 5X won't turn on. What causes the issue? How to fix the "Nexus 5/5X/10 won t turn on" issue? Now, let's start exploring these questions together with MiniTool.
Why does Nexus 5X won't turn on? After analyzing extensive user reports and references, we find the issue is often related to a faulty battery or bad charger. In addition, some other factors like corrupt cache partition, broken internal power button, clogged micro-USB port, and conflicting third-party applications are responsible for the issue. Don't worry. Here we provide you with corresponding solutions.
Way 1. Check the Battery and Charger
If your Nexus 5X won't turn on and completely refuses to charge, then it's very likely that your battery or charger gets faulty. So, the first thing you should do is to check your battery and charger. For that:
Step 1. Plug the original charger into your Nexus 5 device and check if the charging indicators are flashing. If the charger works, then you can see the charging icon on your screen and flashing LED at the upper right corner of your device.
Step 2. In case your device doesn't show any signs of charging, you can use a different USB cable and try again. If the charger works well, proceed with the steps below to check the battery.
Step 3. Now, take out the battery from the back case of your Nexus 5 device. If it seems to be larger than it should be, then it's a sign of a bad battery. Another sign that you have a degraded battery is screen flickering.
Note: If you have used the battery for more than 2 years, it's possible that your battery degraded to a state where it even doesn't have the power to turn on. At this time, you need to replace it with a new one.
You can move down to the following solutions if your battery and chargers work normally.
Way 2. Clean the micro-USB Charging Port
Another possible reason for the Nexus 5 won t turn on is the dirt micro-USB port. In this case, you can try cleaning the USB port. Here's a simple guide for you:
Step 1. To check if the USB port suffers from lint or dirt accumulation, you can use a flashlight and take a look inside the charging port.
Step 2. Power off your Nexus device completely and clean up the dirt or lint using something small like a needle.
Step 3. Use a small cotton swab dipped in alcohol to clean the USB port. Then leave it to dry in a ventilated place.
Once done, you check if the "Nexus 5 won't turn on" issue is fixed.
Way 3. Check the Power Button
There is a chance that your power button is being stuck. It is a common reason for the Nexus 10 won't turn on. If this scenario is applicable for you, you can follow the steps below carefully to dislodge the power button.
Note: The following operation may damage the backside of your device. If you are not sure you can deal with it, you can take your phone to a technician for help.
Step 1. Power off your Nexus 10 device and take off the external case.
Step 2. Roll the power button around in every direction possible by using your fingers, until the button is dislodged.
Step 3. Hit the backside of your device near the power button against a hard surface several times until you hear the power button pops up.
Step 4. Press the power button and see if your Nexus 5X won't turn on or charge.
Way 4. Wipe the Cache Partition
In addition to the hardware issues, the software glitch is also responsible for the "Nexus 5X won t charge" problem. To fix it, you can try booting into recovery mode and clear the cache partition.
Step 1. Power your Android phone off entirely.
Step 2. Hold the Volume Up + Volume Down + Power buttons at the same time. Then your phone will boot into Recovery Mode.
Step 3. Highlight the Wipe Cache Partition by using the volume down button and tap on the Power button to confirm it.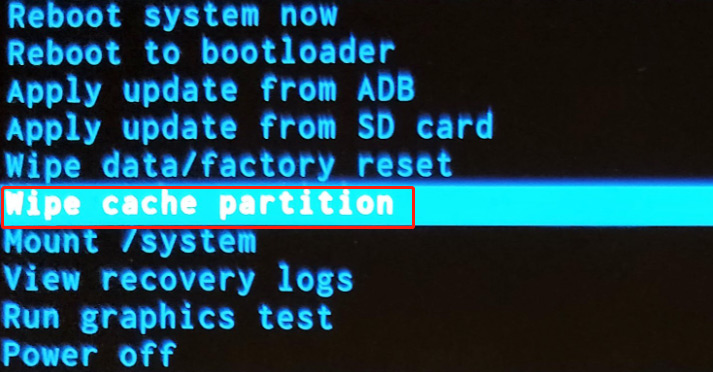 Step 4. Wait some time for the system cache partition to clear. Once complete, select Reboot system now and tap on the Power button to confirm.
Now, you can charge again and check if the "Nexus 5 won t turn on" issue persists.
Way 5. Boot Your Device into Safe Mode
Sometimes, your Nexus 5X won't turn on or charge due to a conflicting third-party application. In this case, you can boot your device into Safe Mode. It will ensure that no third-party applications run in the background.
Step 1. With your Android phone turned on, hold the Power button for about 3 seconds until the Boot menu is opened.
Step 2. Touch on the Power Off icon, and click on OK to reboot your device into Safe Mode. You can confirm this by seeing if the Safe Mode icon resides at the bottom of your screen.
Step 3. If your device manages to boot up, it means that you have an application conflict. Then you need to uninstall any apps that you have installed around the time you encountered the issue.
Way 6. Perform a Factory Reset
If all the above methods fail to work, the last accessible solution is to factory reset your Nexus 5/5X/10 phone. Bear in mind that performing a factory reset will erase all personal data on the internal storage. So, it's highly recommended that you create a backup before doing a factory reset.
Step 1. Press the Settings icon on your device and scroll down to the Backup & reset section.
Step 2. Tick the checkbox next to Back up my data and wait for the backup to be created.
Step 3. Touch on Factory data reset and click on Reset Phone to confirm this action.
Step 4. Tap on Erase everything button at the final confirmation. Then wait for the process to complete. Once done, press the Power button to select Reboot system now.