Are you looking for an iOS emulator for PC? MiniTool Partition Wizard collects the top 7 iPhone emulators. You can pick one from them to run iOS apps and games on Windows computers smoothly. Besides, you will learn extra information related to iOS emulators.
iOS Emulator for PC FAQ
What is an iOS emulator?
Emulators are virtual programs, which can create a different operating system environment on various systems. As for the iOS emulator for PC, it is similar to these programs. After the installation, the iPhone emulator will create an iOS environment on Windows so you don't have to buy an iPhone or install iOS system on the PC.
Why Do You Need an iOS Emulator?
iOS emulators are helpful in many cases, For instance, if you want to run iOS applications and games on Android, Mac, or Windows devices smoothly, an iOS emulator is needed. With the help of an iPhone emulator, you can run games like PUBG and Pokemon Go on your PC.
[contentbox type="tip" from=""]
Generally speaking, certain software and applications run on a specific device. For instance, you need to get an iPhone if you want to run iOS apps.
[/contentbox]
Besides, you can duplicate an iOS device's behavior without any additional hardware cost by using iOS emulators. For app developers, an iPhone emulator for PC is useful for finding unexpected behavior in the text phase.
What are the pros and cons of an emulator?
Though emulators have platform-hopping and cost-free features, they can disturb other apps' running because of high RAM usage. Given that fact, your high-end game may lag or freeze.
Also read: Top 6 Free Android Emulators for Windows 10/11 PC to Play Games
#1. Appetize.io
Appetize.io is a web-based iOS emulator, which works by uploading iOS apps on its website. It works on any web browser on Windows PCs. If you would like to test apps quickly or don't want to install anything on your PC, Appetize.io is a good choice.
This iPhone emulator allows you to work in an advanced iOS environment with plenty of features and cross-platform application development. It requires the least resources and can work smoothly with basic configurations.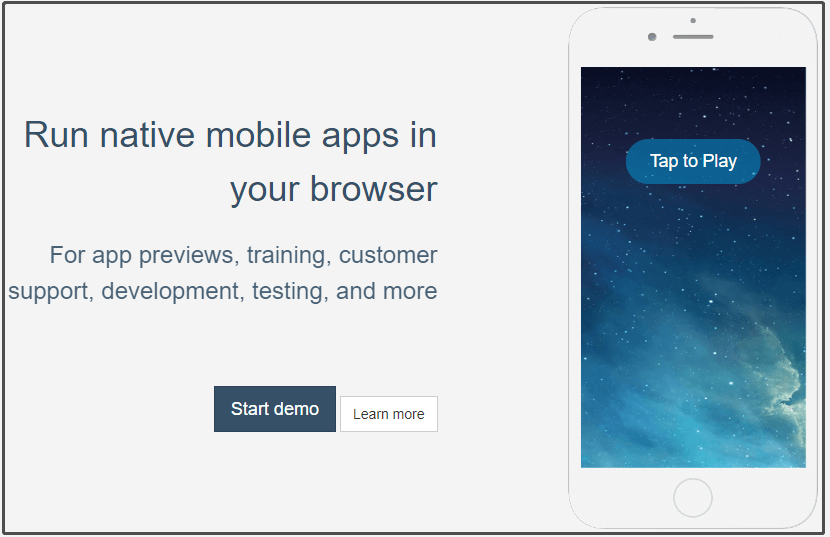 Being one of the most popular iOS developer tools, Appetize.io can help developers to debug logs, access network traffic, and check for issues. Though it doesn't provide you with any IDE for developing, it works perfectly while testing apps.
As for the cost, you can use Appetize.io for 100 minutes a month free of charge. If you exceed that time, you will be charged $0.05 per minute.
#2. Corellium
Like Appetize.io, Corellium is also a web-based iPhone emulator for PC. At the very beginning, Corellium was only available to enterprise users. Now, individuals can also use this iOS emulator. However, it is hard to master this tool as it doesn't want to be used by the wrong people. Given that fact, it is mostly used by security researchers to run a simulated iOS device.
Though Corellium is a cloud-based emulator, it doesn't collect any customer information from customer project networks or network traffic. All the data in the Corellium is encrypted and the keys are only known to the database.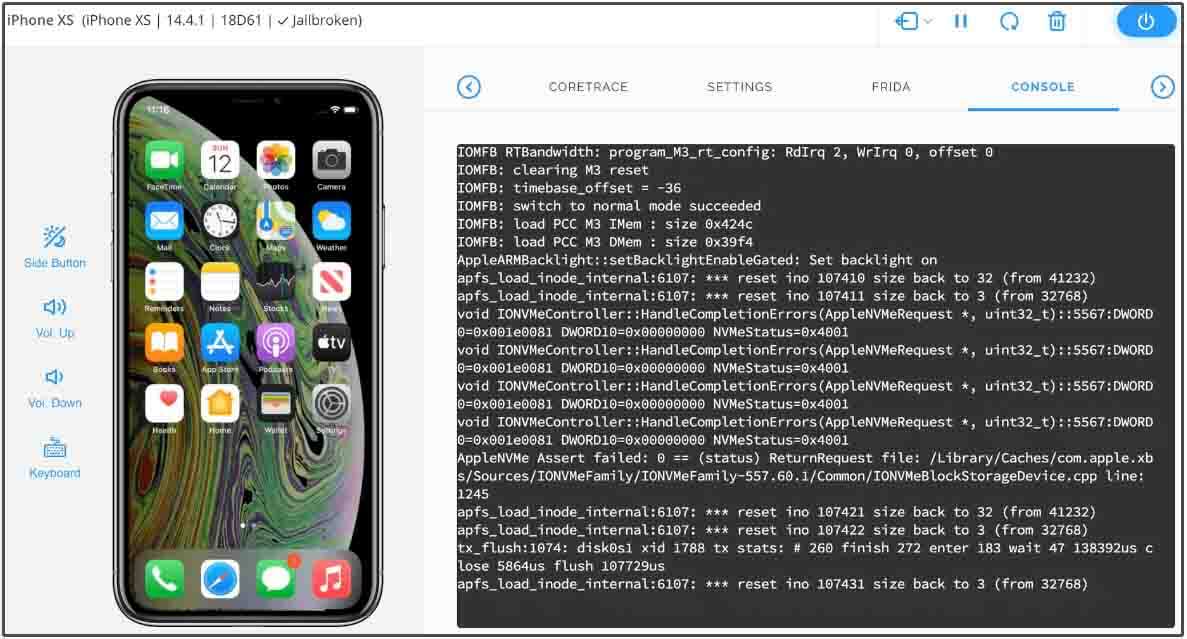 With Corellium, you can run production codes without compiling them again. It can support sensors on iPhones like battery and GPS, and record screens through the device's native FPS. As it has powerful APIs, it allows you to integrate them with your current test frameworks.
Moreover, you are allowed to set hardware-specific features. By doing so, it would be easy to create apps targeted on specific iOS devices. You will get the emulator running on Arm hardware at the price of $99. Then you can test cross-platform mobile applications with ease.
#3. App.io
App.io is built based on the cloud. It is compatible with Google Chrome, Mozilla Firefox, and Safari browsers. Compared with other iOS emulators, the most obvious advantage of this program is easy to use and navigate. However, App.io is a bit slow iOS emulator for PC. To be specific, it takes up to 30 minutes to upload apps. It comes with a 7-day free trial. If you want to keep using it, you need to upgrade to the premium plan.
#4. Smartface
Smartface is widely used by app developers to test iOS apps. It is also used to build native cross-platform iOS apps. It offers you both the free and paid versions, so you can choose one according to your demand. You should know that the free version doesn't have enough functionalities for app development.
Tips:
As this iPhone emulator also acts as an Android emulator, you can develop high-quality native iOS and Android apps using a unified platform.
Being one of the best iOS emulators for PC, Smartface has a marvelous and user-friendly interface. Hence, you can develop cross-platform apps after ensuring that iTunes has been installed on the PC.
#5. MobiOne Studio
MobiOne Studio is an iPhone emulator for PC, which allows you to run iOS games and applications on Windows PCs. With this iPhone emulator, you can enjoy the beta apps. It is compatible with Windows, iPad, Mac, and iPhone.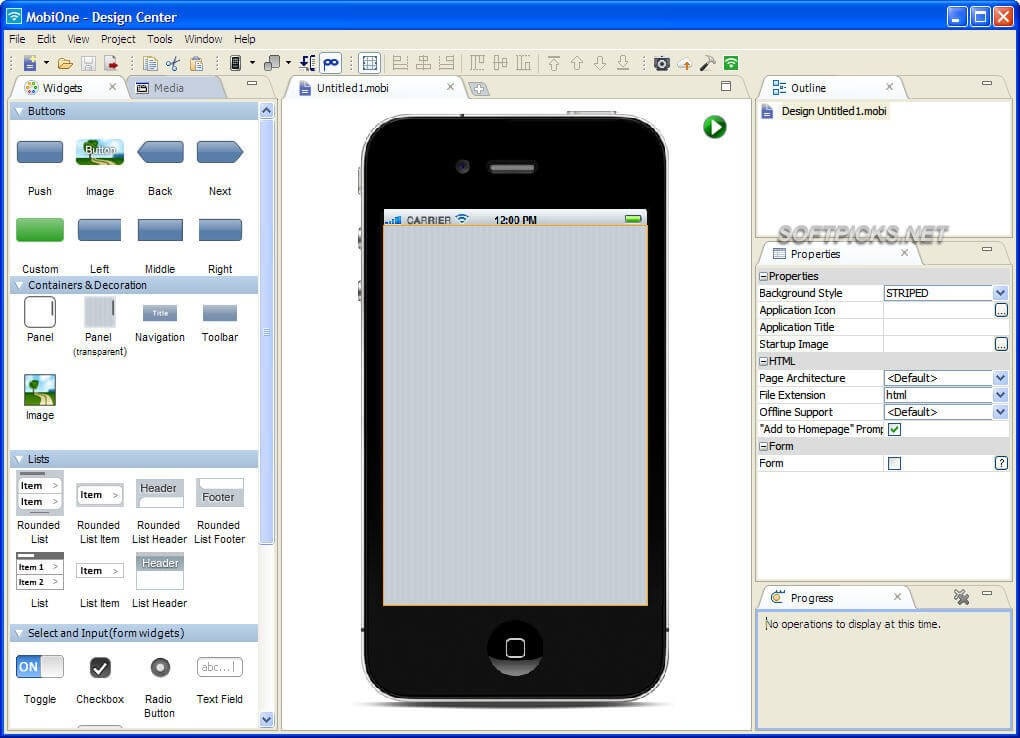 This iOS emulator can even enable status notifications like iOS. It is suitable for people who want to develop cross-platform mobile phone applications.
#6. Air iPhone Emulator
Air iPhone emulator can recreate the iPhone user interface on a PC. However, you need to download the Adobe Air Framework to run this iOS emulator. After installation the emulator, all your iPhone apps and games will be shown on the desktop.
Through this iOS emulator for PC, you can use iOS on Windows systems smoothly. Importantly, it is completely free of charge.
#7. Electric Mobile Studio
Electric Mobile Studio can help you develop, test, redesign, and create iOS apps on Windows. It even allows you to change resolutions on the fly, upgrade or degrade HTML5 support, etc. Nevertheless, it is a bit heavy and consumes more RAM compared with other iPhone emulators.
It has full-featured emulation of iPhones, iPads, and responsive apps. In addition, it is capable of utilizing the same product on two computers for frequent work arrangements at the office and at home. Due to the integrated WebKit and Chrome debugging tools, Electric Mobile Studio is preferred among developers.
This iOS emulator allows you to add hot-key navigation keys for mapping your favorite shortcuts. It offers you a 7-day free trial. After that, you need to pay for it.