To create Tweets for fun, you can utilize a fake Tweet generator. Here, MiniTool would introduce you top 6 free online fake Tweet makers.
If you are going to create fake Tweets, these 6 fake Tweet generators deserve your attention. Pick one from them randomly.
Tweetgen
Tweetgen is the only online fake Tweet generator that boasts the following features:
Tip: Tweetgen will allow for quote tweets and allow you to create your own fake profiles in the upcoming future.
Includes options for a verified check mark and a custom-like and retweet count
Allows you to add custom images
Generates images of reply chains
Generates images of users blocking you or being suspended
Lets your friends believe your completely fake screenshots
Updates with Twitter's current look
Tucktools
Tucktools provides you with an online Fake Tweet Generator. With this fake Tweet maker, you can publish tweet images on Instagram, Facebook, or Snapchat. Besides, you don't have to edit images to create a Twitter post like  a user interface.
To create fake Tweets with this fake Tweet generator, you just need to navigate to its website and set parameters like name, Fake Twitter client name, Retweets count, Quote Tweets Count, time, date, and others based on your demands. Finally, preview the Tweet content you want to post in the right panel and click the Generate Tweet button.
Tip: You can choose a preferred theme from Light, Dim, and Dark.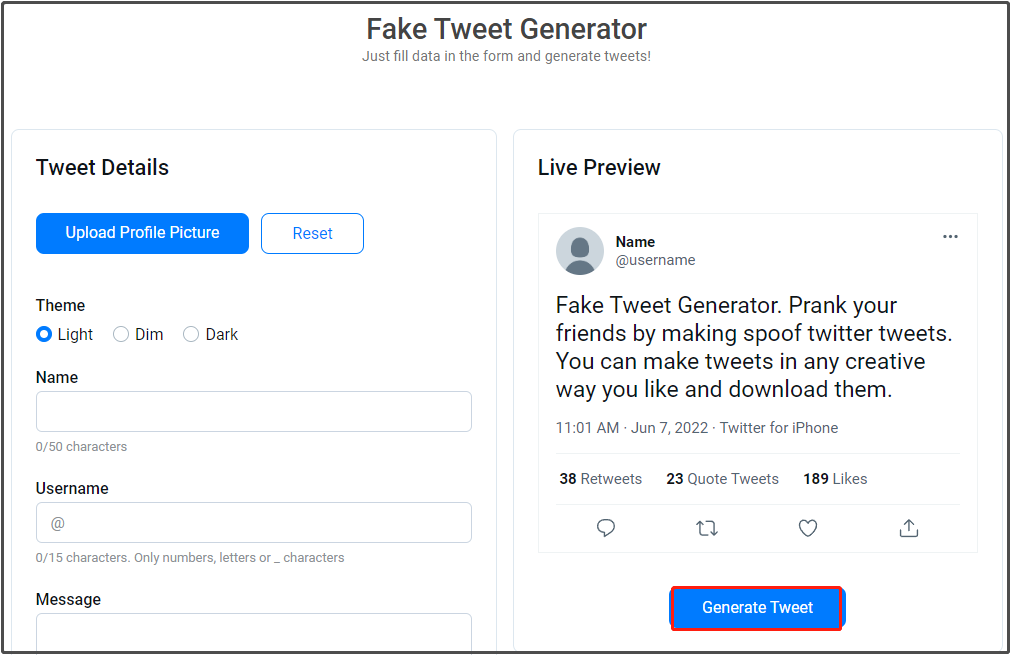 GenerateStatus
The fake Tweet generator from GenerateStatus can help you create a real-looking fake tweet. It offers you an exact mockup of Twitter Tweet. Additionally, this fake Tweet maker is updated with Twitter's current look and design.
If you create fake Tweets on this program, move to here and scroll down the page to the Fake Post Generator Interface section. Then upload your profile picture, set your name, configure a fake Twitter username, type the tweet, set the date of the tweet, add the number of likes and retweets, etc. After that, click on the Generate Image button to send the Tweet.
Tip: Before releasing the fake Tweet, you can have a preview.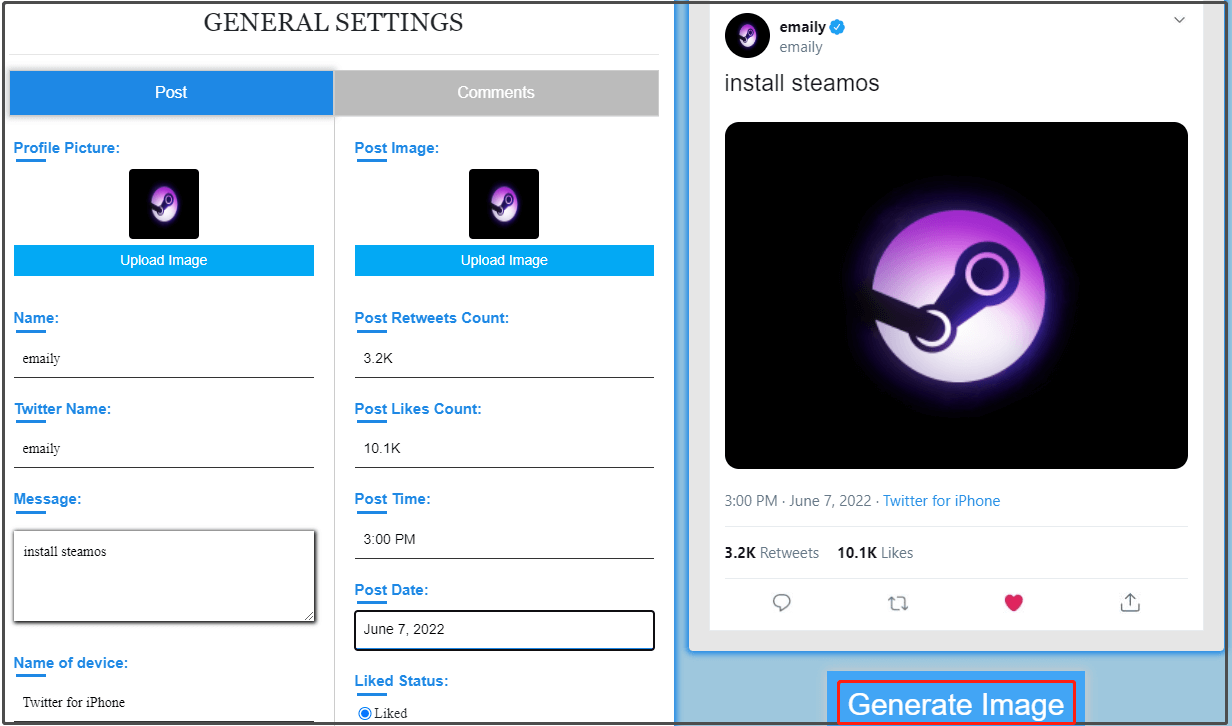 Shashiirk.github.io
There is an online and free fake Tweet maker on shashiirk.github.io website. It is very easy to create fake Tweets on it. To do that, navigate to the website and edit your Tweet. To be specific, click on the Upload Profile Picture button to set a profile image and type name, username, message, time, date, client, and retweets/quote tweets/likes count. According to your needs, choose a theme (light, dim, and dark) and decide whether to show or hide the verified badge icon.
Then preview the Tweet post in the right panel and click Download. After that, you will get an image of your Tweet.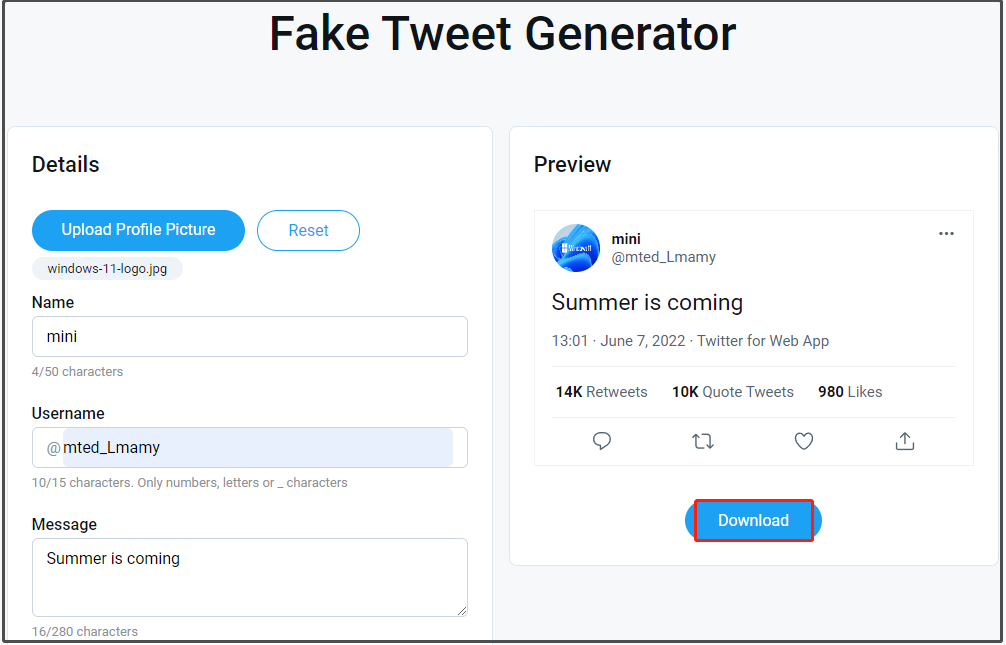 White Bird: Fake Tweet Generator
If you want to seek for a fake Tweet generator with comments, White Bird: Fake Tweet Generator suits your demand. On this fake Tweet maker, you can create user profiles to use later, select profile avatar from gallery or saved users, and quote a tweet. In addition to that, you are allowed to do things below on it.
Edit profile name (character limit: 50), username (15), tweet body (280), Twitter for xyz (30).
Edit timestamp from time & date picker
Edit retweets, quote tweets, and likes count (large count is set with K (thousand) or M (million) suffix automatically
Keep or remove the verified profile icon
Add the protected profile icon
Add image to tweet from gallery
Add replies
Reset tweet to gallery
Share tweets in dark mode or lights out mode
Directly share on different social media & messenger apps
Add the update button automatically when new updates are available
However, you are required to register an account to use this fake Tweet generator. For that, click on GET STARTED at the upper right corner of the official website page. Then input your information in the prompted window and click Continue to move forward.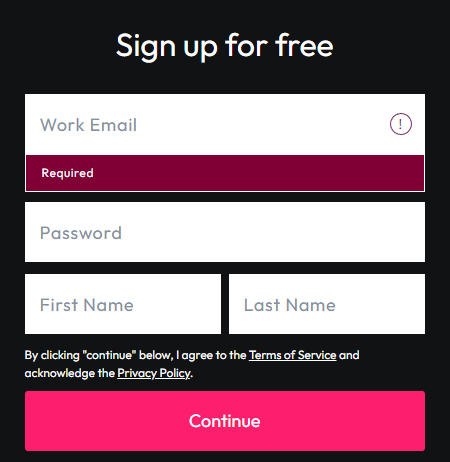 If you already have an account, click LOGIN to launch your account. Then follow the on-screen instructions to create fake Tweets.
Zeoob Tweet Generator
Zeoob Tweet Generator is a free and online fake Tweet generator. It has options to include an image in the tweet and to add a verified badge and Twitter client info. Different from other fake Tweet makers, you are allowed to add liked and retweet status on it.
This is a fake Tweet generator with comments, which means that it can generate comments and replies to the tweet. However, it only features light background theme for the tweet and lacks the fact check warning option.
You can create fake Tweets on Zeoob Tweet Generator by following these steps.
Step 1: Head to the Zeoob.com.
Step 2: Click the down arrow icon next to Twitter and tap an option from the drop-down menu. As you can see, there are three options (Generate Fake Tweet PC, Generate Fake Tweet, and Generate Fake Chat). Here, we choose the first option.

Step 3: Under the Post tab, input your name, Twitter name, message, and name of device. Besides, you can also set time, date, retweets/likes count, liked status, and retweet status. 
Step 4: Under the Comments tab, set reply/retweet/likes count.
Step 5: Preview the content you have edited and click SAVE YOUR POST.