Summary :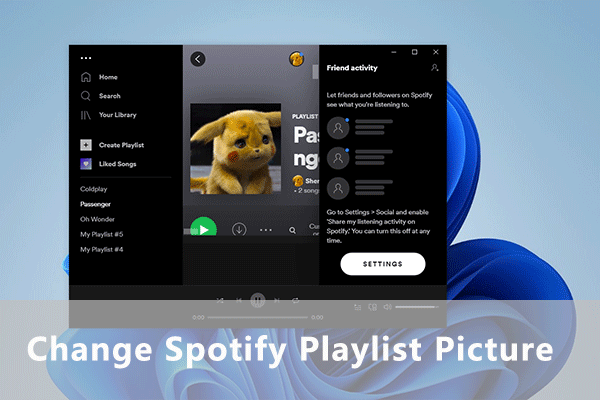 Spotify is an audio streaming and media services program. On Spotify, you can enjoy a huge number of songs. In this post from the MiniTool Partition Wizard website, you can learn how to change Spotify playlist pictures.
Spotify is one of the most popular audio streaming and media services programs founded in 2006. There are over 82 million songs available on Spotify. Users can access the service from its official website or by using the client application.
Spotify is a freemium service. Users can enjoy some basic features for free. For more advanced features such as offline listening, users can get them via paid subscriptions.
If you like to listen to your favorite songs on Spotify, you might have created some playlists that can help you play multiple songs in sequences. By default, the picture displayed on your playlist will be the same as the first song in the list. If you want to add a custom cover image, you can follow the content below to learn how to change Spotify playlist pictures.
Note: Before you change Spotify playlist pictures, please make sure your picture doesn't violate any copyright, trademark, or personal image rights.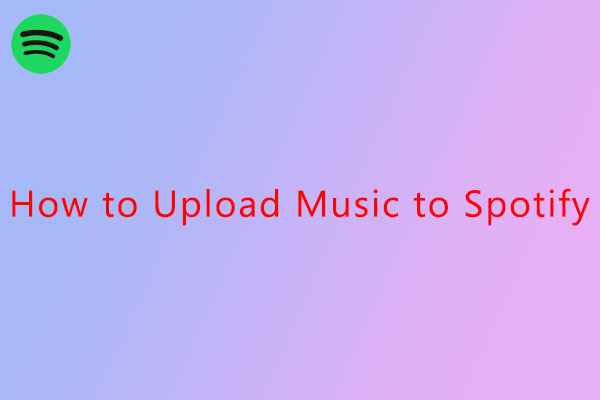 If you can't find a song in Spotify, you can download it from the Internet and upload it to Spotify. This post shows how to upload music to Spotify for you.
How to Change Spotify Playlist Pictures on PC
If you are using the Spotify client or the web version on a Windows/Mac PC, you can follow the steps below to change your Spotify playlist picture.
Step 1: Run Spotify and click the playlist for which you want to change the picture from the left pane.
Step 2: Click the three-dot icon (More options for the playlist) on the playlist.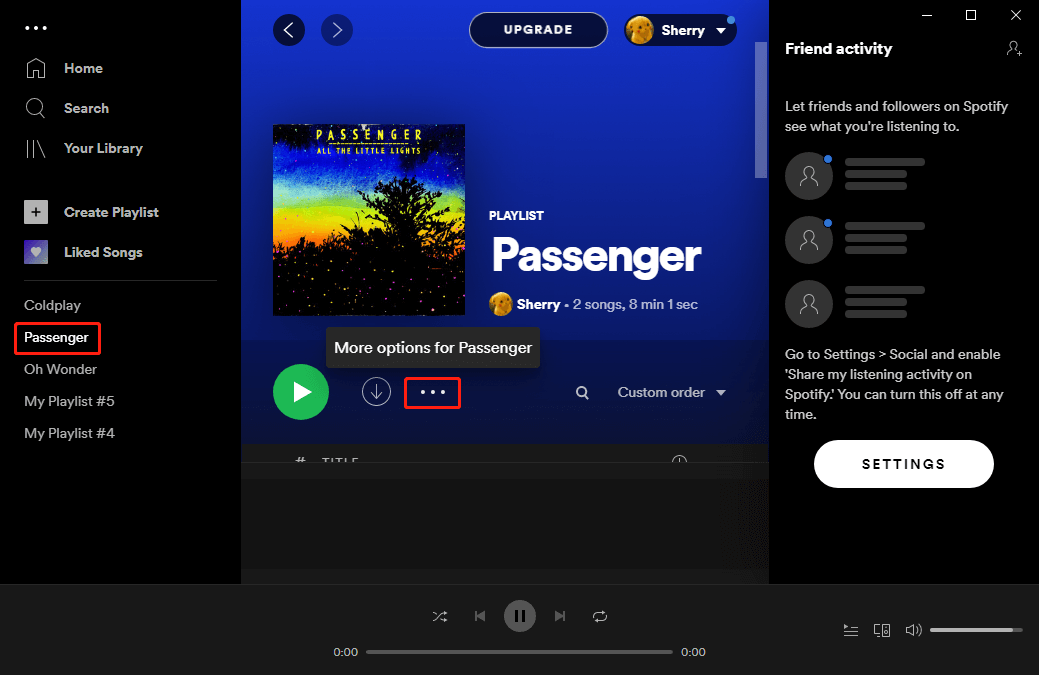 Step 3: In the pop-up menu, select Edit details.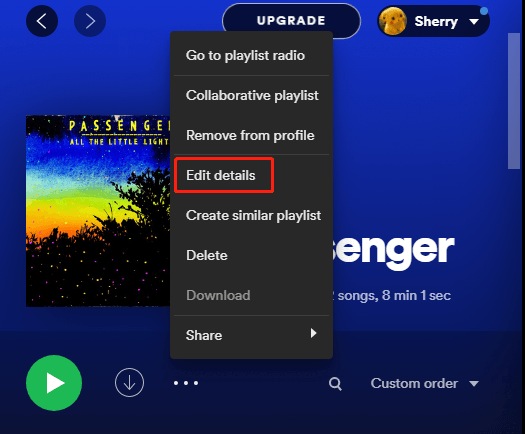 Step 4: On the following page, hover your mouse on the original picture and you will see the Choose photo option. Just click the picture to change it.
Tip: Alternatively, you can click the three-dot icon on the original picture and select Change Photo.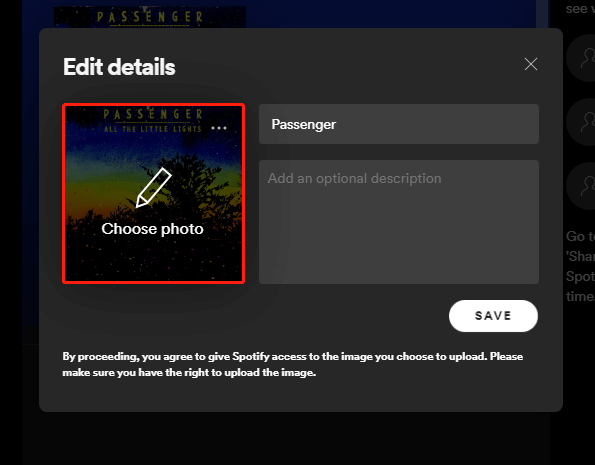 Step 5: In the pop-up window, select a new image and click Open to change the picture. Then click the SAVE button to keep the changed settings.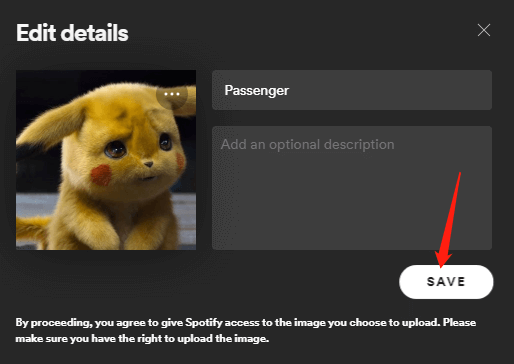 Then you have changed the Spotify playlist picture successfully.
Actually, you can also change a Spotify playlist picture by clicking the old picture on your playlist directly.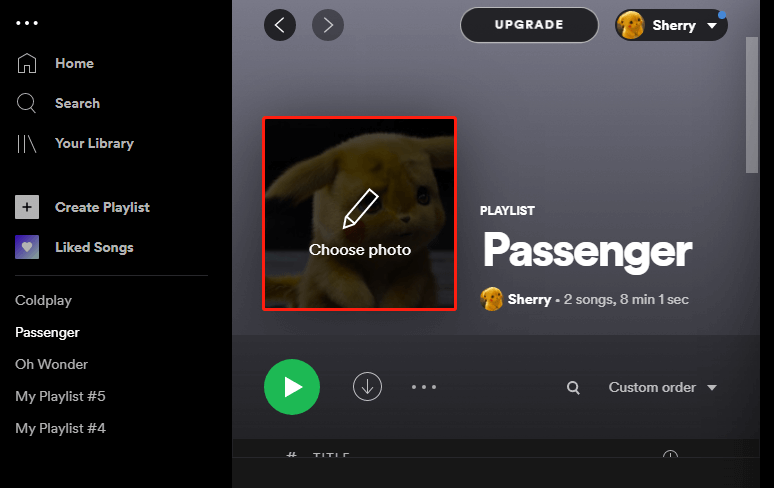 How to Change Spotify Playlist Picture on Phone
How to change playlist picture on Spotify on phones running Android or iOS? The steps are quite similar. You just need to:
Step 1: Open Spotify on your phone and tap Your Library.
Step 2: Select the target Spotify playlist. Then tap the three-dot icon located in the upper right corner.
Step 3: Select Edit playlist > Change Image and you will get three options: Take photo, Choose photo, and Remove photo. Select one according to your needs.
Step 4: After selecting the new Spotify playlist picture, tap USE PHOTO and SAVE to apply the changes.
Then you can view your new playlist picture.
You should be aware that you can only change pictures for playlists created by yourself. You cannot change others' playlist pictures.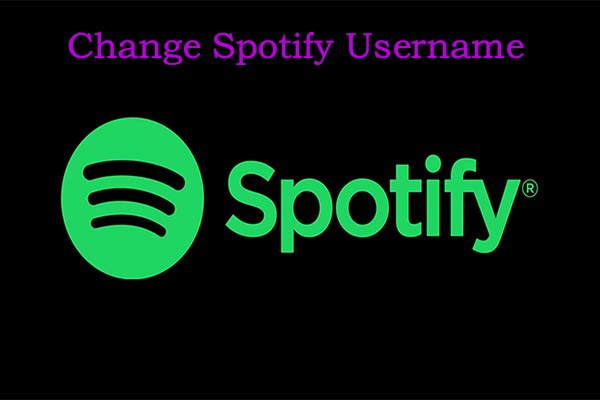 If you don't like the current Spotify username, you can change it. How to change Spotify username? Well, here are detailed steps for you.