Spotify is a popular audio streaming and media service, but you might be unable to find some songs due to copyright issues. Don't worry, this post provided by MiniTool Partition Wizard introduces how to upload music to Spotify so that you can enjoy the album that you buy from elsewhere on Spotify.
Spotify, an audio streaming and media service, was launched in October 2008 and has become more and more popular all over the world.
It gives uses access to digital copyright restricted recorded music and podcasts, including millions of songs. In Spotify, users can enjoy hot songs or search for their favorite songs based on artist, album, etc. they can even create, edit, and share their playlists.
Sometimes, you might be unable to find the song you want, which might happen because of copyright issues. Don't worry. You can still enjoy it on Spotify, and you just need to buy the music or album from somewhere else and then upload it to Spotify.
How to Upload Music to Spotify
Can you upload music to Spotify? Now, let's see the tutorial with detailed steps.
Step 1: Open the Spotify application on your PC.
Step 2: When you get the main interface of Spotify, you should click the down arrow that is next to your profile picture and username. In the pop-up menu, select Settings.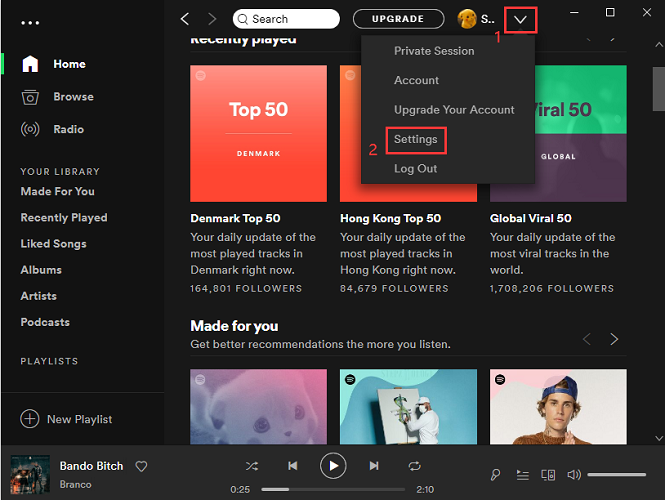 Step 3: In Settings, you need to scroll down and locate the Local Files section. Then toggle on the button for the option Show Local Files. After that, you can see the Local Files tab under the YOUR LIBRARY section on the left side of the app. Visit the tab and you can enjoy the music now.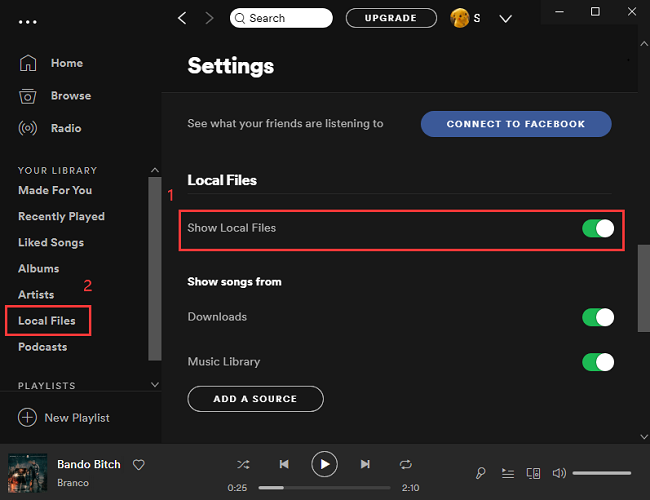 Step 4: If you don't find the music either, you need to select a specific path to upload it. Under the Show songs from section, click the button ADD A SOURCE. In the pop-up window, select the location where you store the target music and click OK to confirm the operation.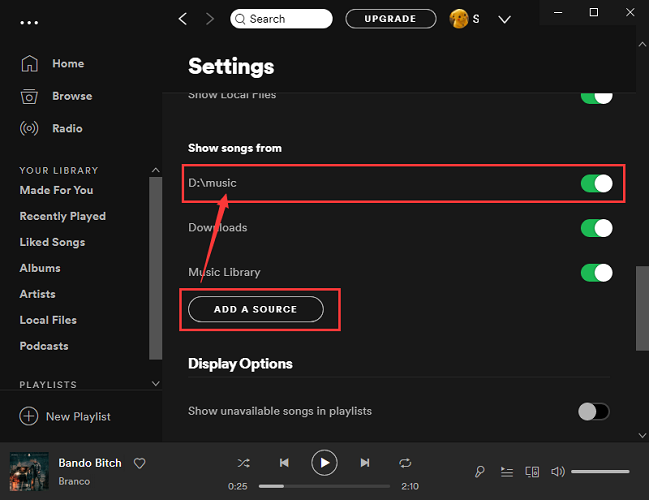 Step 5: Go to the Local Files tab from the left side and you will be able to enjoy the song now.
Add Your Local Music to Spotify Playlists
After the Spotify upload music process is finished, you can add the local music to your playlists to play it more conveniently. Here is how to do it.
Step 1: In Spotify, select Local Files from the left side to view your music that is uploaded from your PC.
Step 2: Right-click the one that you want to add to your playlists and select Add to Playlist. You can also click the three-dot icon and select Add to Playlist.
Step 3: Then select a playlist in the following menu.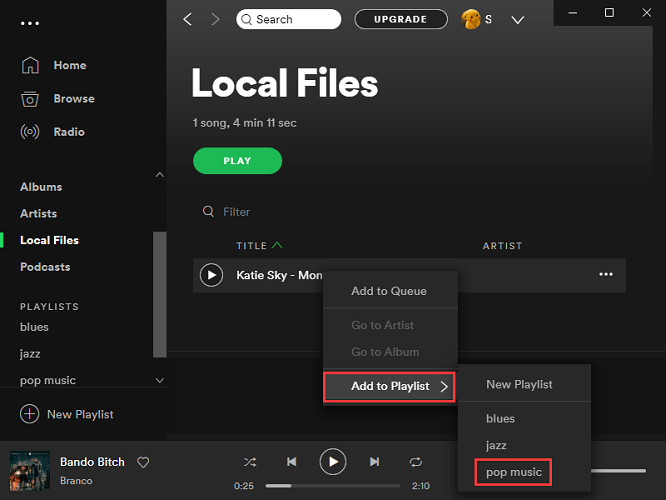 After uploading your local music to Spotify and adding it to your playlists, you can enjoy it offline on Spotify. Now, it's your turn to have a try. Hope this post is helpful for you!