The FFXIV 5003 error is also an FFXIV Authentication error. It is a result of the server timing out your connection after long waiting periods. The server will remove you from the queue if it believes the waiting time is excessively long.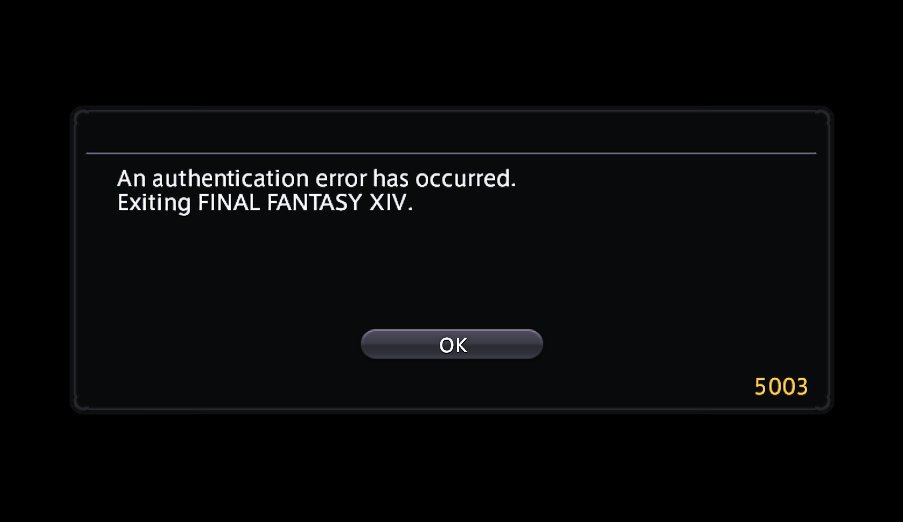 If you also encounter the same error, you don't need to worry. There are six methods in this post that can help you fix this error.
Method 1. Wait for a While
The FFXIV 5003 error often occurs when there are too many players trying to log in at the same time. So, the primary reason for the error 5003 is an extended login queue. In this situation, the best thing you can do is just wait for the login queue to clear. Or you can play the game outside of peak hours to avoid encountering the FFXIV Authentication error again.
Method 2. Change Your Network Connection
If there are any issues with your network connection, you may encounter the FFXIV 5003 error too. To fix this, you can try changing your network connection to fix it. For example, if you are using Wi-Fi, you can switch it to Ethernet, or vice versa.
Method 3. Restart the Computer and Router/Modem
Restarting can fix many basic errors. If you want to have a try, you can follow these steps:
Turn off your computer.
Turn off your router or modem and disconnect the connection between them and the power.
Leave them for several minutes.
Reconnect all the devices to power and restart them again.
Launch FFXIV on your computer and check if the FFXIV error 5003 is fixed.
Method 4. Use a VPN
Some people report that using a VPN connection can help them get around this FFXIV error 5003. Here's how to do it:
Download and install a VPN service app on your PC.
Then launch the VPN app on your computer.
Click the Connect This will automatically connect you to the VPN server recommended for your device.
Once done, launch the game again to check if "error 5003 FFXIV" is resolved.
Method 5. Reset Your Windows Network Settings
If there is anything wrong with your Windows IP and DNS settings, you may encounter "error 5003 FFXIV" on your PC. So, you can try resetting your Windows network settings to fix it. Here's the guide:
Step 1. Press the Windows and S keys at the same time to open the search window.
Step 2. Type "cmd" in the search box.
Step 3. Then you can see Command Prompt under Best Match, you need to click Run as administrator on the right panel.
Step 4. In the Command Prompt window, enter the following commands, and don't forget to press the Enter key after each command:
ipconfig /flushdns
ipconfig /renew
ipconfig /registerdns
Step 5. After that, exit the Command Prompt window and then restart your computer.
Step 6. Once done, check if the "5003 error FFXIV" is fixed.
Method 6. Restart the Game
You can also try restarting the game to fix the FFXIV 5003 error. To do it, you just need to close the game completely and then relaunch it. If this doesn't work, try restarting your computer and relaunching the game to fix this error. Once done, check if the FFXIV Authentication error has been resolved.
Bottom Line
Is this post useful? If you have any other useful method for fixing the FFXIV error 5003, please feel free to leave your ideas in the comment zone. If you are interested in MiniTool Partition Wizard and want to know more about it, you can visit MiniTool Partition Wizard's official website.