Windows users, may I have your attention, please? The first critical warning for Windows user was revealed. According to the statement given by the researchers of Eclypsium, millions of Windows users are at the risks of system compromise.
What Does Critical Windows 10 Warning Reveal to Users?
The Windows 10 warning message comes from a report of studying multiple drivers' vendors including Intel, Huawei, NVIDIA, Realtek Semiconductor, SuperMicro, and Toshiba. The Eclypsium's researches found a common design vulnerability within the hardware device drivers.
Tip:
The critical Windows 10 warning probably brings potential risks such as system failure,
data loss
and etc. There is a free software
MiniTool
that can help you
back up your system
easily.
It's surprising that there are 20 affected hardware vendors in this research and includes some major BIOS suppliers. This common flaw brings critical Windows 10 warning for the widespread compromise of Windows 10 system.
Eclypsium's research team were exploring how these hardware drivers can be used to attack a device and get a foothold on the system it is part of. In order to update firmware, run diagnostics, or other options, drivers can be used to access to system BIOS or system components. So attackers can use the very tools to manage a system into powerful threats, which can escalate the privileges on the host.
The drivers containing the design flaws may threat Windows operating system that should only accessible to "privileged" applications including the Windows kernel at the very heart of the operating system.
Trusted Certification by Microsoft
Due to the dangerous escalated privileges problem, attackers can read and write access at the same level as the kernel. When you find that the level of trust can be utilized here, the problem becomes trickier.
These drivers are not "illegal", but officially sanctioned ones. They were from certificated suppliers and signed by Microsoft, the trusted certification authorities. As more and more drivers are designed to update firmware, the critical Windows 10 warning becomes more apparent and urgent. The vulnerable drivers not only provide the mechanism but the privileges to make these changes.
The researchers said that there are many examples of attacks that make use of the flawed drivers to install malicious code in device firmware that even can survive from a full Windows reinstallation. It is the critical warning for Windows 10 users.
Has the Issue Been Fixed Yet?
According to a statement of the principal researcher at Eclypsium, some vendors like Intel and Huawei have already released updates. Besides, some independent BIOS vendors like Phoenix and Insyde are releasing their own updates to their clients OEMs as well.
Also, this researcher claimed that the security issue applied to all modern versions of Microsoft Windows. And at present, there is no universal mechanism to prevent a Windows machine from loading one of those known bad drivers.
The group policies for Windows Enterprise, Pro and Server could provide a degree of mitigation to "a part of Windows users". Users can download and install the updates released by the suppliers as soon as possible from here.
What are Microsoft's Suggestions Towards This Critical Windows 10 Warning
As the critical risks in Windows 10, Microsoft also provides some effective suggestions. According to a Microsoft statement, if the attackers want to make full use of the flawed drivers, they would have to comprise the computer.
To help mitigate this class of issues, it is recommended that you should use Windows Defender Application Control to block known malicious software and drivers, or you can turn on Memory integrity for capable devices in Windows Security.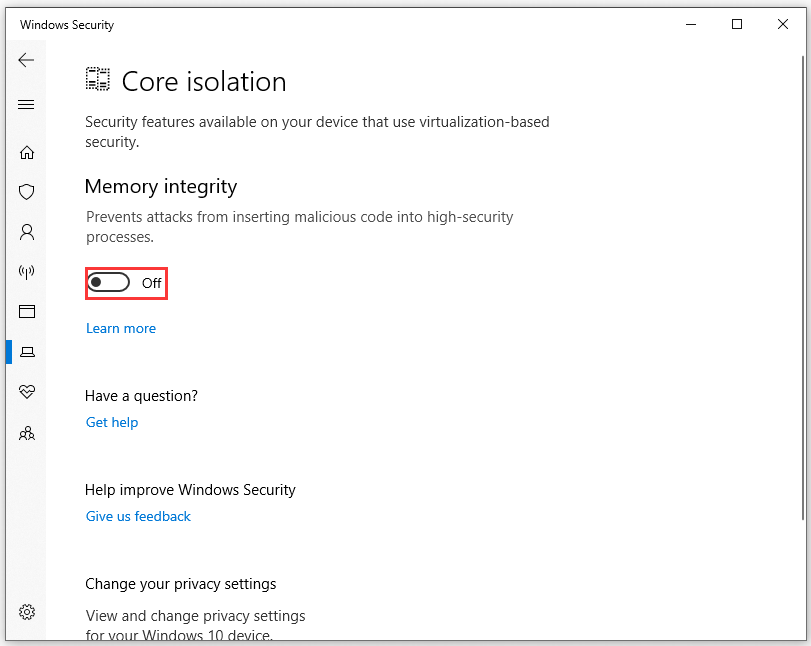 Microsoft also recommended that you use Windows 10 updates and its Edge browser for the protection.