You may notice the atieclxx.exe process but what is it? Is it a virus? If you want to learn more information about the atieclxx.exe process, you can check out this post from MiniTool now.
Many users report that they notice a process called atieclxx.exe in their Task manager and don't know what it is. And they are afraid that it is a virus, which poses a threat to their data security. What istieclxx.exe process? Is atieclxx.exe a virus? You can get all the answers after reading the following contents.
What Is Atieclxx.exe
The atieclxx.exe process refers to the AMD ATI External Events Client Module. The atieclxx.exe process which is part of AMD external events, is associated with Windows' ATI External Events Utility. It allows users to setup custom hotkeys on the Windows operating system to access applications and system features easily.
You may be also interested in winlogon.exe, spoolsv.exe, and ctfmon.exe processes appeared in Task Manager.
Is Atieclxx.exe a Virus
The atieclxx.exe is not a virus. Atieclxx.exe is a process that is associated with the AMD hardware on your PC.
Although atieclxx.exe is not a virus, a virus can disguise itself as the atieclxx.exe process by taking the same name. In this case, to know the legitimate atieclxx.exe file's location is vital.
The genuine atieclxx.exe file is located in C:WindowsSystem32. To view its location, you can open the Task Manager, right-click the atieclxx.exe process and select Open Location from the menu. If file is in the system 32 folder, it should be the genuine atieclxx.exe file. If not, it could be a virus. You should perform a virus scan as soon as possible.
Can I Disable Atieclxx.exe
Since atieclxx.exe is not a system process, disabling the process won't crash your PC. Normally the atieclxx.exe process won't consume much system resources. So it will not cause any problem to your PC. In this case, there is no need to disable the atieclxx.exe process.
But if you insist and do want to disable the process, you can follow the steps below the disable it.
Step 1. Press Windows + R keys to bring up the Run dialog box. The type services.msc and hit Enter to open the Service Manager.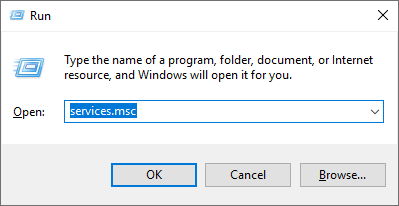 Step 2. In Service Manager, find AMD External Events Utility from the list. Then right-click on it and choose Properties.
Step 3. Click the Stop button and set the Startup Type to Disabled.
Step 4. Click the Apply and OK button to save the change. Then restart your PC.
After knowing what atieclxx.exe is, you can decide whether you want to disable it or not. If you think it is necessary to disable the process on your computer, you can just follow the steps above to disable atieclxx.exe Windows 7/8/10.
Conclusion
After reading this post, now you should know what atieclxx.exe is and how to disable it. If you have different opinions about the atieclxx.exe process, please don't hesitate to share it with us by leaving a comment in the following comment zone.