When you open task manager, you may see the process named Spooler SubSystem App (spoolsv.exe). What is spoolsv.exe? Why is it running on your PC? If you have these questions in mind, you can check out this post from MiniTool for answers.
What Is Spooler SubSystem App (spoolsv.exe)?
The Spooler SubSystem App (Spoolsv.exe) is a useful process that belongs to Microsoft Windows. Generally, the process is responsible for managing printing tasks in Windows.
For example, when you need to print something, the print task will be sent to the print spooler, which is responsible for passing the print job to the printer. Besides, the process also manages printer configuration, which is essential for the printing process.
Is Spoolsv.exe a Virus?
As I mentioned before, the spoolsv.exe process is a normal part of Windows that manages printing tasks. So spoolsv.exe is not a virus. But it is possible that some malware applications may disguise themselves as the legitimate spoolsv.exe to avoid malware detection. To verify if it is the real file or it is a virus named spoolsv.exe, you can check its file location.
The real spoolsv.exe is located in C:WindowsSystem32. You can check the location of the file: right-click the Spooler SubSystem App (spoolsv.exe) process in Task Manager and choose Open file location. If the spoolsv.exe file in C:WindowsSystem32 folder, it is the legitimate one.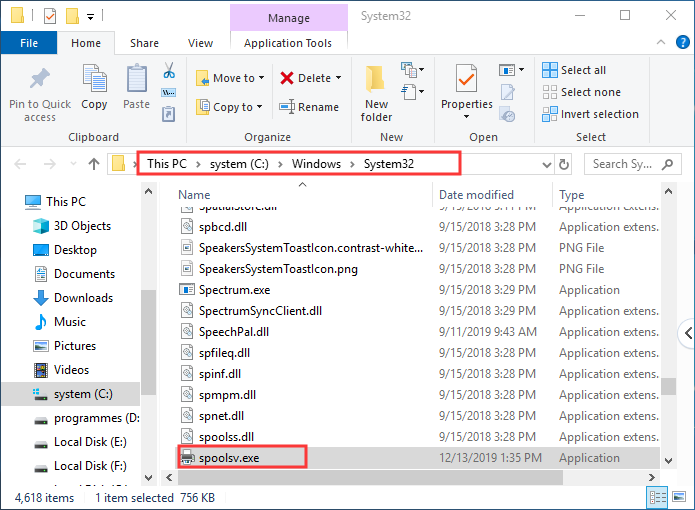 If the spoolsv.exe file is in another location, it could the malware. In this case, you need to perform a virus scan to check your computer thoroughly.
Can I Disable Spoolsv.exe Spooler Subsystem App
You can disable Spoolsv.exe but there is no need to do so. The spoolsv.exe process is necessary whenever you want to print or fax something. And it will not consume many resources on your PC. If you don't use a printer, it should consume almost no system resources.
If you don't use printer and do want to disable this process, you can disable the Print Spooler service. To do so, you can follow the steps below.
Step 1. Press Windows + R keys to bring up the Run dialog box.
Step 2. Type services.msc and hit Enter to open the Services application.
Step 3. Find the Print Spooler in the list of services and double-click it.
Step 4. Click the Stop button and OK to stop the service.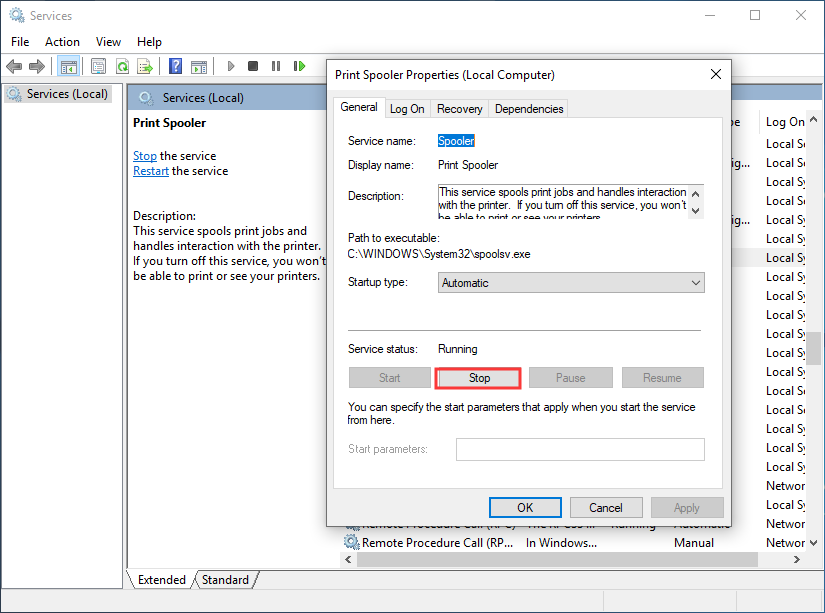 Then you will find the spoolsv.exe process disappeared from the Task Manager. After disabling the service, you are unable to print, fax, or even see the installed printers. If you need to use printer, you can re-enable this service.
Spoolsv.exe High CPU
Normally, the spools.exe process doesn't use up many resources, unless there is a problem happened in the Windows printing system such as buggy printer drivers or utilities, or a misconfigured printer.
If you encounter high CPU usage by the spoolsv.exe process, you can run the printer troubleshooter.
Step 1. Right-click Windows 10 start menu and choose Settings.
Step 2. On the Setting window, choose Update & security.
Step 3. Locate the Troubleshoot section and then click Printer to choose Run the troubleshooter.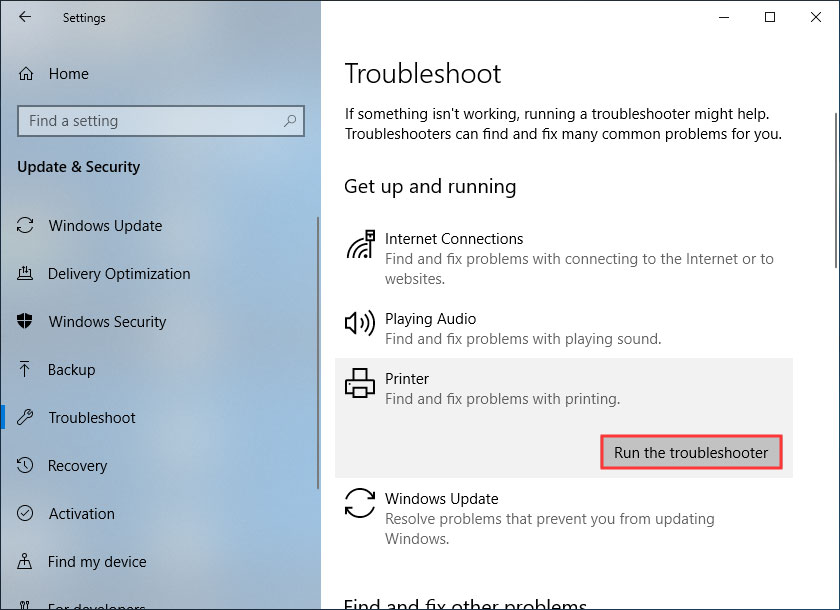 Then the printer troubleshooter will check for errors and try to fix them for you.
Conclusion
After reading this post, you should know what the spools.exe process is and how to disable it. If you have different opinions about Spooler SubSystem App (Spoolsv.exe) Windows process, you may share it with us by leaving a comment in the following comment zone.