Good news: WD announced two new capacity for their popular WD Black lineup, the WD Black 6TB and WD Black 5TB. Do you want to know their features, performance and other useful tips? You come the right place! We will share the answers with you in this post.

6TB WD Black Hard Disk Drive Is Now Available
WD announced two new capacity for their popular WD Black lineup, the WD Black 6TB (WD6001FZWX) and WD Black 5TB (WD5001FZWX). According to WD's announcement, they only differ in storage capacity, data transfer rate and selling price, while other indicators are completely the same. Of course, WD Black 6TB is drawing more social attention. And we are going to present users a plain review. 
Released on August 18, 2015, Western Digital's first 6TB Black hard disk drive - WD6001FZWX - has been on the market for months, and its selling price is $294. (Please check for the latest price since the market is unpredictable) According to official introduction, this 6TB Black HDD not only adopts 3.5 inch standard SPEC, 128 MB cache capacity, 7200 RPM speed, but also employs the symbolic dual processor, dynamic caching technology, as well as stable tracking technology. 
It is reported that the internal data transfer rate of this 6TB Black hard disk drive reaches up to 218 MB/s, which is a great ascension compared to 175 MB/s of WD blue, WD green, and WD red with equal volume. Through PCMark Vantage's hardware test, the comprehensive score of WD Black 6TB also increased by 10% compared to WD Black 4TB.
As for power consumption, it's a little bit bad. The concrete data is 10.6 W when it is reading/writing, 7.6 W when it is in idle mode, and 1.6 W when it is in standby/sleep mode. Average drive Acoustics: 31 dBA when in idle mode, and 34 dBA when in quiet seek mode.
With all these in mind, users may get interested in this powerful 6TB WD Black hard disk drive. How does it look like? How about the specification? Is it worth buying? Take it easy, and we will show you the detail.
A Closer Look at WD6001FZWX
First of all, let's take a closer look at the appearance of 6TB Western Digital Black. We will show it to users from four aspects. Before presenting the visual picture, we would like to mention some parameters in advance. The 6TB WD Black hard disk drive measures 26.1mm in height, 147mm in length and 101.6mm in width. It weighs approximately 1.58lbs or 0.72 Kg. Here we go. 
1. Face and Back
It seems that the 6TB Black hard disk drive is more concise in its appearance than its predecessors. However, it is still a standard 3.5-inch internal hard drive. Despite having a larger capacity, the dimensions of this drive keep the same with other WD hard drive. 
2. Circuit Board
Now we remove the circuit board to see the arrangement. We see two foams placed between the enclosure and the PCB, to protect the components on the board. As to the circuit board, precise and detailed circuit board as always. Upon a closer inspection of the circuit board, we can see the WD Black 6TB hard drive features an LSI controller. Just near the LSI controller there is a 128MB RAM Cache. 
3. Left and Right
The four sides of WD6001FZWX are all in black. The left side and the right side are symmetrical, with screw holes to fasten this internal hard drive. 
4. Bottom and Top
The SATA 6Gbps interface are allocated at the bottom. 
Features, Specifications and Performance
Features
1. Increased Reliability - By using StableTrac technology, the motor shaft inside of the hard drive is fixed so as to reduce the impact caused by system running and stabilize the platters inside. This results in more accurate tracking in a particular sector during read and write operations, and optimize its performance and reliability. 
2. Incredible performance and capacity - For creators, game players and perfectionist, Western Digital offers this new generation of black HDD to expand your PC capacity. Black HDD possesses vast capacity and outstanding performance, thus enhancing your PC experience and breaking the limit of personal experience.
3. High-efficiency dual processor - The WD Black 6 TB drive features a dual-core processor that offers twice the processing capability as a standard single-core processor to maximize drive performance for faster read and write speeds. 
4. 5-year warranty - Compared to Seagate's most commonly seen 3-year warranty, WD is leading a longer period of warranty time, which is a great attraction to most users. Till now most of WD's hard disk drives are enjoy this 5-year warranty, except WD Purple. And to WD Black 6 TB, this is undoubtedly another trump card. 
Specifications
A cursory glance at these pictures above would make users wonder why they should purchase such an expensive Black 6TB other than the older 4TB edition. After all, both models offer huge capacity, adopt a dual core controller, and come with a 5-year warranty. They even look identical at first glance. Just for a large storage space? Of course NOT. Then let's come to the specifications. 
Here we show users a table that lists the specifications of WD Black 6 TB, WD Black 5 TB, WD Black 4 TB, and WD Black 3 TB. Thus users can easily make a comparison between these hard drives and see how much progress WD Black 6 TB has earned. 
Specifacations
6 TB
5 TB
4 TB
3 TB
Model number
WD6001FZWX
WD5001FZWX
WD4003FZFX
WD3003FZEX
Interface
SATA 6Gb/s

SATA 6Gb/s

SATA 6Gb/s

SATA 6Gb/s

Formatted capacity
6 TB
5 TB
4 TB
3 TB
Form factor
3.5-inch

3.5-inch

3.5-inch

3.5-inch

Advanced Format (AF)
Yes

Yes

Yes

Yes

RoHS compliant

Yes

Yes

Yes

Yes

Performance
Data transfer rate (max)
    Buffer to host
    Host to/from drive (sustained)

6 Gb/s
218 MB/S

6 Gb/s




194 MB/S

6 Gb/s




171 MB/S

6 Gb/s




168 MB/S

Chache (MB)
128
128
64
64
Rotational speed (RPM)
7200

7200

7200

7200

Realiability/Data Integrity
Load/unload cycles
300,000

300,000

300,000

300,000

Non-recoverable read errors per bits read
< 1 in 10

< 1 in 10

< 1 in 10

< 1 in 10

Limited warranty (years)
5
5
5
5
Power Management
Average power requirements (W)
    Read/Write
    Idle
    Standby/Sleep
10.6
7.6
1.6

10.6




7.6




1.6

9.5
8.1
1.3

9.5




8.1




1.3

Environmental Specifications
Temperature (℃)
    Operating
    Non-operating
5 to 55
-40 to 70
5 to 55
-40 to 70
5 to 55
-40 to 70
5 to 55
-40 to 70

Shocks (Gs)
    Operating (2ms, write)
    Operating (2 ms, read)
    Non-operating (2 ms)

30
65
300

30




65




300

30




65




300

30




65




300

Acoustics (dBA)
    Idle
    Seek (average)
31
34

31




34

29
34
29
34
Pysical Dimensions
Height (in./mm, max)
1.028/26.1

1.028/26.1

1.028/26.1

1.028/26.1

Lenght

(in./mm, max)

5.787/147

5.787/147

5.787/147

5.787/147

Width

(in./mm, ± .01 in.)

4/101.6

4/101.6

4/101.6

4/101.6

Weight (lb./kg)
1.58/0.72 ± 3%

1.66/0.75 ± 3%

1.50/0.68 ± 10%

1.40/0.64 ± 10%

Performance
Can users trust the specifications listed above? We decided to make it clear. So we sort out some useful conclusions of 6TB Black hard disk drive performance after searching for many professional tests result on the internet. Here are several aspects users care a lot.
Usable Capacity - The officially announced formatted capacity is 6,001,805 MB. In real practice the actual formatted capacity is several hundred MB lower than official announcement. 
Surface Temperature - By testing, the 6TB Western Digital Black can hit to a high temperature of 55 degree Celsius during a long period of usage when the ambient temperature is just 31 degree Celsius. Needless to say use this drive in a HTPC or a NAS. So sufficient amount of air flow is a necessity to keep it cool.
Noise - The WD Black 6TB does produce more noise, not to mention consumes more power as well, compared with WD Red, WD Blue and WD Green HDD lineup. Thus, reducing the noise is also users' concern.
Write Performance - Thanks to the increased processing power and larger cache, the WD Black 6TB definitely delivered its promised speed. On average, the sequential read and write speeds are around 200MB/s. Users who are using the WD Black 4TB should feel the great ascension in performance that WD6001FZWX offers. This really makes sense for creative professionals, enthusiasts and even game players who are looking for a high performance hard drive that can hold a huge amount of files and data.
Rotation Speed - 7200 RPM as described. 
Final Thoughts
Many versatile tests indicate that this WD Black 6TB is a significant upgrade in both performance and capacity compared with its pioneers. There is no doubt that the WD Black 6TB WD6001FZWX is currently the fastest hard drive among WD product line. Due to its most excellent performance, WD Black is recommended to be applied to high performance workstation, game machine and household multimedia, and has always being the marketable product. Before, only WD Blue, WD Red and WD Green offer the 6TB capacity. Now users especially gamers and enthusiasts who have a large storage footprint either in a PC or via external enclosure have a new choice. 
To sum up, we cannot deny the fact that the WD Black 6 TB has made a significant progress. However, by collecting all aspects of WD Black 6TB specifications and performance, we list the advantages and disadvantages for users to weigh the pros and cons before they purchase one. After all, it is not a cheap item. 
Pros:
Greatly improved performance compared to the previous generations;
Large storage capacity boost over prior generations;
The price is reasonable considering its performance & capacity and is worth buying;
Five years warranty.
Cons:
High power consumption;
Can get a bit hot and noisy.
Useful Tips
1. Use GPT mode for this 6TB WD Black hard disk drive
WD didn't announce how many discs WD Black 6TB adopts, so we have to make comprehensive consideration. Since MBR can only recognize at most 2TB capacity of a hard disk, you'd better use GPT mode for this 6TB WD Black hard disk drive, otherwise, the redundant 4TB can never be used. In addition, GPT also has its advantage: Windows supports 128 primary partitions at most under GPT. 
Usually, it is recommended to adopt Legacy BIOS + MBR or UEFI + GPT. If the mainboard of your computer supports UEFI, choose GPT mode for this 6TB WD Black hard disk drive. What if you are using MBR mode already and the mainboard supports both Legacy BIOS and UEFI? 
You are advised to convert MBR to GPT. We recommend you to use free MiniTool Partition Wizard to help you solve this issue without data loss. You can refer to this guide to do it by yourself: Convert MBR Disk to GPT Disk.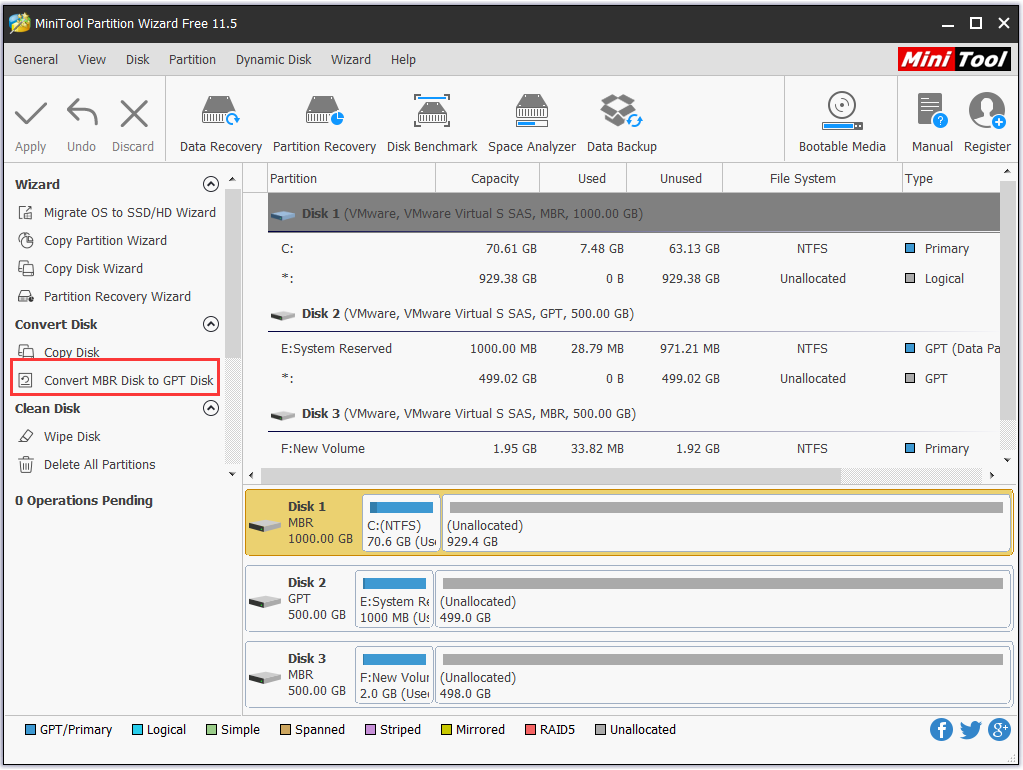 Note: you cannot convert this drive if it contain a system partition, for this may lead to system unbootable
2. Use WD Black 6TB to upgrade disk
Users may use this 6TB Black hard disk drive to upgrade the small one. In this case, users are faced with the problem to migrate all the data including Windows OS, installed programs, etc. in the original disk to the 6TB disk. Here we recommend users to use "Copy Disk", it's much labor-saving. 
3. Migrate OS to WD6001FZWX
If for some reasons users only want to migrate the Windows to the 6TB Black hard disk drive, eliminate "Low Disk Space" warning, for example, they can use this feature: Migrate OS to SSD/HD of Partition Wizard. Due to the top performance of WD6001FZWX, the computers performance will be largely improved. 
4. Use data recovery software if there is something wrong with WD Black 6TB
Since WD6001FZWX has a huge capacity, you may store a large amount of data on it. A fact we cannot deny is that the more operations we make to a hard drive, the bigger the risk is to lose data. If you happen to encounter such a bad situation, don't get into panic, for you can use the Data Recovery feature of MiniTool Partition Wizard to find the data back. This program offers four modules and you can choose the most suitable one according to the cause of your data loss. 
About Western Digital
Introduction to Western Digital
Founded on April 23, 1970, WD (Western Digital Corporation) has becoming one of the largest computer hard disk drive manufactures in the world, along with Seagate Technology. As a global memory industry pioneer and leader, WD devotes itself to providing global PC users with perfect storage solutions for a long time. WD is committed to researching and developing external storages, internal hard drives, network attached storages, home entertainment and so on. 
Today WD has rich service experience and a good reputation, especially in European and American markets. On Oct. 22nd 2015, Western digital announced a $19 billion bid for flash memory maker SanDisk. 
Five Types of WD Hard Disk Drives
Besides WD black drive, we believe many users have used, or at least have heard about other types of WD HHD, such as WD Red. Do you know their differences? According to the characteristics, Western Digital classifies its hard disks into WD Blue, WD Green, WD Black, WD Red and WD Purple, and WD Black has the best performance. Vulgarly speaking, users can identify them by observing the color of the tags pasted on the hard disk. 

What are their differences?
Although users can identify these hard disk drives by their tags, many users still feel puzzled about their difference in the real sense. To put it simple, the technologies adopted on these five kinds of HDDs are different, and the warranty periods are also discrepant. Below is some key information for users to refer to before they make a decision. 
WD Blue: Designed for daily storage purpose and is most suitable for home use.
WD Green: A green product with silence, low temperature, high capacity and short service life. 
WD Black: Most powerful and expensive. Suitable for running games, editing videos and images.
WD Red: Suitable to operate under NAS environment, with 7*24h working system. 
WD Purple: Supports 32 high definition cameras at most and is suitable for monitoring system. 
In a nutshell, when you choose a WD hard disk drive, you are expected to evaluate the performance, the working environment and the price of them. Thus, you can make the best use of them.