A great many users are unclear about how to wipe unallocated space in Command Prompt. Are you also looking for a way to securely wipe free space on Windows 10/11? In this post, MiniTool provides detailed steps to wipe unallocated space using CMD and a better alternative.
As it's well known to us all, deleting or formatting a partition can make the drive become unallocated space but not completely erase all data. If you want to erase the sensitive data for selling, it's important to further securely wipe free space. How to wipe unallocated space using CMD on Windows 10/11? Please keep reading the following content.
How to wipe unallocated disk space in Windows 10? Due to the nature of how filesystems like NTFS work, files that are deleted "permanently" from within Windows aren't immediately deleted - they're simply marked as deleted from the Master File Table (the hard drive's index) and therefore inaccessible from within the operating system using normal means. Is there a command line to wipe empty space in Command Prompt?

https://superuser.com/questions/1373948/how-to-wipe-unallocated-disk-space-in-windows
Can You Wipe Unallocated Space in Command Prompt
Can you wipe empty space in Command Prompt? Of course, yes! There is a command line called Cipher.exe, which can help you wipe empty space CMD. Cipher.exe is a command line tool built in Windows XP and later versions of Windows OS. It can delete data in free space securely by overwriting the content.
The "/w" parameter can tell Windows to wipe data from available unused or unallocated disk space three times. To know more details, please go to the "How to wipe unallocated space CMD" section.
How to Wipe Unallocated Space Using CMD on Windows 11/10
How to wipe unallocated space CMD in Windows 10/11? Here's a step-by-step guide for you. Let's start trying.
Note:
Before you wipe unallocated space in Command Prompt, make sure to close all running programs and apps. This will ensure that the maximum amount of unallocated space can be erased.
Step 1. Type cmd in the Search box, and then right-click the Command Prompt app and select Run as administrator. Then click on Yes in the UAC window to further confirm it.
Step 2. In the elevated Command Prompt window, type the following command and press Enter. Replace F with the drive letter of the partition that you want to overwrite free space on. This process may take you a while to complete depending on how large the unallocated space needs to overwrite.
cipher /w:F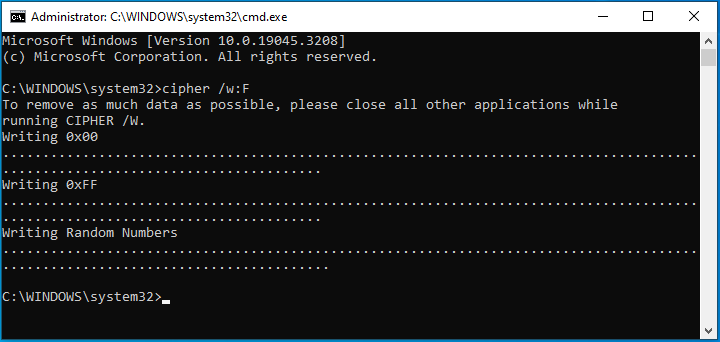 Best Alternative Tool to Wipe Unallocated Space CMD
Sometimes, however, the cipher.exe command may stop working or be stuck on error codes. Is there a free and easy alternative tool to wipe empty space CMD? Certainly, yes! MiniTool Partition Wizard is a professional disk eraser that can securely wipe unallocated space/disk/partitions with 5 wiping levels, including Fill Sectors with Zero & One, DoD 5220.22-M wipe, etc.
Besides, it's a powerful partition manager that can extend/resize/copy/format/wipe partitions, convert FTA32 to NTFS without data loss, change cluster size, migrate OS to SSD, recover formatted hard drives, and more. Let's see how to securely erase unallocated space using the MiniTool software.
MiniTool Partition Wizard FreeClick to Download100%Clean & Safe
Step 1. Run this program to enter its main interface, select the unallocated space from the disk map, and click on Wipe Partition from the left action panel.
Step 2. In the pop-up window, you will see a list of 5 wiping levels. Select one wiping level that you want and click on OK to continue. Usually, the higher level you select for wiping, the more time it will take.
Step 3. Click on the Apply button to execute the wiping process.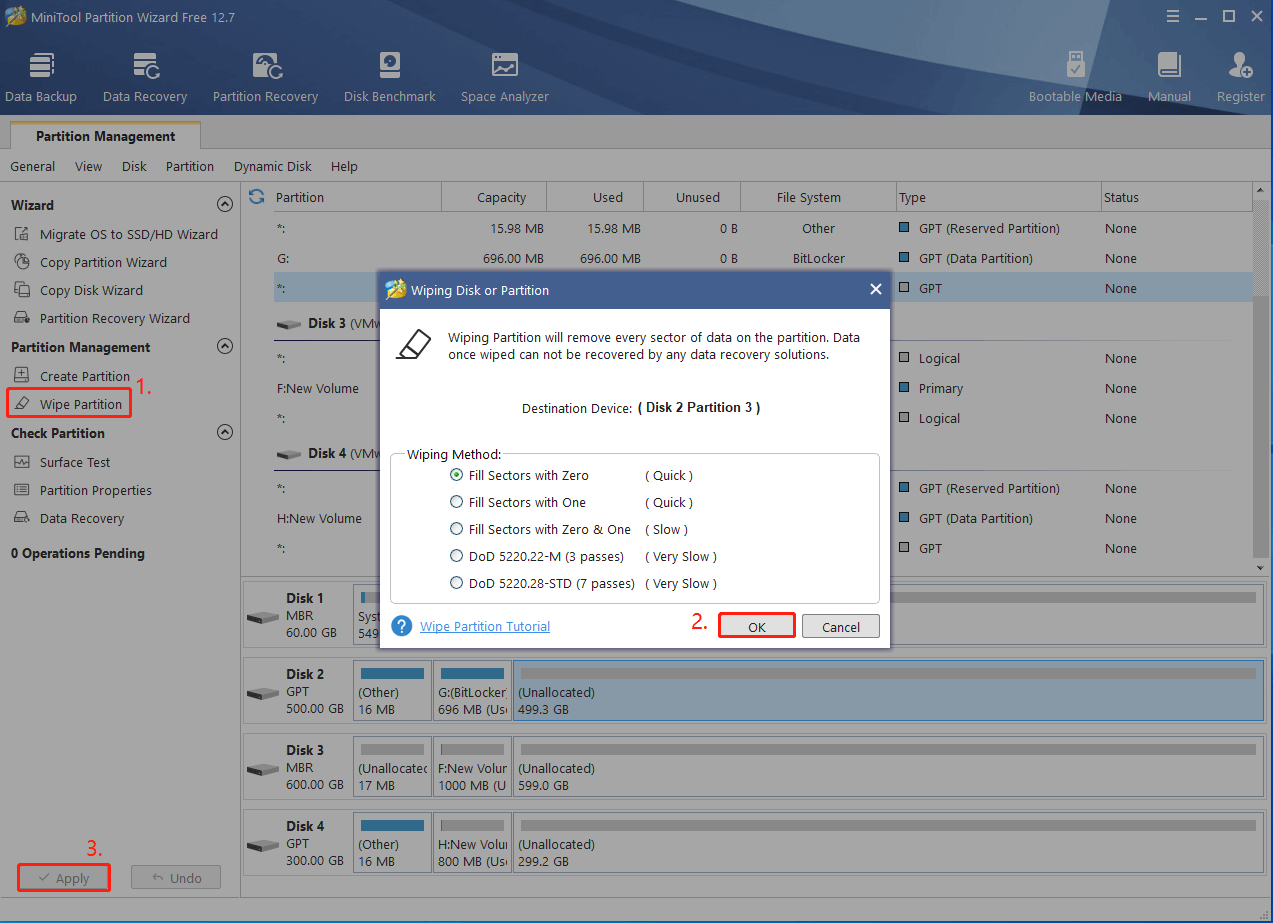 How to wipe unallocated space in Command Prompt? Now, I believe that you already have known the answer. If you can't overwrite free space using CMD, MiniTool Partition Wizard is a good choice. Also, you can leave your opinions about this topic in the following comment area.