Windows Update brings better security, compatibility, stability and reliability, etc. However, sometimes you find it difficult to manage Windows Update. Here this post from MiniTool Partition Wizard introduces a good tool named Windows Update MiniTool to help you get more control over Windows update process.
Windows updates play a crucial role in ensuring the security, stability, and performance of your Windows operating system. However, managing updates through the default Windows Update settings can be a challenging and sometimes frustrating experience.
Luckily, Windows Update MiniTool (WUMT) – a third-party tool designed to provide users with more control and flexibility over the Windows update process makes things easier. In this review, we will explore the features, usability, and benefits of this Windows update tool.
Tips:
Effective hard drive management is essential for maintaining data organization, optimizing storage space, ensuring data integrity, and improving system performance. MiniTool Partition Wizard is a great tool worths your trial.
MiniTool Partition Wizard FreeClick to Download100%Clean & Safe
Overview and Features
Windows Update MiniTool is a lightweight application that allows users to manage Windows updates outside of the standard Windows Update interface. Developed by a software developer named "stupid user," the tool offers a range of features that aim to simplify and enhance the update management experience. Let's delve into some key features of Windows Update MiniTool:
Update Control and Management: Windows Update MiniTool provides comprehensive control over Windows updates. Users can view available updates, choose which updates to install, hide specific updates, and even uninstall problematic updates. This level of control enables users to avoid unwanted updates or selectively install updates based on their preferences.

Customization and Filtering: The tool allows users to customize the update behavior by creating rules and filters. For example, you can set rules to automatically install certain types of updates while hiding others. You can also filter updates based on categories, such as security updates or driver updates, to focus on specific types of updates.

Backup and Restore: Windows Update MiniTool offers a backup and restore feature, allowing users to create backups of their current update configuration. This feature is particularly useful in case a Windows update causes compatibility issues or system instability. With the backup and restore capability, users can revert to a previous state and avoid potential problems.

Offline Update Support: Another valuable feature of Windows Update MiniTool is its ability to download and install updates offline. This is beneficial for users with limited or no internet connectivity on their Windows machines. By downloading update packages manually, users can transfer them to offline systems and apply updates without the need for an active internet connection.
Usability and User Interface
Windows Update MiniTool boasts a straightforward and user-friendly interface. Upon launching the application, users are presented with a concise summary of available updates, along with detailed information about each update.
The interface organizes updates into categories and provides clear options for installation, hiding, or uninstallation. The customization and filtering options are easily accessible, making it convenient to tailor the update management process according to individual preferences.
The tool also features a search function, allowing users to quickly find specific updates based on keywords or KB numbers. Additionally, Windows Update MiniTool displays update installation history, which is helpful for tracking changes and ensuring that updates are successfully applied.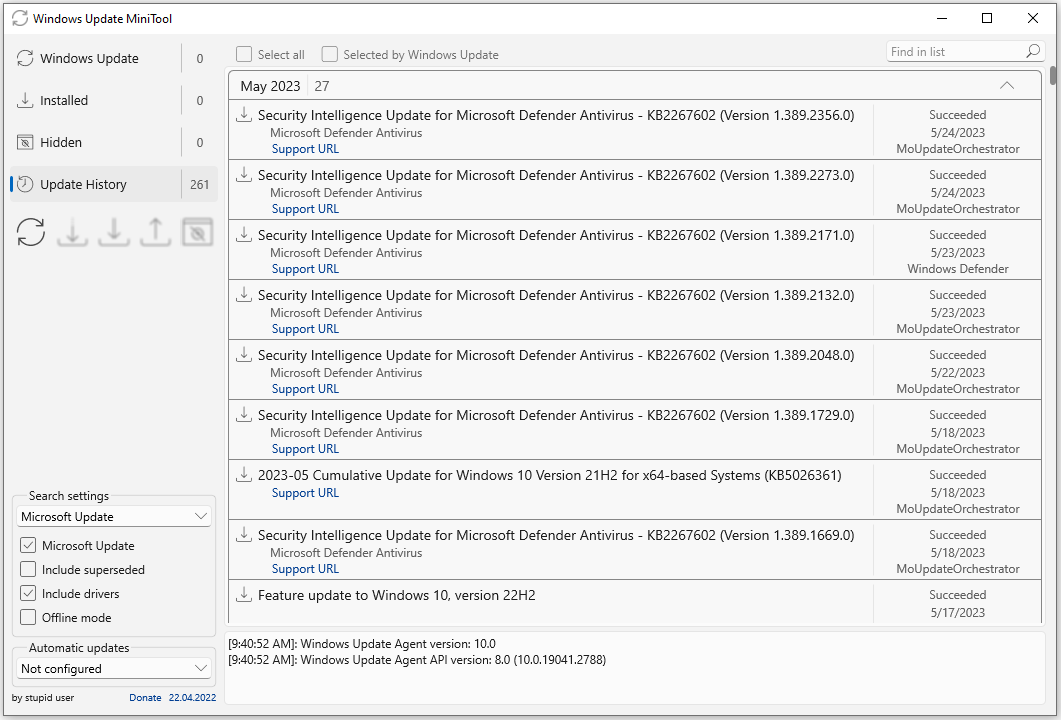 Benefits and Drawbacks
Windows Update MiniTool offers several benefits to users seeking more control over their Windows update process. The tool empowers users to manage updates according to their needs and preferences, avoiding potential compatibility issues caused by automatic installations. The ability to create backups and restore previous update configurations adds an extra layer of safety and flexibility.
Furthermore, Windows Update MiniTool's offline update support is a significant advantage for users working with limited or no internet connectivity. It allows for easy downloading and installation of update packages on offline machines, ensuring they stay up to date with security patches and improvements.
However, it's important to note that Windows Update MiniTool is a third-party tool and not an official Microsoft product. While the tool has gained popularity and positive user feedback, there is always a small inherent risk associated with using third-party software. Users should exercise caution and ensure they download Windows Update MiniTool from a trusted source.
Free Download Windows Update MiniTool
Conclusion
Windows Update MiniTool is a reliable and efficient tool for managing Windows updates. It offers users greater control, customization options, and the ability to manage updates offline. With its intuitive interface and backup/restore functionality, Windows Update MiniTool provides a convenient alternative to the default Windows Update settings.
While using third-party tools always carries a degree of risk, Windows Update MiniTool has gained recognition for its usefulness and positive user experiences. If you find the default Windows Update settings limiting or frustrating, Windows Update MiniTool can be a valuable addition to your toolkit, allowing you to take control of the update process and tailor it to your specific needs.