What is the USB serial number? How to find and change USB serial number? To find out the answers, you can pay attention to this post. Here, MiniTool Partition Wizard provides detailed information on the USB serial number. 
What Is USB Serial Number
USB serial number is a unique number that is assigned to the USB drive while creating its file system, distinguishing the specific drive from others. It may consist of letters and other typographical symbols, or even only a character string.
The USB serial number is determined by the date and time on the real-time clock on the current computer at the time of a USB device's formatting.
How to Find USB Serial Number
After knowing the meaning of USB serial number, you may wonder how to find USB serial number on your PC. Here's a simple guide to taking a USB serial number lookup. Just follow it to check your USB device serial number.
Step 1: Connect the USB drive you want to check the serial number for to your PC.
Step 2: Press Windows + R to open the Run dialog.
Step 3: Type cmd in the text box and then press Enter or click OK to open Command Prompt
Step 4: In the Command Prompt window, type dir *: (Replace * with the drive letter of your USB drive) and press Enter to execute this command. Then the USB device serial number will be listed.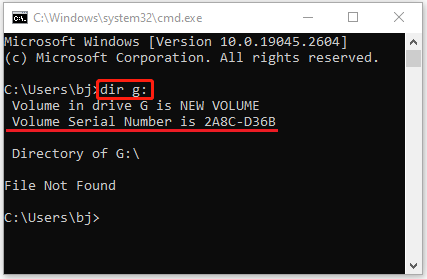 How to Change USB Serial Number
As mentioned earlier, the USB serial number is related to the date and time on your PC while formatting the specific drive. Therefore, the easiest way to change USB serial number is to reformat your USB drive by following the steps below:
Tips:
A format will erase all the data on your USB drive. So, in case of data loss, you'd better back up important files in advance.
Connect your USB drive to your PC.
Right-click the Start icon and select Disk Management.
Right-click the target USB drive and select Format.
In the prompted window, select a desired file system.
Check the Perform a quick format option and then click OK.
Click OK again to confirm the operation.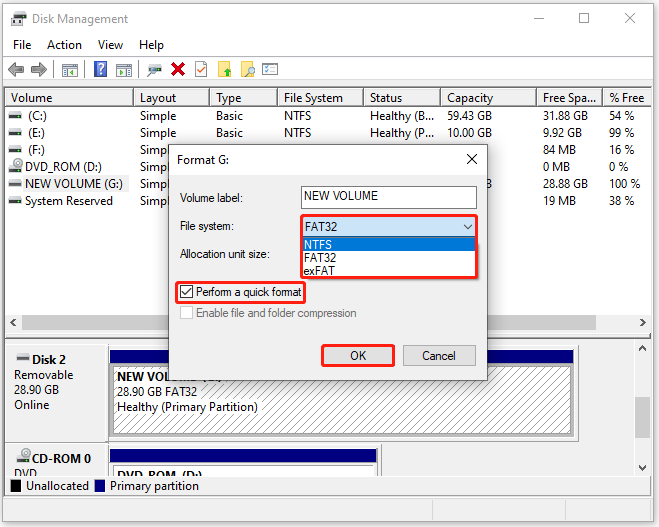 In addition to formatting, using a third-party USB serial number changer is also a great way to change USB device serial number. And MiniTool Partition Wizard is the best recommended.
It's professional disk partition software enabling you to manually change USB serial number without losing data. Besides, MiniTool Partition Wizard allows you to create/format/resize/delete partitions, copy/wipe disks, check disk health, migrate OS to SSD/HDD, and more.
Here's a detailed guide on how to use MiniTool Partition Wizard to change USB serial number without losing data.
Step 1: Download and install this USB serial number changer on your PC.
MiniTool Partition Wizard DemoClick to Download100%Clean & Safe
Step 2: After you install this program successfully, launch it to enter the main interface.
Note:
To access the Change Serial Number feature, you should first upgrade MiniTool Partition Wizard to the Pro or higher editions.
Step 3: Right-click the target USB drive and select Change Serial Number.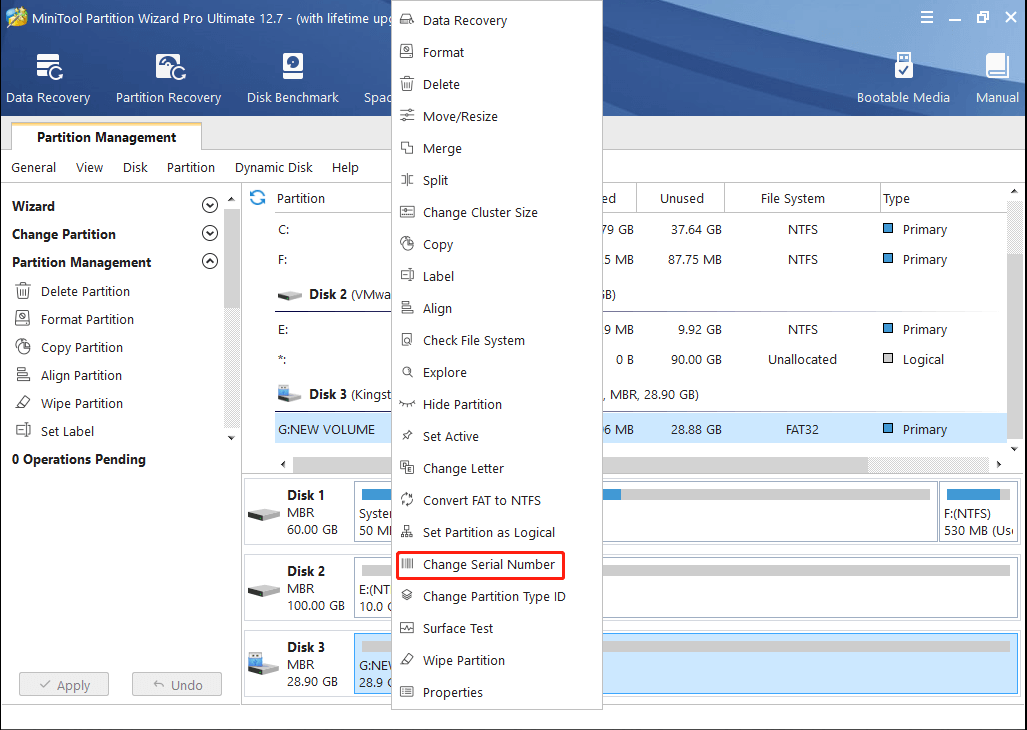 Step 4: In the pop-up window, input the new serial number you want to set for the USB drive. Then click Yes.
Step 5: Finally, don't forget to click Apply to execute this operation.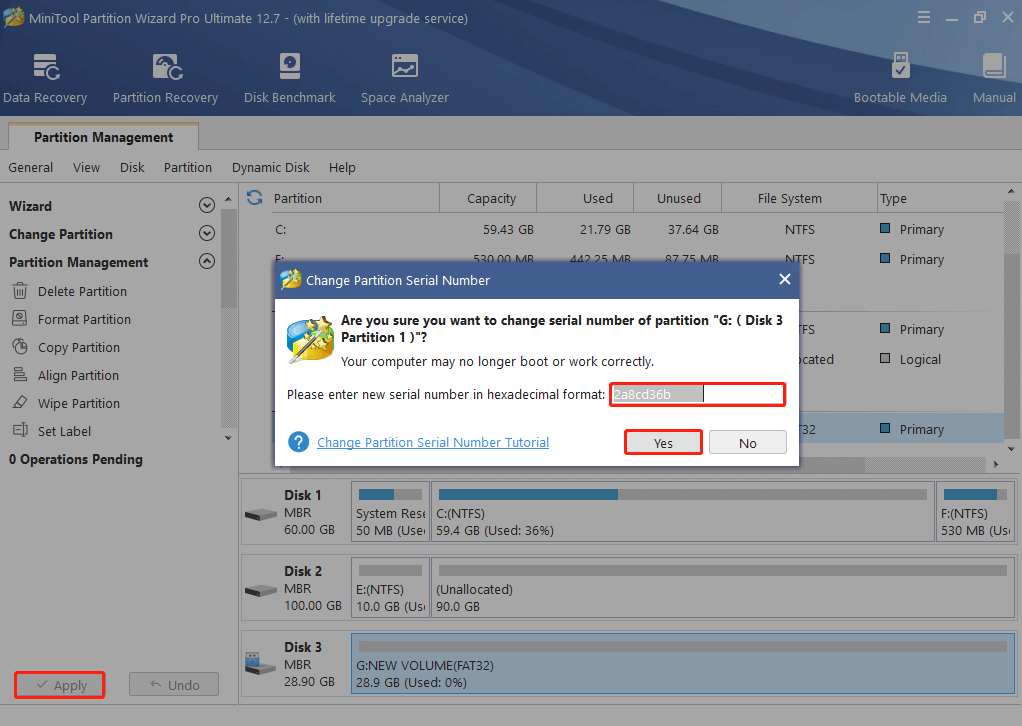 Hope you have a better understanding of the USB serial number after reading this post. For any problems with USB serial number, you can leave a message in our comment area below.