Many users reported that
Seagate DiscWizard failed to clone
a hard drive/SSD on Windows. What causes the "Seagate DiscWizard not cloning" issue? How to fix it? Now, let's explore the answers together with
MiniTool Partition Wizard
.
Sometimes, however, this utility often runs into various issues, such as Seagate DiscWizard failed to clone. Seagate DiscWizard not detecting drives, Seagate Discwizard runtime error, and so on. Here's a true example from the answers.microsoft.com forum:
Seagate Diskwizard will NOT clone my hard drive! Hi, I need help fast. I bought a new Seagate 500 GB SATA hard drive. I want to clone my old hard drive (Because it is failing) to the new drive. So, I bought an external hard drive docking station put the drive in it, and started DiskWizard. I went through all of the prompts for cloning the drive, then it asked me to restart. it didn't clone my drive! Why isn't this working? HELP!!!

https://answers.microsoft.com/en-us/windows/forum/all/seagate-diskwizard-will-not-clone-my-hard-drive/bb73a21a-92dd-49f1-9521-ea49ab13f9e1?page=2
Why Seagate DiscWizard Failed to Clone
What causes the Seagate DiscWizard not copying or cloning on Windows? After investigating lots of user reports and references, we find the problem usually occurs when cloning a non-Seagate drive. If you are cloning a dynamic hard disk, you will encounter the Seagate DiscWizard clone failed issue. Besides, this program doesn't support a partition or disk with Ext2, Ext3, ReiserFS file systems.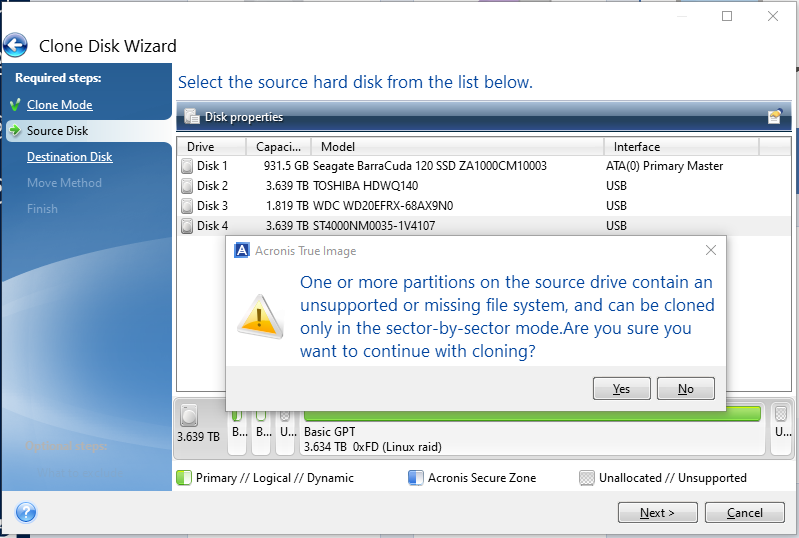 How to Fix Seagate DiscWizard Not Cloning on Windows PCs
How to fix if Seagate DiscWizard failed to clone or copy a hard disk on Windows PCs? The simplest solution is to use an alternative utility to Seagate DiscWizard. Here MiniTool Partition Wizard is a good choice. It's an expertized disk/partition clone tool that can clone or copy different brands of hard disks, SSDs, SD cards, USBs, and TF cards.
In addition, this program can help you upgrade a hard disk to SSD without reinstalling OS. It can also help you convert dynamic disk to basic disk without data loss, convert MBR to GPT, convert FAT32 to NTFS, rebuild MBR, check hard drive health, change cluster size, and more.
Here's how to clone a hard drive using MiniTool Partition Wizard.
MiniTool Partition Wizard DemoClick to Download100%Clean & Safe
Step 1. Launch the MiniTool software to enter its main interface, select the original hard drive from the disk map, and click on Copy Disk from the left action panel.
Tips:
Alternatively, you can select Migrate OS to SSD/HD Wizard to copy all partitions or only the OS partition on the original hard drive to the target disk.
Step 2. In the pop-up window, select the target disk that you want to copy the source content to and click on Next to go on. Then click on Yes to further confirm if there are data on the target disk.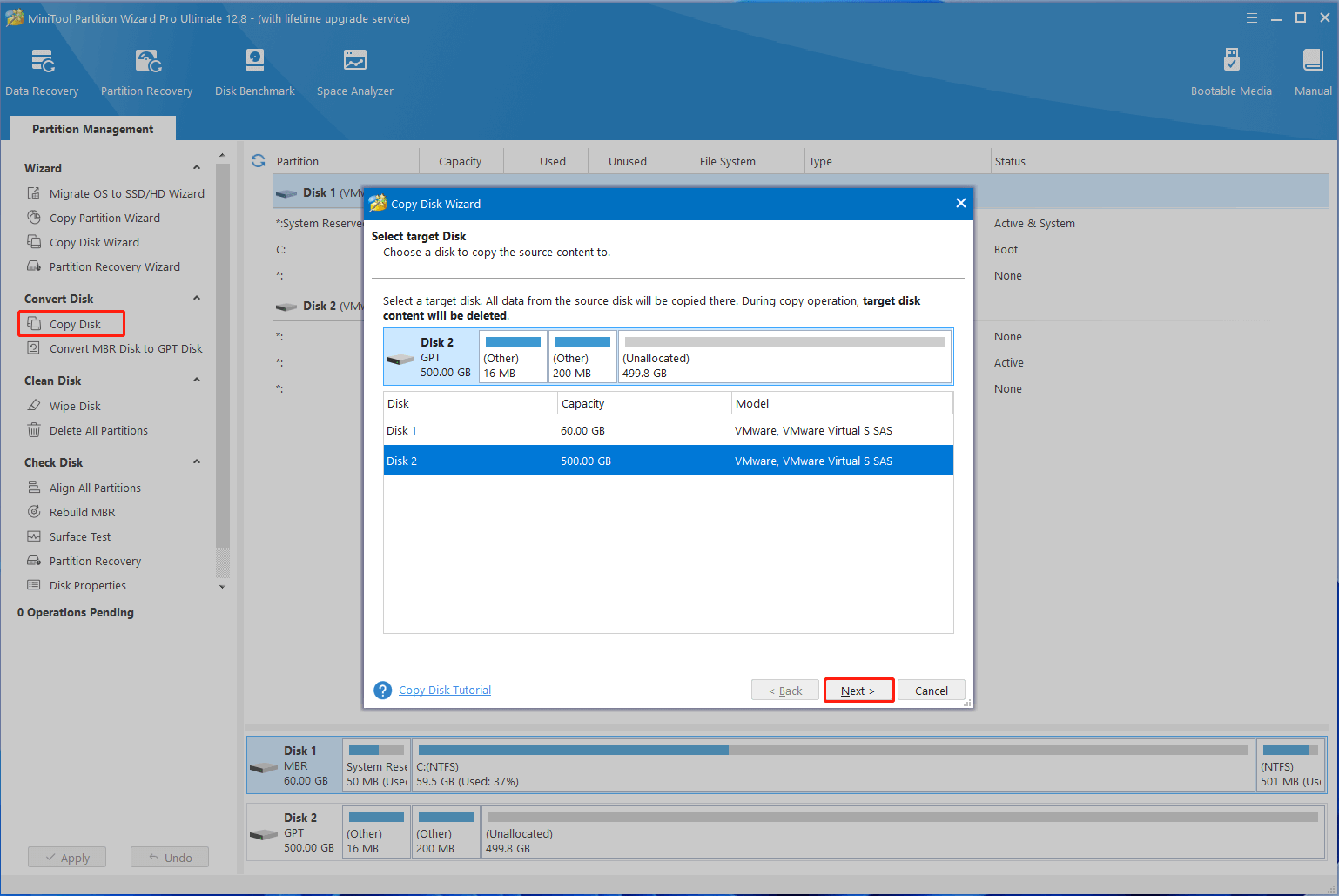 Step 3. Select copy options based on your preference and click on Next to continue. Here you can keep the default options unchanged if you are using an MBR disk.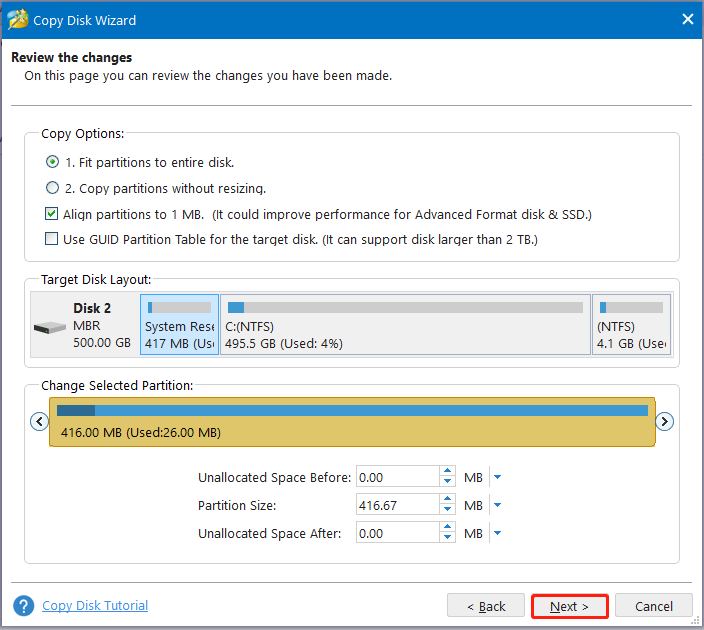 Step 4. Read the Note information and click the Finish button to confirm the copy.
Step 5. Finally, click on Apply to execute the pending operations.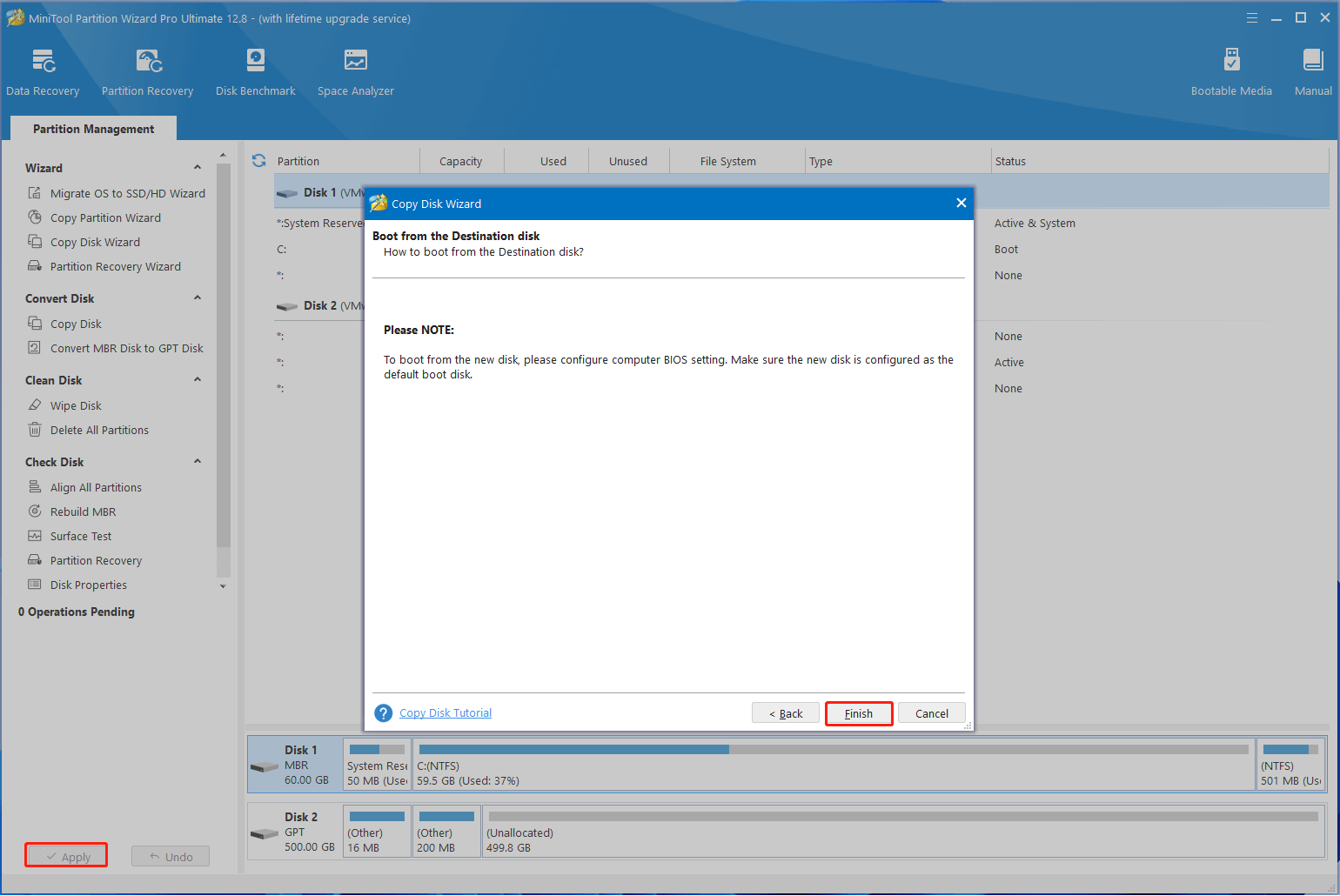 How to fix the Seagate DiscWizard copy failed on Windows PCs? The most effective fix has been illustrated above. If you have any other opinions about this problem, please share them with us in the following comment zone.