Why Is MW2 So Laggy?
MW2, short for Call of Duty: Modern Warfare 2, is a 2009 first-person shooter game developed by Infinity Ward and published by Activision. It is available on Windows, PlayStation 3, and Xbox 360.
Many people report that they are struggling with frequent MW2 latency spikes. Why is MW2 so laggy? The possible reasons are as follows:
Insufficient Hardware Configuration: MW2 requires at least an i3-6100 / i5-2500K or AMD Ryzen 3 1200 processor, 8GB RAM, and a NVIDIA GeForce GTX 960 or AMD Radeon RX 470 graphics card with 2GB VRAM.
Game Server Status: Sometimes, the MW2 lagging issue is caused by Modern Warfare 2 game servers, like bugs, or under attacks.
Network Congestion: If there is some network congestion, bad routing, bandwidth congestion, or some network overloading problems, you will see high ping spikes over 100. Lag is usually associated with high ping in games.
Background Apps: Some apps may run in the background, which consumes the CPU and GPU resources.
How to Solve the MW2 Lagging PC Issue
To solve the Modern Warfare 2 lag issue on your PC, you can try the following solutions.
Way 1. Check the PC Specs
Press the Windows key + R to open the Run box.
Type "dxdiag" and press Enter to open DirectX Diagnostic Tool.
Under the System tab, you can find the Operating System version, the Processor name and frequency, and the Memory size.
Under the Display tab, you can find the Name and VRAM of the graphics card.
If your PC doesn't meet these requirements, you need to upgrade the hardware.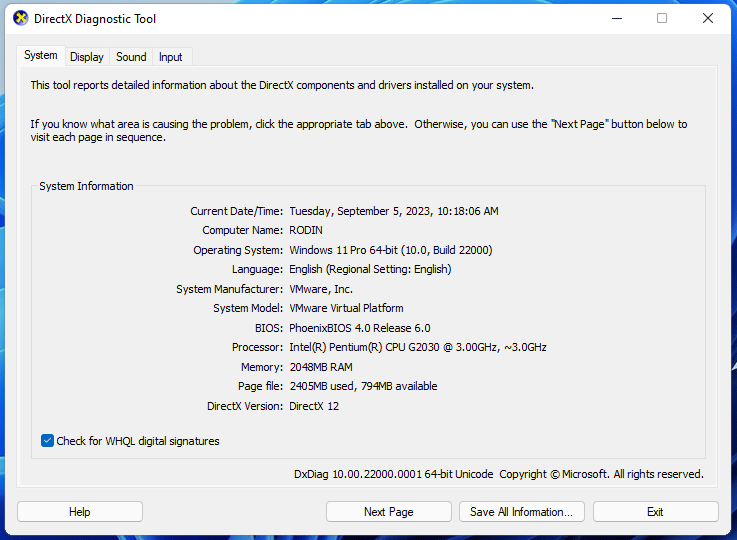 Way 2. Check If the MW2 Servers Are Down
You can search for this issue online. If the servers are down, other users may report this issue and some websites may tell you that.
Way 3. Close Unnecessary Apps and Overlays
First, you can restart your computer to close these apps. After the restart, open Task Manager to check if some unnecessary apps are running and consuming a lot of PC resources. If there are, right-click them to end the task.
In addition, if you use overlays like Discord or Windows Game Bar, closing them can also reduce PC resource consumption.
For Discord:
Open Discord.
Go to Overlay under App Settings.
Click on the "Enable in-game overlay" to turn it off.
For Windows Game Bar:
Go to Windows Settings > Gaming.
On the Game Bar, set "Record game clips, screenshots, and broadcast using Game bar" to off.
Head to the Captures tab and set the "Record the background while I'm playing a game" to Off.
You can also test turning Game Mode on or off, one by one.
Way 4. Update the Graphics Driver
When a game can't run well, many people will recommend you update the graphics driver. You can do as follows:
Open Device Manager using the Windows Search bar.
Expand Display adapters.
Right-click on the graphics card and choose Update driver.
On the pop-up window, click Search automatically for drivers.
Way 5. Repair Game Files
This is to make sure the MW2 lagging PC issue is not caused by damaged game files. Here is the guide.
On Steam:
Open the Steam app.
Go to your Games Library.
Right-click on Call of Duty Modern Warfare 2.
Select Properties.
Go to the Local Files tab.
Click on Verify Integrity of Game Files.
Restart Steam and launch Call of Duty Modern Warfare 2 again.
On Battle.net:
Open the Battle.net app.
Find the Call of Duty Modern Warfare 2 icon and open the game.
Select Options.
Select Scan and Repair.
Click Start Scan.
Way 6. Change Game Settings
If your computer is old or the computer is not primarily designed for gaming, the high graphics settings you're using currently may be the cause of the problem. Using lower graphics settings may solve the Modern Warfare 2 lag issue. You can set them to Balanced, Basic, or even Minimum.
Way 7. Enable High Performance Mode in Power Options
Some gaming laptops may switch power plan to power save mode. This may cause the MW2 lagging issue. To solve this issue, you can do as follows:
Open Control Panel.
Change View by to Large icons.
Click on Power Options.
Select High Performance or Ultimate Performance.
Reboot your PC.
Way 8. Use Hardware Accelerated GPU Scheduling
This feature will bring slight improvement to framerates on low-end computers. Here is the guide:
Search for Graphics Settings using Windows Search.
Click on Change default graphics settings.
Enable Hardware Accelerated GPU Scheduling.
Bottom Line
MiniTool Partition Wizard is a functional tool. It can convert MBR to GPT without data loss, migrate OS, clone hard drive, recover partitions, recover data from hard drive, etc. If you have this need, download it to have a try.
MiniTool Partition Wizard DemoClick to Download100%Clean & Safe