How to wipe a hard drive after cloning to an SSD? Is there any way to do that? Don't worry. In this article, MiniTool Partition Wizard would provide with you a step-by-step tutorial on how to wipe a hard drive after cloning.
Sometimes, when you buy a new SSD and want your old HDD to be used as a storage disk after cloning it to the new SSD. Then you may wonder: Should I wipe my old HDD drive after cloning to a new SSD drive? How to wipe old hard drive after cloning? Don't worry. You can read the following content to know the answers.
Should I Wipe the Old HDD Drive After Cloning to an SSD
It depends on what you do with the hard drive afterward. If you want to sell it, you should erase it. If you want to reuse it, I still recommend it.
If you're not going to use it as a backup, then be sure to wipe it clean. You can then use the drive as an external hard drive to store photos or backups, etc. If you want this as a backup of your current drive that you just cloned to SSD, keep it in a safe place so you can use it when needed. Afterward, it's probably not worth keeping and it's time to wipe it clean.
How to Wipe Old Hard Drive After Cloning to an SSD
Well, how to wipe a hard drive after cloning to an SSD? You can try to format the hard drive, but it won't completely wipe the drive's data.
Because whenever you delete any document or file from the system or any storage device, the data will not be removed from the drive. And traces of these deleted files still exist on a sector of the storage drive until and unless it is overwritten with any other data, or processed by any data erasure software to permanently delete the file.
Therefore, I recommend you try a data wiper tool to completely wipe your storage device. There are many data-wiping tools available in the market, but I recommend trying MiniTool Partition Wizard. It allows you to wipe any USB flash drive or external/internal HDD (even the system disk). It has five different methods with different speeds and security levels.
Tips:
In addition to the
Wipe Disk
feature, this multifunctional partition manager allows you to perform various operations related to disks and partitions. Specifically, it allows you to
create/format/resize/move/extend/delete/copy/recover
partitions. Additionally, it is capable of
converting MBR to GPT without data loss
, rebuilding MBR, migrating OS to SSD/HD, etc.
To wipe a hard drive after cloning with MiniTool Partition Wizard, you can follow the steps below:
Step 1: Download and install MiniTool Partition Wizard by clicking the button below. Then launch it to get the main interface.
MiniTool Partition Wizard FreeClick to Download100%Clean & Safe
Step 2: Select the old drive that you want to wipe and choose Wipe Disk from the left action panel or from the right-click menu.
Step 3: Choose one of five wiping methods listed on the pop-up window and click OK. Different wiping methods cost different times and bring different security. To be specific, the more time it costs, the higher security you will.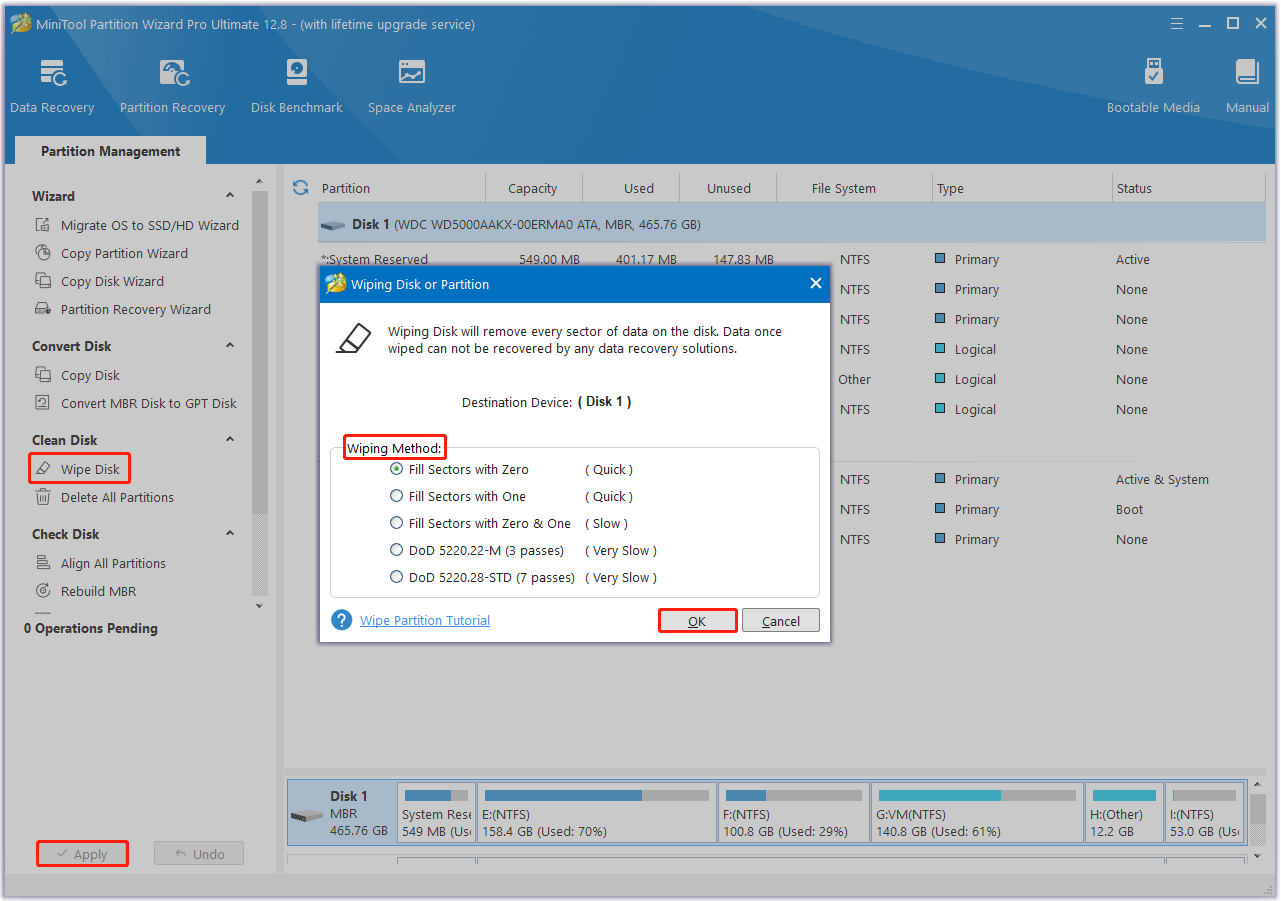 Step 4: Click Apply to carry out the operation. Then the wiping process starts automatically and you just need to wait patiently until the process ends.
Bottom Line
This post introduces how to wipe a hard drive after cloning to an SSD. We recommend you use a professional data wiper tool called MiniTool Partition Wizard. It is worth trying.