What to do if you encounter the Diskpart
delete partition override not working
problem? Is there any effective way to fix this issue? In this post,
MiniTool Partition Wizard
provides a full guide for this issue.
About Delete Partition Override
Windows provides the Diskpart utility in Command Prompt to delete unwanted partitions directly. For example, enter the command "delete partition" and press Enter, the selected partition will be deleted immediately.
However, to delete hidden or system-protected partitions, you should run the "delete partition override" command instead of the "delete partition" command. Otherwise, Diskpart will encounter an error message:
Cannot delete a protected partition without the force protected parameter set.
The selected volume or partition is in use. To continue with the operation, use the override parameter.
Tips:
1. The "delete partition overwrite" command is still not supported for system partitions, boot partitions, or partitions containing paging files, hibernation files, or crash dump files.
2. Do not rush to delete the OEM partition until you have backed it up to another hard drive or confirmed that you no longer need to reset the computer to factory settings.
Generally, the Diskpart "delete partition override command can help you delete hidden or protected partitions. But sometimes, the delete partition override not working with the error saying "The operation is not supported by the object. The system does not support the specified command or parameter".
This is especially true when using the Diskpart override command on dynamic disks. How to solve the problem of Diskpart delete partition overwrite not working? Here are detailed solutions for you to solve this problem.
How to Fix Delete Partition Override Not Working
Here we summarize two ways for you to solve this Diskpart delete partition override not working problem.
Way 1. Use an Alternative to Diskpart
When you encounter the Diskpart delete partition override not working problem, you can consider using MiniTool Partition Wizard to delete partitions. It is the Diskpart alternative. As an excellent partition manager, it provides you with full of partition management which allows you to create/format/resize/move/extend/delete/copy/recover partitions.
To delete a partition with MiniTool Partition Wizard, you can follow the steps below:
Step 1: Download and install this software on your PC. Then launch to get to its main interface.
MiniTool Partition Wizard FreeClick to Download100%Clean & Safe
Step 2: Highlight the partition that you want to delete and then choose Delete Partition from the left pane.
Step 3: Click on Apply and tap Yes to let the software perform deleting operation.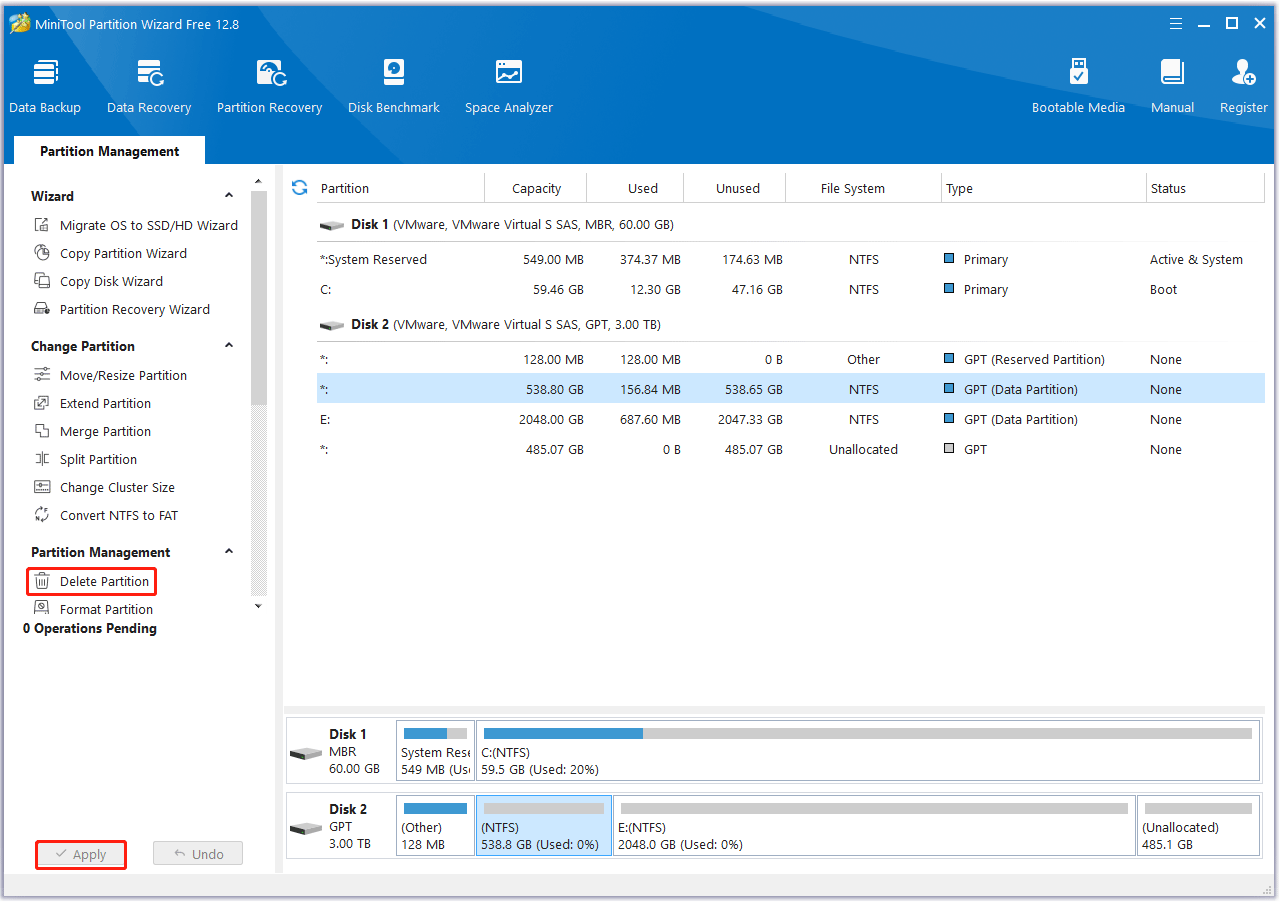 Way 2. Change Diskpart Command
When your hard disk is a dynamic disk, "partition" is not applied in Diskpart, but "volume" should be used to replace "partition". You can use "delete volume override" to delete hidden or protected volumes on dynamic disks. Proceed as follows:
Step 1: Type diskpart in the Search box, and then right-click DiskPart in the search results to select Run as administrator to run Diskpart as administrator.
Step 2: Type the commands listed below and press Enter after each command:
list volume
select volume * (* is the number of the volume you need to delete)
delete volume override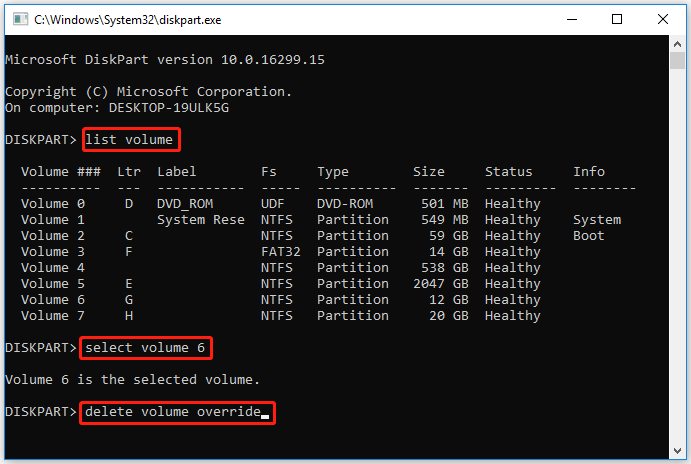 After successfully removing the unwanted partitions, type exit to close the window.
Bottom Line
In this post, we provide two feasible ways to solve the Diskpart delete partition override not working problem.