What is a hidden partition? How to delete hidden partition on external drive? To help you find out the answers, this post from MiniTool Partition Wizard provides detailed information on these topics. You can take a look.
A hidden partition is a partition that is set to be invisible to most ordinary users in Windows Explorer, improving data security. The most common hidden partitions on your PC are Recovery Partition and EFI System Partition which hold information about the system boot file and the disk boot sector.
There is no way to access the files stored in the hidden partition unless you unhide it. Therefore, if you store important files on a partition of an internal or external hard drive and want to prevent others from accessing or modifying them, you can set the specific partition as hidden.
As you can know from above, hiding the partition on an external drive can keep your important data secure. However, sometimes there might be a need to delete the hidden partition. For instance, if the files stored in the hidden partition are space-consuming and not needed anymore, you may consider deleting the hidden partition to free up the disk space.
Besides, if the hidden partition is damaged due to virus or malware infections, you can repair it by deleting it and then recreating a new partition.
How to delete hidden partition on external drive? This post summarizes several possible methods to help you. Just choose one to solve your problem.
Note:
Deleting a partition will erase all the data on this partition. In case of data loss, you should make a backup in advance.
Method 1: Delete Hidden Partition via Disk Management
Disk Management is a Windows built-in utility that can show and delete hidden partitions. In addition, it enables you to perform other partition/disk tasks, like creating, formatting, extending, shrinking partitions, etc. To learn how to delete hidden partition on external drive with this tool, follow the steps below.
Step 1: Right-click the Start icon and select Disk Management.
Step 2: Right-click the target hidden partition of the external hard drive. Then select Delete Volume.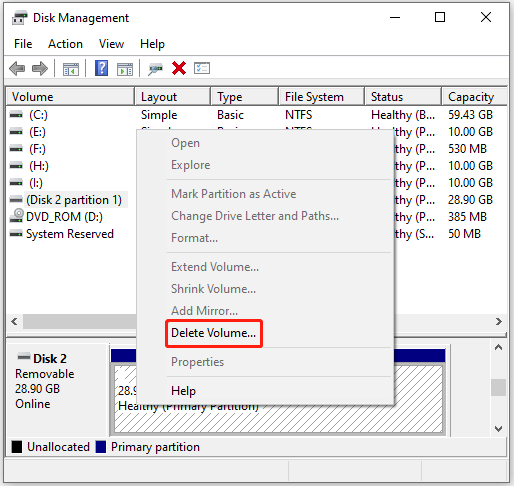 Step 3: Click Yes on the prompted window to confirm the operation.
Method 2: Delete Hidden Partition via Diskpart
Diskpart is another useful Windows built-in partition manager. It allows you to manage your partitions and disks with corresponding command lines. How to delete hidden partition diskpart? Here's a step-by-step guide provided.
Step 1: Press Windows and R keys to open the Run dialog.
Step 2: Type diskpart in the text box and then press Enter to open the diskpart.exe window.
Step 3: In the diskpart.exe window, type the following commands one by one and press Enter after each.
list disk
select disk N (N is the number of the disk that includes the target partition)
list partition
select partition * (* represents the number of the target hidden partition)
delete partition
Tips:
If the delete partition command fails, you can try executing the delete partition override command to force delete the target partition.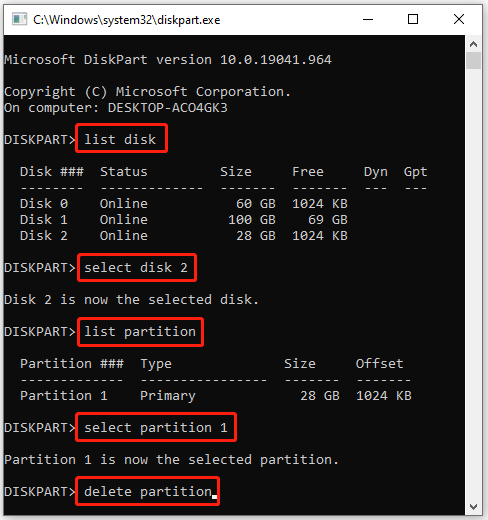 Hope you have a better understanding of how to delete hidden partition diskpart from the above steps.
Method 3: Delete Hidden Partition via MiniTool Partition Wizard
Both Disk Management and diskpart are helpful partition managers offered by Microsoft. However, while using the two utilities, some issues, like Delete Volume greyed out and diskpart has encountered an error, may randomly happen to bother you.
What if you fail to delete hidden partition with Windows built-in tools? Well, it's recommended that you use a third-party program like MiniTool Partition Wizard to complete this operation. It's professional disk partition software with a wide range of features.
With MiniTool Partition Wizard, you are capable of creating/formatting/resizing/deleting partitions, copying/wiping disks, migrating OS to SSD/HDD, etc. How to delete hidden partition on external drive? There is a complete guide available.
Step 1: Download and install MiniTool Partition Wizard on your PC. Then launch this program to enter the main interface.
MiniTool Partition Wizard FreeClick to Download100%Clean & Safe
Step 2: Right-click the target partition on the external drive and select Delete.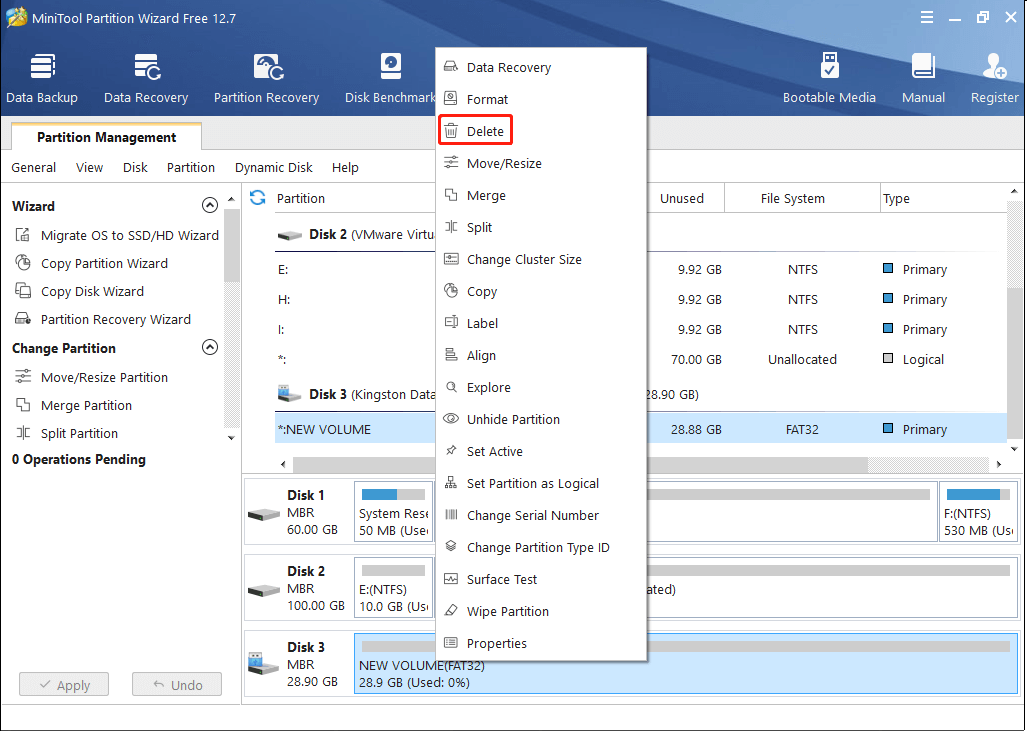 Step 3: After that, click Apply to carry out the deleting process.
How to delete hidden partition on external drive? You may get the answer from this post. If you have any other questions about deleting hidden partitions, you can leave a message in the comment area below.