The floppy disk is still used to store data. In some cases, you are required to format it. If you don't know how to do that, follow this guide now! Here, MiniTool Partition Wizard offers you 3 simple and effective methods to format floppy disks.
What Is Floppy Disk
Floppy disk or floppy diskette usually is referred to as a floppy or diskette. It is a magnetic storage medium composed of a thin and flexible disk. It has a square or almost square plastic enclosure lined with a fabric that removes dust particles from the spinning disk.
Used on late 20th-century computers, the floppy disk is popular from the 1970s until the late 1990s. It is the only medium to store information because there were no USBs or CD-ROM drives at that time. Due to its small capacity, it is not widely used now. Even so, some people still use floppy diskettes to store small files.
Why to Format Floppy Disk
Like other external storage devices, the floppy disk is also vulnerable to corruption. For some errors, it prompts you with a message stating that formatting the disk makes it usable. Why do you need to format floppy disk? Here, we summarize some reasons as follows.
The floppy disk is non-accessible
The device is not ready
You format the device by accident
The drive is corrupted because of virus attacks or bad sectors
The disk is not detected or unrecognized by the computer
The floppy disk converts to a RAW drive
Here comes the question: how to format floppy disk. If you have the same doubt, move to the next section to explore the answer.
How to Format a Floppy Disk
There are several ways to format a floppy disk. You can pick one method from them to perform the operation.
Warning:
If there are any important data on the floppy disk, back up them before you format the drive. Otherwise, you will experience data loss.
Also read: What Does Formatting a Hard Drive Do? Here Are Answers
Method 1: Use Disk Management
Command Prompt is a built-in utility in Windows computers that can manage storage devices connected to the computer. Here, you can use it to format floppy disks. To do that, follow these steps.
Step 1: Plug the floppy disk into the computer.
Step 2: Run Command Prompt as administrator.
Type cmd in the search box.
Tap Run as administrator under the Command Prompt App in the right panel of the window. Alternatively, right-click on Command Prompt under Best match and then click Run as administrator.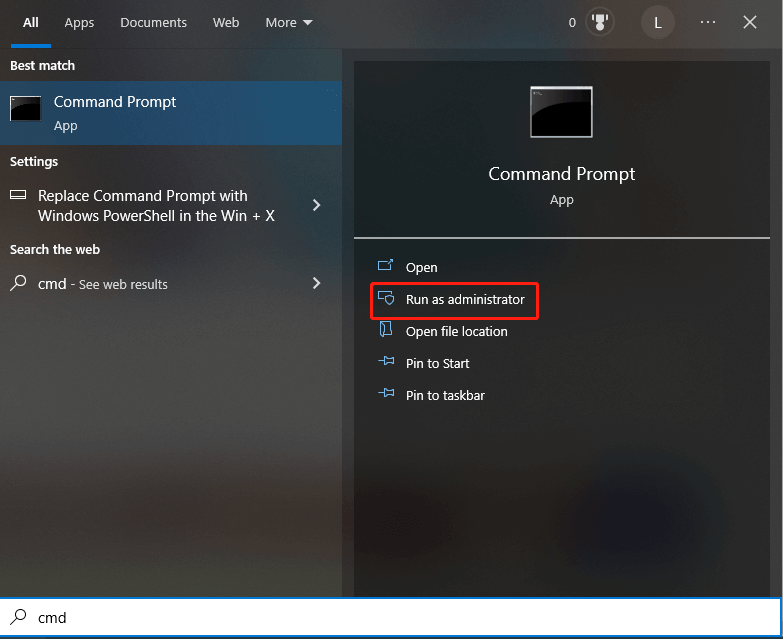 Step 3: In the prompted window, type format * and hit Enter to execute the format operation. You should replace * with the drive letter assigned to the floppy drive by the computer.
Step 4: If you are asked whether to format the drive now, confirm the operation.
Method 2: Use File Explorer
Like Command Prompt, File Explorer also comes with Windows computers. It helps you format storage devices on the computer too. The following steps show you how to format floppy disk via File Explorer.
Step 1: Press Windows and E keys to open File Explorer.
Step 2: Navigate to This PC and move to the right side of the window. Then find and right-click on the floppy disk and tap the Format option.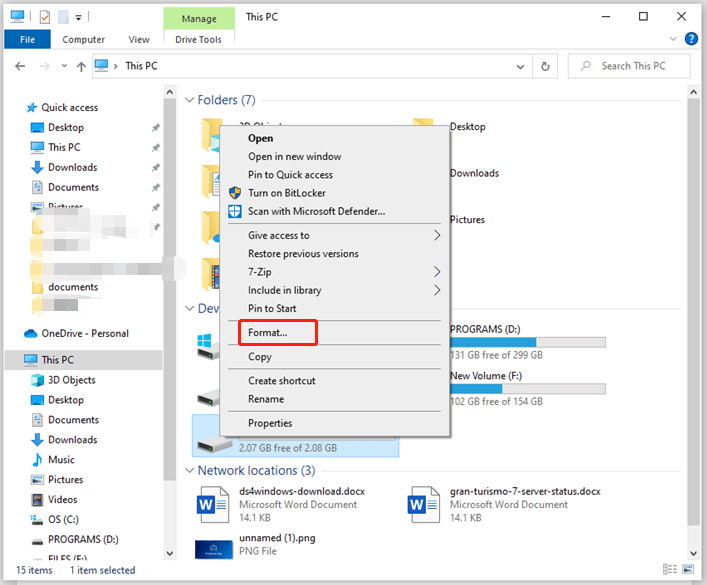 Step 3: In the prompted window, configure format settings based on your demands and then click the Start button to execute the operation.
Select a file system from the drop-down menu.
Choose an allocation unit size from the given options.
Add a volume label if necessary
Check the Quick Format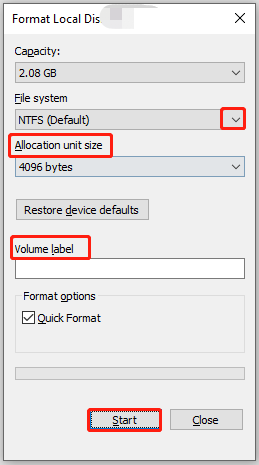 Method 3: Use MiniTool Partition Wizard
In addition to Windows-embedded utilities, third-party partition managers like MiniTool Partition Wizard are also capable of formatting the floppy disk. When you encounter errors while using Windows built-in tools, try an alternative.
MiniTool Partition Wizard is a good option. With a simple interface, it is even friendly to beginners. You can access features in the left action panel or context menu. Here's the tutorial on format floppy disk via it.
Step 1: Get MiniTool Partition Wizard installed on your computer.
MiniTool Partition Wizard FreeClick to Download100%Clean & Safe
Step 2: Launch the application to enter its main interface.
Step 3: Right-click on your floppy disk and click Format.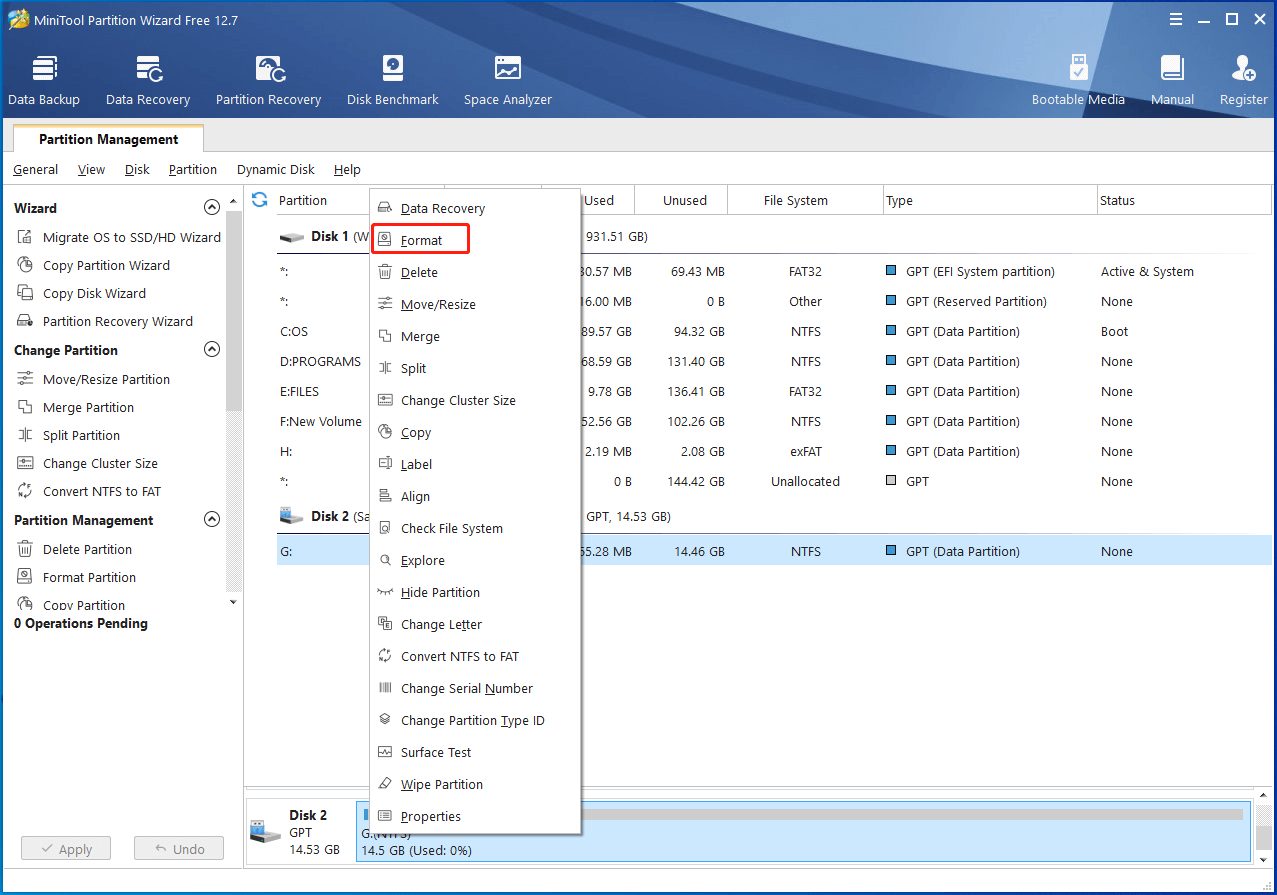 Step 4: In the elevated window, set format settings like partition label, file system, and cluster size. Then click OK to save the changes you have made.
Step 5: Tap Apply > Yes to carry out the pending operation.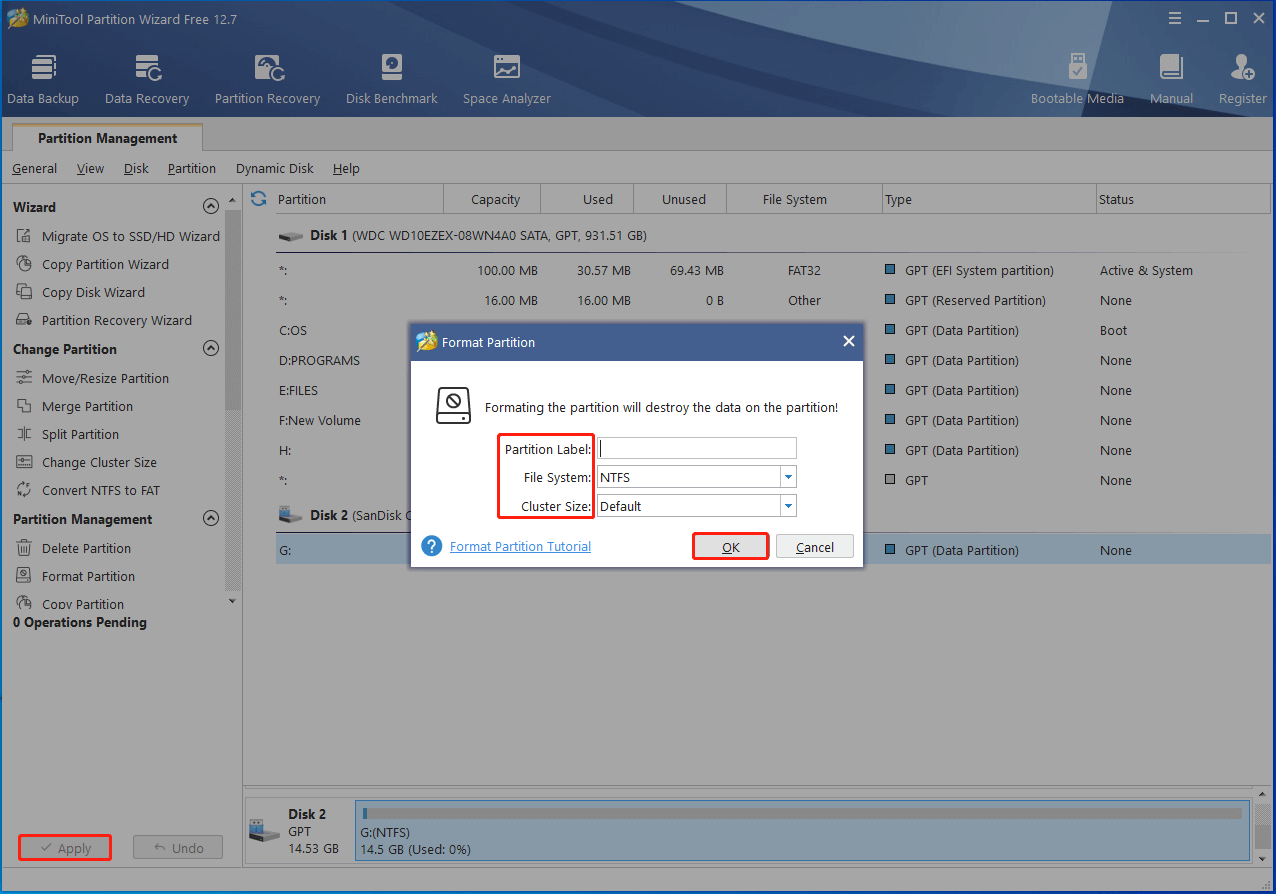 You may also like this: How Many Times Can I Format an SSD? Here's the Answer