Sometimes, when you connect your USB flash drive to your PC, you may find USB flash drive showing wrong size. How to fix this issue? Here, MiniTool Partition Wizard offers you two simple methods to fix USB flash drive showing wrong size.
USB flash drive (formerly known as a pen drive) is generally the most commonly used portable storage device. Small but high-capacity flash drives help you save documents, photos, movies, and any files for safe and smooth transfer between digital devices.
However, many users find that their USB flash drive is showing wrong size. The capacity of a USB flash drive is either larger or smaller than the actual size.
If your USB flash drive is showing wrong size on your computer, the drive may have been improperly formatted. There could be various other reasons as well, for example, your computer might be infected with a virus.
How to solve this problem? You can restore a flash drive to its original state by two generally applicable methods: reformatting your USB flash drive; cleaning and re-partitioning the USB drive.
Way 1. Format USB via MiniTool Partition Wizard
MiniTool Partition Wizard is an all-in-one partition software that is designed to manage partitions and disks with its features like create partition, move/resize partition, extend partition, etc. This software has many advantages in conversions without data loss including converting FAT to NTFS, converting MBR to GPT, and so on.
To format a USB flash drive, MiniTool Partition Wizard offers a powerful Format Partition feature, with many file systems provides. The steps are as follows:
MiniTool Partition Wizard FreeClick to Download100%Clean & Safe
Step 1: Download and install this software on your PC. Then launch it to enter its main interface.
Step 2: Select the target partition and choose Format from the left action panel.
Step 3: Set the Partition Label, File System, and Cluster Size. Then click OK to continue.
Step 4: Click on the Apply button to confirm these changes.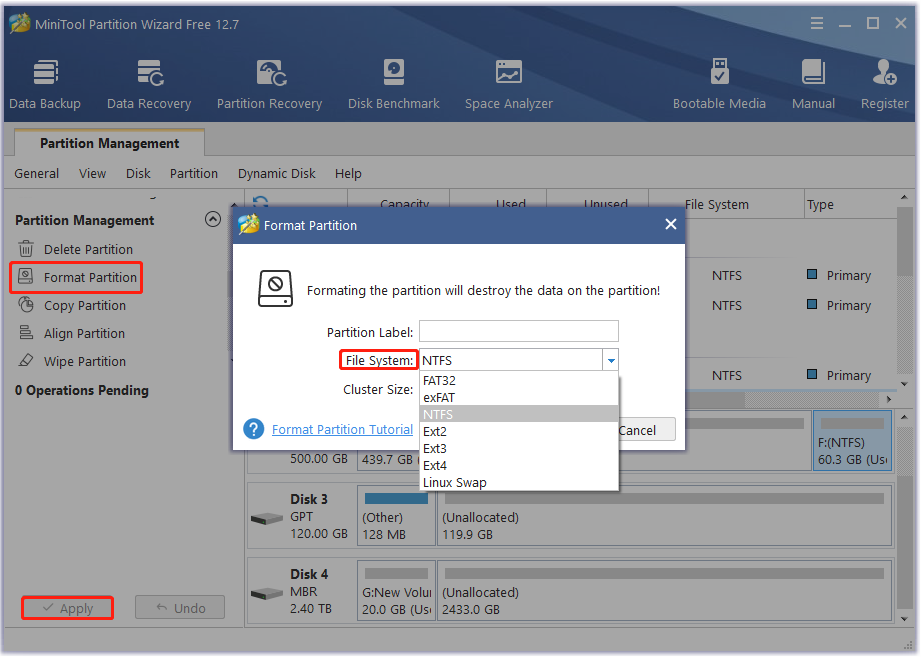 After that, you can check if the USB flash drive is showing wrong size.
Way 2. Clean and Repartition USB via Command Prompt
USB flash drive showing wrong size issue can also be fixed using Command Prompt. There is a command that allows you to delete all partitions, format the drive, and then recreate the partitions on the drive.
Step 1: Type cmd in the Search box, right-click Command Prompt to choose Run as administrator.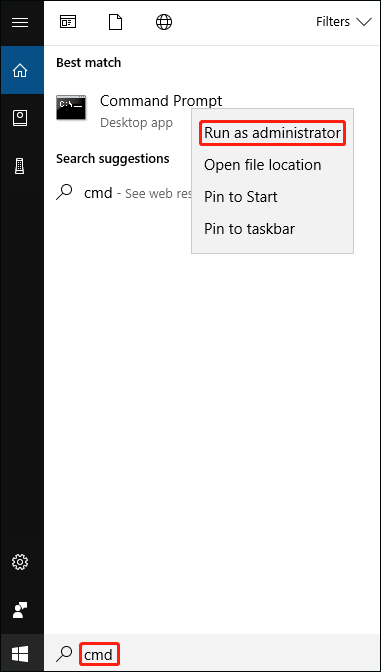 Step 2: In the Command Prompt window, type the following commands in order and press Enter after each command:
diskpart
list disk
select disk *(* should be replaced with the correct disk number)
clean
create partition primary
format fs=ntfs quick (ntfs can be replaced with fat, fat32, and exfat according to your partition size)
exit
Once done, you can check if the USB flash drive showing wrong size issue still persists.
Tips:
If you format the USB drive by mistake, you can use MiniTool Partition Wizard's Data Recovery feature to recover the data.
Bottom Line
In this article, we provide two ways to fix the USB flash drive showing wrong size problem. You can choose one of the methods according to your needs. The first way is more convenient for you to use.
For any other opinions about this topic, you can leave a message in our comment area below.