Have you received the error message "
FIFA 23 Secure Boot is not enabled
" when playing FIFA23? This post from
MiniTool Partition Wizard
offers you 4 solutions. You can have a try.
FIFA 23 Secure Boot Is Not Enabled
I keep getting this error message when loading up FIFA 23 saying "Secure Boot is not enabled on this machine". I've uninstalled the app, re-installed it, and I've tried to go into my BIOS settings, but none of it works.

https://learn.microsoft.com/en-us/answers/questions/1322465/how-do-i-fix-an-error-message-for-fifa-23-secure-b
Some people report that they have encountered the "Secure Boot is not enabled on this machine FIFA 23" issue. This issue will prevent them from playing the FIFA 23 game.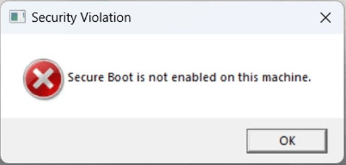 Why does this issue occur on a Windows 11 PC? As we all know, Windows 11 requires UEFI and Secure Boot. If the Secure Boot is not enabled, how can Windows 11 run and display this error?
In addition, I have searched for many forums and these users who encounter this issue don't say they are using tweaked Windows 11 versions that can bypass Secure Boot.
How to Fix the Issue
To solve the "FIFA 23 Secure Boot is not enabled" issue, you can try the following methods.
Way 1. Disable and Enable Secure Boot in BIOS
If you just enabled Secure Boot through BIOS, are on Windows 11, and do not have a brand-new motherboard model, then Windows will not allow you to enable Secure Boot even though it says enabled on the BIOS. A user has reported this issue.
If you are in this case, you may encounter the "FIFA 23 Secure Boot is not enabled" issue. Then, disabling and enabling Secure Boot will solve the issue. Here is the guide:
Hold down the Shift key and from the Power icon image select Restart to boot your system into Windows Recovery Environment (WinRE).
Then select Troubleshoot > Advanced options > UEFI Firmware Settings and select Restart to enter the firmware.
Find the Secure Boot to disable and enable it. In most PCs, it should be under the Security or Boot tab.
Save and exit from BIOS Settings.
Way 2. Run as Administrator
Running an app as an administrator can fix many small glitches. If the first solution doesn't work, you can try way. You just need to right-click the FIFA23 executable file > choose Properties > click Compatibility > Check Run this program as an administrator > click OK.
Way 3. Reinstall the Game's Anti-Cheat
Right-click on the FIFA application and choose Open file location.
Click on the installer folder.
Click on EA anti-cheat.
Click on the Exe file located here.
Say yes to the pop-up window.
Click on the icon and select FIFA 23.
Click Uninstall.
Once it is uninstalled close the window.
Open the game and the anti-cheat will be installed again
You can also reinstall the FIFA 23 game and then check if the issue is removed.
Way 4. Go Back to Windows 10
The "FIFA 23 Secure Boot is not enabled" issue only happens on Windows 11. If all of the above solutions don't work, you can go back to Windows 10.
Bottom Line
MiniTool Partition Wizard is a functional tool. It can convert MBR to GPT without data loss, migrate OS, clone disk, recover partitions, recover data from hard drive, etc. If you have this need, download it to have a try.
MiniTool Partition Wizard DemoClick to Download100%Clean & Safe