there's no doubt that HDD's capacity is very large. Therefore, you should pay attention to the read/write speed instead while looking for the best hard drive. Here, MiniTool Partition Wizard collects some fastest hard drives on the market.
You may get confused because there are a lot of hard drives on the market. A simple way to choose the drive is to find its (read/write) speed. Which is the fastest hard drive? Well, this post would list several fastest hard drives. You can pick one from them.
Other similar posts:
#1: Seagate Mach.2 Exos
Seagate Mach.2 Exos is the fastest hard drive in the world. It comes with a 14TB capacity. This HDD features a spindle speed of 7200RPM, a 256MB multisegmented case, and a single-port SAS 12GB/s interface. The sequential read/write speeds of Seagate's new HDD are so fast that it can even compete with some inexpensive SATA/SAS SSDs at a far lower cost per TB.
According to Seagate's datasheets, SATA models are capable of up to a 554MB/s sustained transfer rate, while the SAS drives are not far behind at 545MB/s. The speed of the fastest SATA SSDs usually is in the range of 580MB/s. For instance, Samsung's 870 Evo SSD delivers sequential reads at 560MB/s and 530MB/s for writes.
After you plug it into a data center server, the host system will view Mach.2 as two logical drives that can be addressed independently. The drawback is that Mach.2's speed comes at a cost of higher power consumption. To be specific, the Exos 2X14 drive consumes 7.2W in idle mode and up to 13.5 under heavy load.
This amount of power is higher than the standard 12W that's recommended for 3.5-inch HDDs. Fortunately, data centers can leverage Seagate's Power Balance capability to reduce power consumption, but it may lower sequential read/write speeds by about 50% and random read/write speeds by about 5% to 10%.
#2: Toshiba Canvio Advance Hard Drive
The Toshiba Canvio Advance is a portable external hard drive, which has 5 available vibrant colors. With a compact design and a stylish texture finish and color, its storage space is up to 4TB. It comes with automatic backup software that can help you back up all the essential data on the hard drive.
What's more, this hard drive offers password protection software, preventing unauthorized access to the data. Being one of the fastest hard drives, it delivers fast read/write speeds.
#3: WD Blue Hard Disk Drive
This hard drive calculates the optimum seek speeds to lower power consumption, noise, and vibration. The data lifeguard is useful for maintaining the optimum health of the device. As the drive doesn't have touch ramp load technology, the drive head is kept off from the disk surface when not in use or running.
The capacity of the WD Blue hard disk drive can be up to 6TB, which is large enough to store pictures, videos, and important files. As for the sale service, it offers a two-year seller warranty for the drive.
#4: Seagate Portable Hard Disk
This USB drive provides plug-and-play with the 18-inch USB 3.0 cable. The connectivity technology is possible through USB and has a read speed of 120 megabytes per second. Besides, it works well with Windows and Mac computers.
#5: WD Black Game Drive
As its name suggests, the WD Black P10 game drive is built for gaming. With a metal top, it is durable and has good quality and reliability. The maximum capacity of this drive is 5TB, which enables you to store 125 games on average.
It can work with both consoles and PCs. Having a premium HDD drive grants you extra capacity and on-the-go access to your growing console or PC game library. This is an upgrade for the next-gen Xbox Series X|S and PlayStation 5.
Tip: This hard drive speeds up to 140MB/s.
If you are searching for fastest external hard drives, these drives are worth having a try.
Samsung T5
Western Digital My Book
Western Digital My Passport Ultra
Seagate Backup Plus Ultra Touch
Seagate FireCuda Gaming Hub
AFATA HD710M Pro External Hard Drive
How to Test Hard Drive Speed
The given numbers are advertised hard drive speeds, which are usually faster than actual speeds. Well, you can perform a hard drive speed test by yourself by using programs like MiniTool Partition Wizard, Blackmagic Disk Speed Test, CrystalDiskMark, Intel SSD Toolbox, etc.
Here, we show you how to test the speed of your hard drive via MiniTool Partition Wizard – an all-in-one partition manager.
Step 1: Connect your hard drive to the computer and get MiniTool Partition Wizard installed on your PC.
MiniTool Partition Wizard FreeClick to Download100%Clean & Safe
Step 2: Launch MiniTool Partition Wizard and click Disk Benchmark.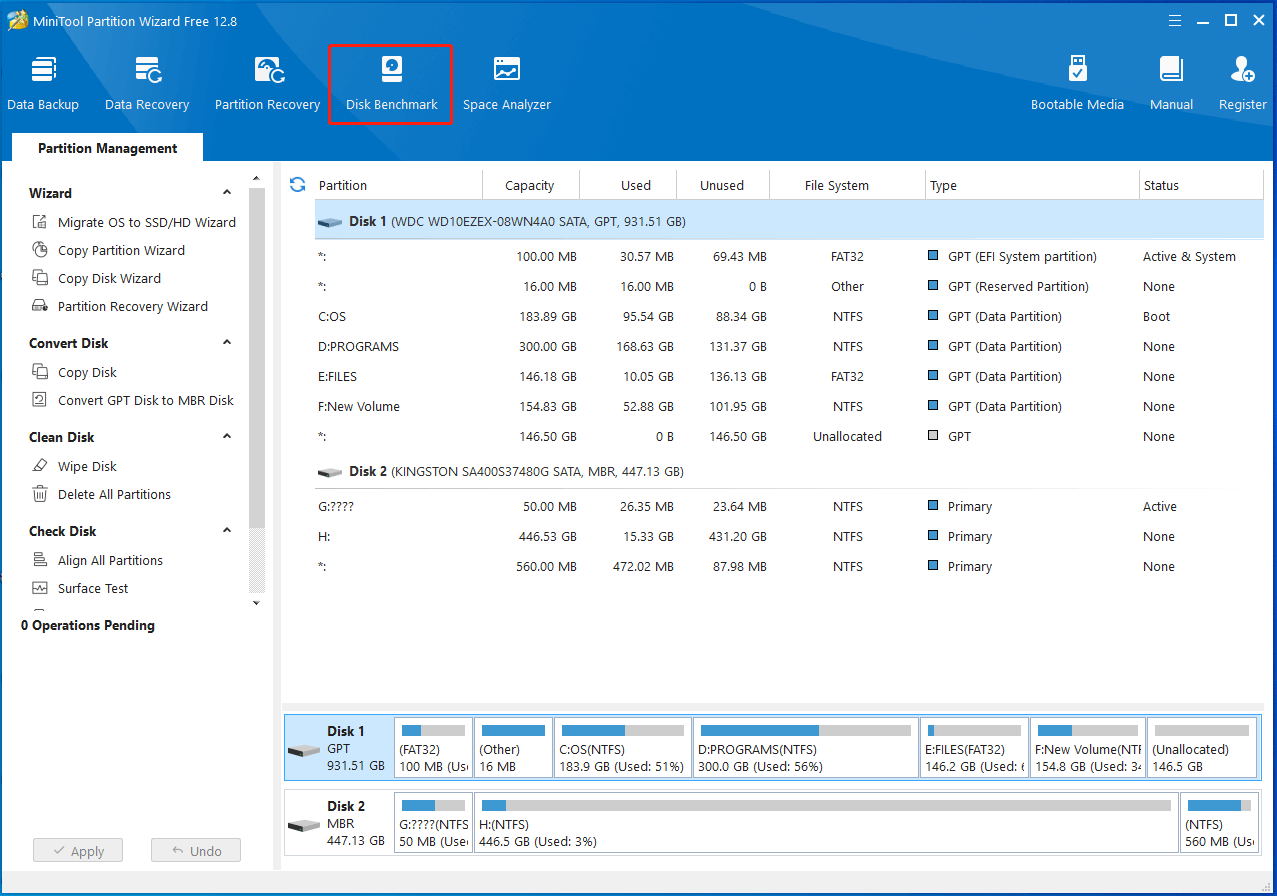 Step 3: In the pop-up wizard, choose the target drive and configure test settings based on your demands. Then click Start to begin the process. Once the test ends, test results will be shown to you.