Microsoft is planning to shut down Cortana. If you open Cortana, you will receive this message "
Cortana in Windows as a standalone app is deprecated
." This post from
MiniTool Partition Wizard
brings the details.
What Is Cortana?
Cortana is a virtual assistant developed by Microsoft, that uses the Bing search engine to perform tasks such as setting reminders and answering questions for the user.
It was demonstrated for the first time at the Microsoft Build developer conference in San Francisco in April 2014, as a key ingredient of Microsoft's planned "makeover" of future operating systems for Windows Phone and Windows.
Cortana has ever expanded to Windows 10 desktops and mobile devices, Android and iOS devices, Xbox One, and Amazon Echo.
However, since 2019, Microsoft has begun reducing the prevalence of Cortana and converting it from an assistant into different software integrations.
In April 2019, it was split from the Windows 10 search bar.
On March 31, 2021, the Cortana mobile app was shut down globally.
On June 2, 2023, Microsoft announced that support for the Cortana standalone app on Microsoft Windows would end in late 2023 and would be replaced by Windows Copilot and Bing Chat AI.
Cortana in Windows as a Standalone App Is Deprecated
Microsoft has shut down its Cortana app for Windows 11. If you attempt to launch Cortana on Windows 11, you'll be informed that Cortana in Windows as a standalone app is deprecated.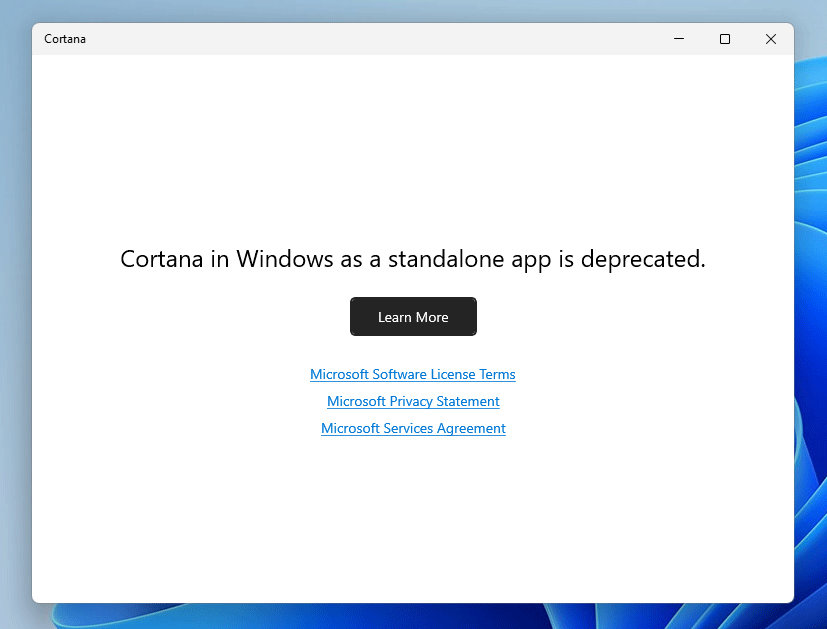 Is Cortana deprecated thoroughly? According to Microsoft's statement, it is now planning to end support for Cortana in Teams mobile, Microsoft Teams Display, and Microsoft Teams Rooms "in the fall of 2023." But, Cortana inside Outlook mobile "will continue to be available."
Why does Microsoft shut down Cortana? The direct reason is that Windows Phones are not very popular and Cortana struggled to compete with rivals like Alexa or Google Assistant.
What Replaced Cortana?
Although Cortana is deprecated, Microsoft offers new features to replace the Cortana. For example:
Voice access in Windows 11: It lets you control your PC and write text using your voice. You can use voice commands to open and switch between apps, browse the web, and read and write emails.
The new Bing: It lets you ask complex questions and get concise answers from reliable sources on the web.
Microsoft 365 Copilot: It uses your Microsoft 365 data—such as your calendar, emails, chats, documents, and meetings—to help you create, edit, share content, and more.
Windows Copilot: It acts as your personal assistant, helping you take action, customize your settings, and seamlessly connect across your favorite apps. It does better in copy/paste, Snap Assist, Snipping Tool, personalization, and other functions. It can also answer a range of questions from simple to complex.
Tips:
Some features are still in the Windows Insider version.
Bottom Line
MiniTool Partition Wizard is a functional tool. It can migrate OS, clone disk, recover partitions, recover data from hard drive, etc. If you have this need, download it to have a try.
MiniTool Partition Wizard DemoClick to Download100%Clean & Safe