What is Windows Copilot? When will it be released? How to use this feature? This post from MiniTool Partition Wizard will give you the answer. In addition, if you have some ideas about this feature, you can share them with us in the comment zone.
Microsoft Announced Windows Copilot
Since the advent of ChatGPT, AI has become hot again. Many programs have begun to integrate AI components. For example, Microsoft is integrating AI into its search engine, Edge browser, Microsoft 365, and Windows 11 as well.
This company uses ChatGPT to power "the new Bing" and then integrates the AI-powered Bing search into Microsoft Edge. This tool is called "Edge Copilot", "Bing Chat", or "Discover". This tool can deliver better searches, more complete answers, a new chat experience, and the ability to generate content.
After that, Microsoft starts integrating intelligence into Microsoft 365. The Microsoft 365 Copilot can be used throughout Microsoft's Office suite. This tool offers many powerful functions like quickly summarising long email threads or analyzing great swathes of spreadsheet data.
Now, Microsoft starts integrating a Copilot AI assistant into Windows 11. Microsoft announced this news at its Build event in May 2023. When does Windows Copilot launch? It will be available in preview to beta testers in June and be available to the general public later this year.
How Does Windows Copilot Work?
Like Cortana, Windows Copilot will have a separate button front and center on your taskbar. It's simple to find and use. Once open, the Windows Copilot sidebar stays consistent across your apps, programs, and windows, always available to act as your personal assistant.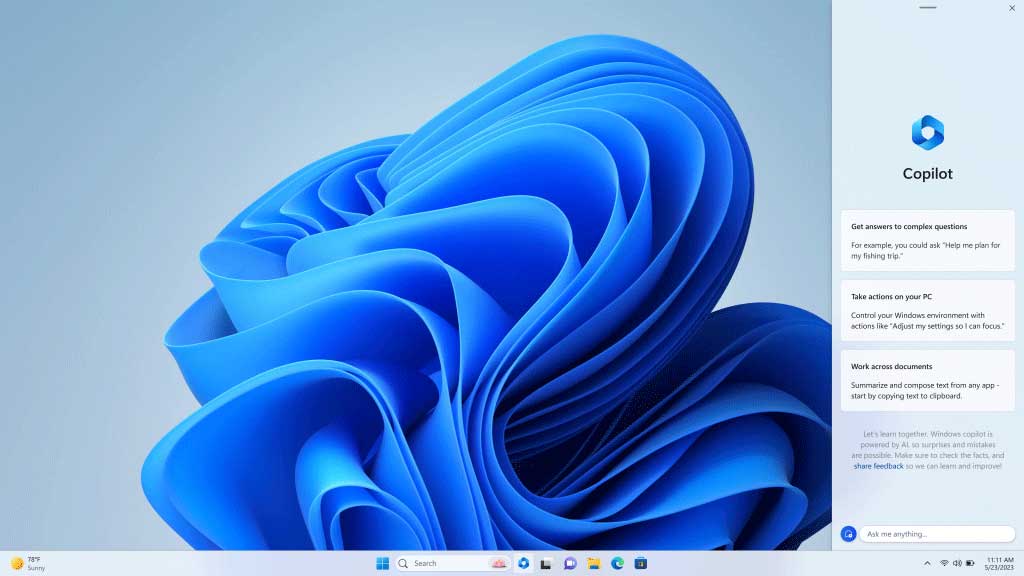 It makes every user a power user, helping you take action, customize your settings and seamlessly connect across your favorite apps. It can do better in copy/paste, Snap Assist, Snipping Tool, personalization, and other functions. For example, you can not only copy and paste, but also ask Windows Copilot to rewrite, summarize, or explain your content.
Just like you would with Bing Chat, you can ask Windows Copilot a range of questions from simple to complex. It will provide a precise response rather than a series of article recommendations.
In addition, Microsoft is extending Bing Chat plugins to Windows. With Bing and ChatGPT plugins in Windows Copilot, people will not only have access to augmented AI capabilities and experiences, but you as developers will also have new ways to reach and innovate for your customers.
Other Technologies Introduced in the Build
In addition to the above technologies, Microsoft also introduced other technologies including:
The new Hybrid AI loop to support AI development across platforms, and across Azure to clients with new silicon support from AMD, Intel, Nvidia, and Qualcomm.
Dev Home designed to help every developer become more productive on Windows.
The new AI features and experiences in the Microsoft Store on Windows.
If you want to experience them in advance, you can try the Preview Build that will be released in June.
How to Install/Upgrade to Windows 11 Insider Preview Build Safely
MiniTool Partition Wizard and help you manage disk better. Download it to have a try. 
MiniTool Partition Wizard DemoClick to Download100%Clean & Safe
Bottom Line
MiniTool Partition Wizard can help you clone the system, manage disks better, and recover data. If you have this need, you can download it from the official website.