Are you having trouble with the cannot delete files on exFAT drive problem when you want to delete files on the exFAT drive? If so, you come to the right place. This article from MiniTool Partition Wizard will provide 2 feasible ways to help you solve this issue.
Here is a true example from the Superuser forum:
When I go to delete/create/modify a file from a flash drive that is formatted with exFAT when Windows says the drive needs to be checked for errors, I cannot delete any files.https://superuser.com/questions/902104/cannot-delete-files-on-exfat-flash-drive-without-running-chkdsk
Why Cannot Delete Files on exFAT Drive?
You may want to delete files on exFAT drives without running CHKDSK. However, when you do this, you may encounter the problem that cannot delete files on exFAT drive, or even create, or modify files. Why? You can open Command Prompt and run the command line: Fsutil dirty query G: (G: is the letter of the exFAT flash drive).
If it's "dirty", that's why you cannot delete files on exFAT external drive. This is because this type of file system has automatic protection against corruption, so it prevents further changes by adding a dirty state to the volume and a read-only attribute to all files.
Tips:
Before following complicated schemes, you should try to check the write protection switch. If the exFAT drive is write-protected, you also cannot delete files on exFAT drive, nor can you make any changes to the exFAT drive, including creating and modifying files.
Ways to Can't Delete Files on exFAT Drive
When the files on exFAT cannot be deleted, you can run the command "Fsutil dirty query X:" to check whether the hard disk is damaged. If it is 'dirty', then you have only 2 options – either you run the CHKDSK or you save your files and reformat the flash drive.
Option 1: Run CHKDSK
The CHKDSK tool will help you remove the dirty and remove the write protection. The steps are as follows:
Step 1: Press Win + R to open the Run dialog box. Then type cmd and press Ctrl + Shift + Enter to run Command Prompt as administrator.
Step 2: In the Command Prompt window, type the chkdsk g: /f /r /x command and press Enter.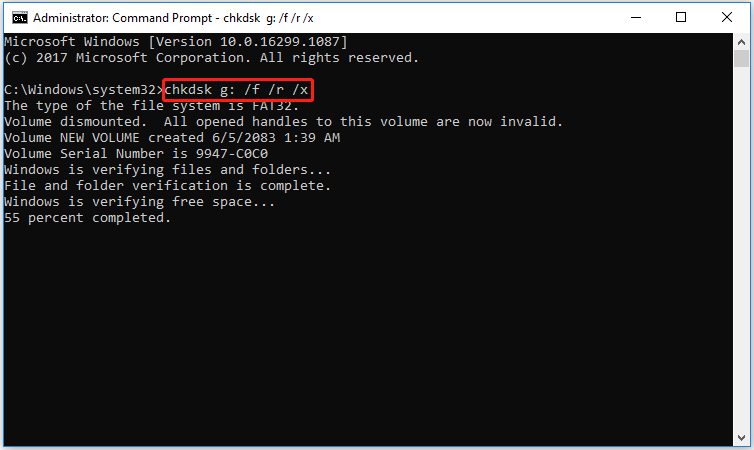 Tips:
"g" represents the hard drive partition letter.
Option 2: Reformat the exFAT Flash Drive
Reformatting exFAT flash drives is another effective way to remove dirty and write protection. Since the formatting process erases everything on the drive, please back up your data. You can then reformat it using Disk Management or DiskPart.
However, you may encounter the "disk is write-protected" problem during the formatting process. Therefore, you should resort to third-party software to make it. And if the drive is larger than 32GB, you may find that there is only the NTFS file system option and no exFAT format option.
Therefore, we recommend you use MiniTool Partition Wizard. Not only because it is easy to use but because it offers a variety of file systems like exFAT, Ext2/3/4.
To format the exFAT drive with MiniTool Partition Wizard, you can follow the steps below:
MiniTool Partition Wizard FreeClick to Download100%Clean & Safe
Step 1: Launch the MiniTool Partition Wizard to enter its main interface.
Step 2: Highlight the partition of the exFAT drive and choose Format Partition from the left action panel.
Step 3: Select exFAT for File System and then click OK to continue.
Step 4: Click on Apply to execute the pending operations.