Do you get the error message "
bad GPT partition invalid signature
" when using TestDisk? How can you fix this error? Read this post from
MiniTool Partition Wizard
to know the answer.
TestDisk is a free data recovery utility. It helps you recover lost partitions when symptoms are caused by faulty software, certain types of viruses, and uncertain errors. It can also be used to fix some file system errors.
After using TestDisk to analyze the current partition structure, you can find the exact problem with the disk. "Bad GPT partition, invalid signature" is one of the common problems. The error is as shown in the picture: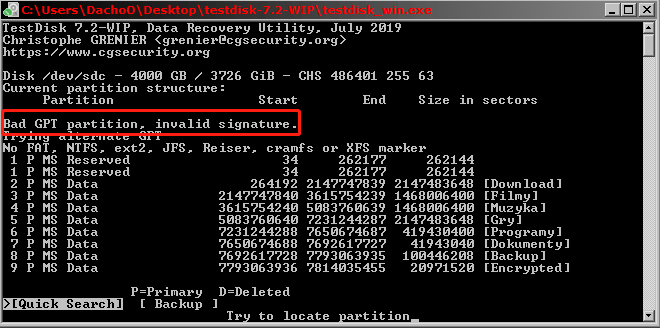 How to Fix Bad GPT Partition Invalid Signature
You can repair the corrupted GPT partition with TestDisk. You can not only check disk/partition errors but also fix them with TestDisk. So, follow the steps below to perform GPT partition recovery in Windows 10/11 with the help of TestDisk.
Step 1: After the error is reported, confirm at Quick Search to proceed.
Step 2: When all the partitions are found, highlight each partition and use the left/right arrow keys to change partition characteristics. Then press Enter to continue.
Step 3: If all partitions are listed right, confirm at Write with Enter and then y and OK. Then partitions will be registered in the partition table.
Tips:
If there are partitions not found in Quick Search, you can go to Deeper Search before you write partition structure to disk.
Use MiniTool Partition Wizard as the TestDisk Alternative
Using TestDisk may be a little difficult because it has no GUI. For those less experienced users, using this tool is difficult. Fortunately, you can find the TestDisk alternatives. MiniTool Partition Wizard is a professional disk/partition recovery software.
What's more, it is a comprehensive tool that can check and fix file system errors, migrate the Windows operating system, rebuild MBR, convert FAT32 to NTFS (verse vice), and so on.
MiniTool Partition Wizard DemoClick to Download100%Clean & Safe
Step 1: Download and install MiniTool Partition Wizard on your PC. Then launch it to get its main interface.
Step 2: In the main interface, click on Data Recovery on the top toolbar. Here Data Recovery will list 3 parts: Logical Drives, Devices, Recover From Specific Location.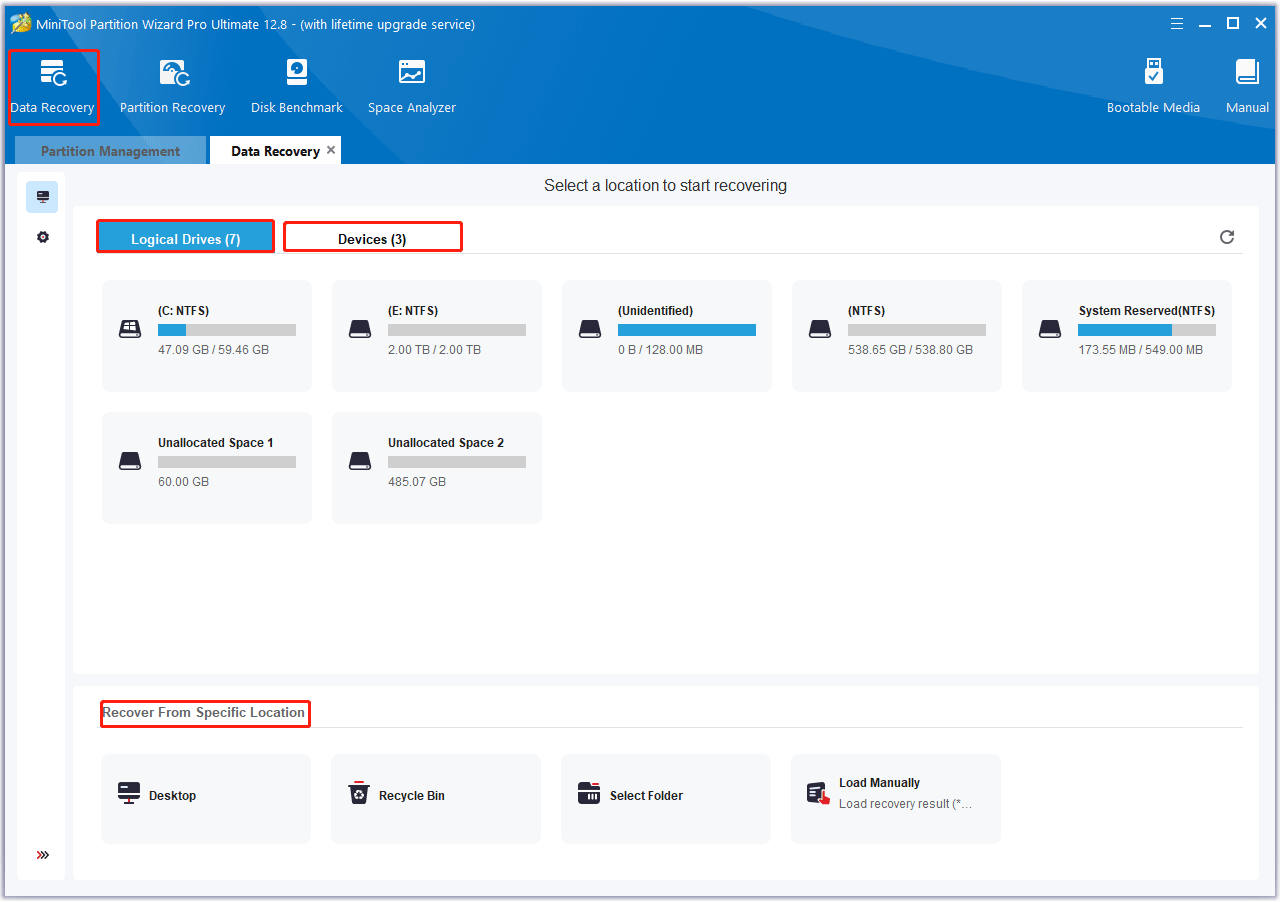 Step 3: Now, select the target hard drive and click on Scan to start scanning.
Step 4: After the scanning is completed, the scanning result is shown in the following picture. You can double-check each folder to view the contents. And check all items that you need to recover and click on Save.
Tips:
Feature like Filter can help you find files faster. Besides, you can preview the files that you want to save.
Step 5: In the pop-up window, select a directory to save the recovered data and click on OK.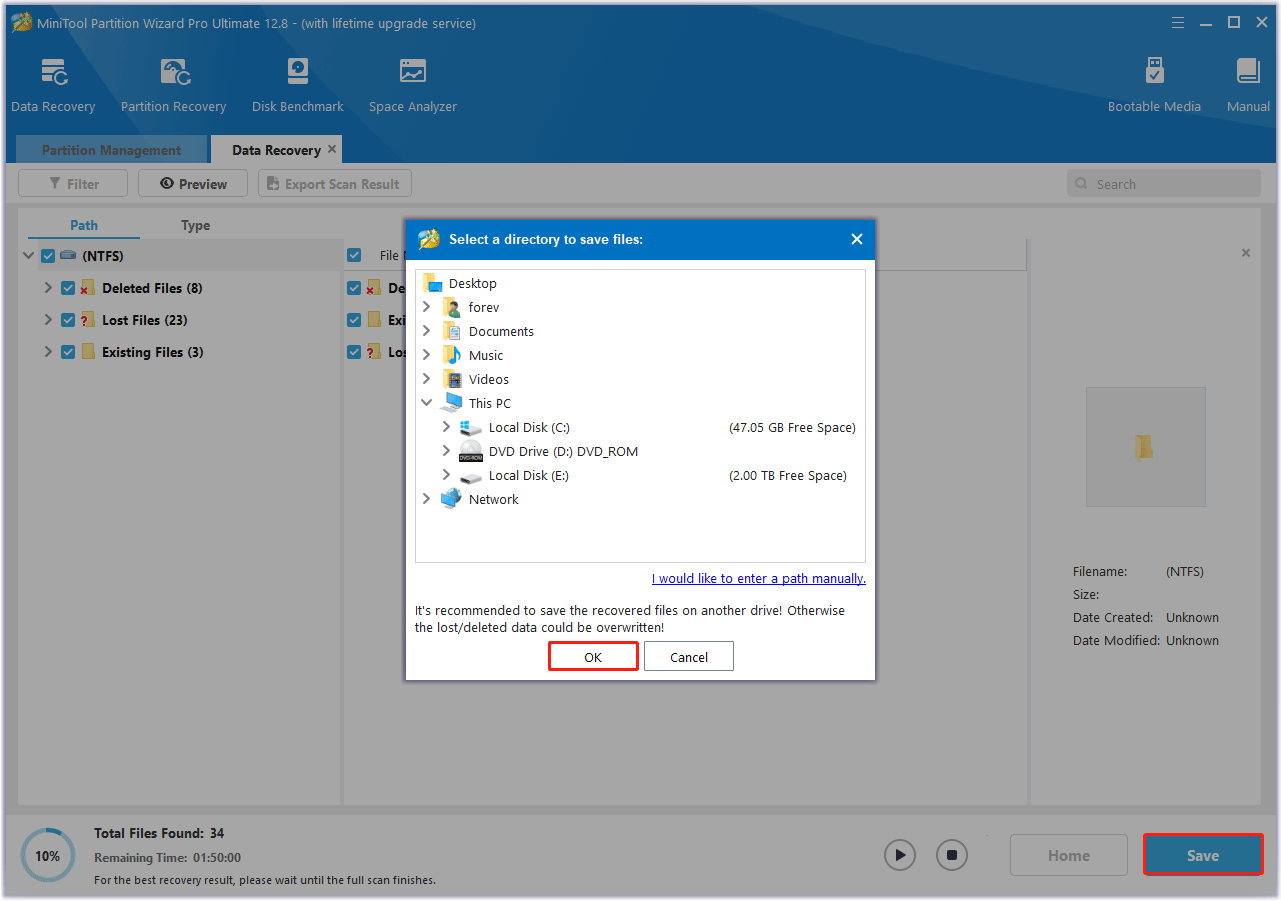 Note:
You'd better save the recovered files to another drive. Otherwise, the lost/deleted data could be overwritten.
Bottom Line
This post provides a guide on how to solve the TestDisk bad GPT partition invalid signature problem. If you have any other solutions to this error, you can share them with us in the following comment zone. Besides, if you cannot use the TestDisk tool to recover some files, you can try the TestDisk alternative – MiniTool Partition Wizard.
MiniTool Partition Wizard DemoClick to Download100%Clean & Safe