The standard PS2 memory card has an 8MB capacity and some PS2 users are frustrated how fast 8 MB fills up. In this post, MiniTool talks about the memory card, including its usage, available on market, and common issues.
Although PS5 will be released at the end of 2020, the old-generation the PS2 has become the best-selling video game console of all time. As March of 2020, the console has sold almost 158 million units across the world. However, lots of PS2 users have some doubts about PS2 memory card. So, this post will take about PS2 memory card from different aspects.
PS2 Memory Card
PS2 comes with a memory card that uses NAND Flash that is a non-volatile form of memory that can be electrically erased and reprogrammed and the memory card is used to store data such as save files and in-game creations. Most likely PS2 users do not need a spare memory card as game save usually takes up at most 450KB and other saves only take up small space in the memory card.
I gather some common issues of "memory card PS2" from the internet and show the reasons and corresponding solutions. If you run into one of them, you can try to fix it by yourself. Let's see what they are.
PS2 Memory Card Won't Load
The first issue is PS2 memory card failing to load. It is as frustrating as Windows can't detect an external hard drive.
When your PS2 cannot detect the memory card, you should make sure whether there are something wrong with the memory card slot, the memory card or the PS2 console. You can examine them by inserting the memory card into a different slot of the same PS2 and connecting to a different PS2.
PS2 Memory Card Won't Save
If PS2 memory card won't save, the possible reasons are improper insertion and lack of capacity. So, there are two workarounds to fix this issue.
Examine the connection issue:
Check the memory card slot for any obstructions and check whether there is any dust, dirt, or grime on the memory card connector and slot. If you discover them, you can use a can of compressed air to clean them.
Free up the memory card space:
If the connect issue is excluded, you can move to check if the memory card free space is enough.
Power on your PS2 and make sure there is no disc on the system;
Select Browser from the Main Menu and choose the memory card from the browser menu.
Compare the amount of free space on the memory card and the space requirements of the game you want to save.
If the free space is not enough, you should delete some unneeded files by selecting them with the X button and then choosing the Delete option; you should replace the memory card if there is enough free space.
As we know, when hard drive fills up, it is not always useful to delete files from it. This goes the same on the PS2 memory card. So, if you often face "PS2 memory card won't save" due to lack of capacity, you should consider upgrading your PS2 memory card.
Some PS2 users seek for a larger memory card to get rid of the small memory card capacity:
What's the biggest PS2 memory card? I'm asking because I'm getting frustrated how fast 8MB fills up when I'm gaming, especially when GameCube offers a 1019 now that NEVER seems to run out.atariage.com
In the market, Sony PS2 memory cards are no more than 8MB, but there are many of non-Sony manufactured memory cards available for the PS2, like Mad Catz, Blaze, Nyko, and more, and the largest PS2 memory card is up to 512MB in the market.
Some PS2 users wonder whether these memory cards can be used for their consoles since they are not official peripherals for PS2. In fact, these memory cards do the same thing as a Sony memory card does and some even have additional features such as incorporating game cheat codes.
Now there are many memory cards for PS2 with different sizes, being 16MB, 32MB, 128MB, and 256MB.
16MB & 32MB PS2 Memory Card
As to 16MB and 32MB PS2 memory card, you can consider one from Katana. Kanata's official Sony-licensed PS2 memory card allows you to load, save, copy with ease. Furthermore, the memory card features MagicGate encryption as well as Kanata's ingenious comfort gripping and glow indicator light.
64MB & 128MB & 256MB PS2 Memory Card
If you want a 64MB memory card for your PS2, you can try one from Old Skool. This memory card is compatible with all PS2 systems and all PS2 games. With this card, you can load, save, copy, and delete game saves with ease.
For 128MB and 256MB PS2 memory cards, you can try Suncala's memory card. The memory card is fully compatible with Sony PS2 and PS2 Slim. Plus, it comes with an upgraded innovation chip that can process and save the games faster by 15% than the older version.
PS2 Memory Card Won't Format
As we know, formatting the PS2 memory card is necessary to be able to correctly save your games play data on the console. However, some PS2 users reported that they failed to format memory card with PS2. So, in this situation, is there any way to format this memory card?
You can try to format it on a Windows PC with ease. How to do that?
Note: You need to prepare a USB multi-hub adapter that serves as an extension to the USB ports of another device, such as a computer.
Step 1: Connect your PS2 memory card to a Windows PC.
Step 2: Open File Explorer where you should find your memory card. Right-click it and choose the Format option.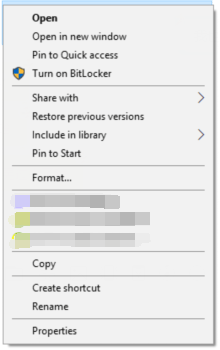 Or you can try MiniTool Partition Wizard that is a professional Windows-based partition manger. This program not only can help you format a memory card for PS2, but also is useful when PS2 memory card gets corrupted. How to use it? The whole process is simple.
MiniTool Partition Wizard FreeClick to Download100%Clean & Safe
Connect your PS2 memory card to a Windows PC.
Download the program, install it and launch it.
On the main interface of the program, check whether the memory card has been loaded. If yes, highlight it (here I take Partition H for example) and then choose the Format Partition feature.
Confirm the information (select FAT as the file system) on the Format Partition window and then click OK.
Click the Apply button to execute the changes.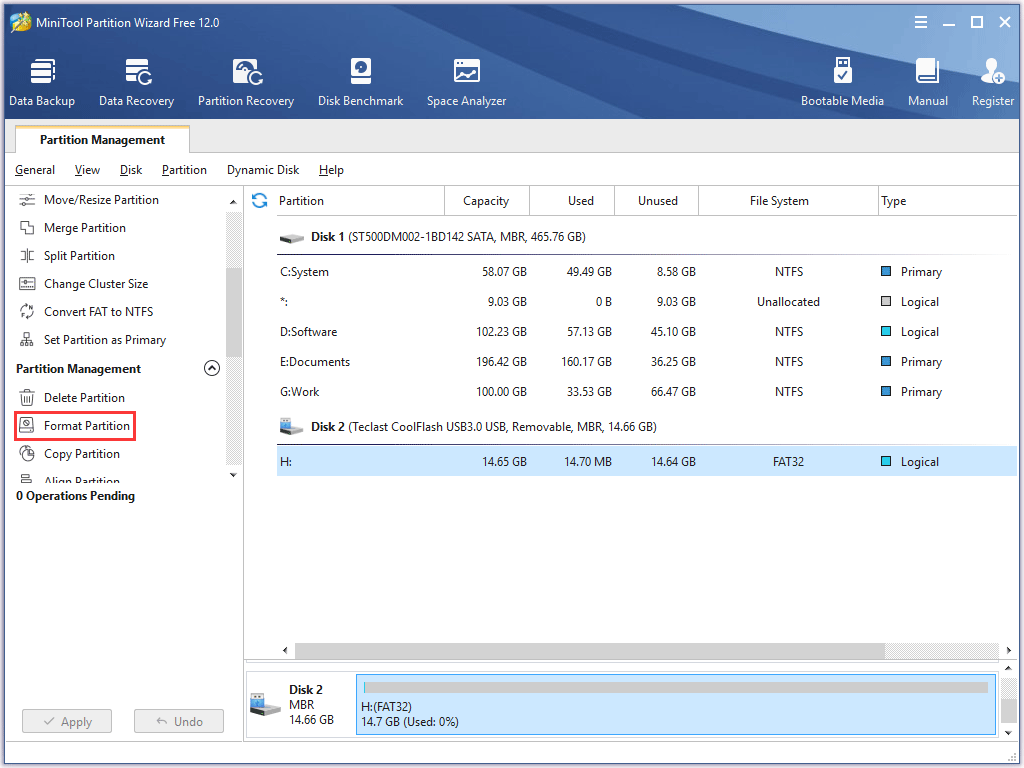 PS2 Memory Card Corrupted & Data Loss
Lots of PS2 users encounter PS2 memory card corruption. Once the issue happens, this means data loss. If you have no backup the files on the memory card, it could be said that data loss can be very agonizing, because Sony has stopped producing PS2 games since the end of 2012.
If you really want to retrieve lost data from your PS2 memory card, you can try one of the professional data recovery tools.
You can also try MiniTool Partition Wizard. Apart from the data recovery function, it also offers the Copy Partition feature for file backup. How to run MiniTool Partition Wizard to retrieve the data from PS2 memory card? Follow the tutorial below.
Step 1: Connect the memory card to a Windows PC.
Step 2: Purchase MiniTool Partition Wizard and install it on the Windows PC.
Step 3: On the main interface of the program, check whether the memory card has been loaded. If yes, click the Data Recovery function.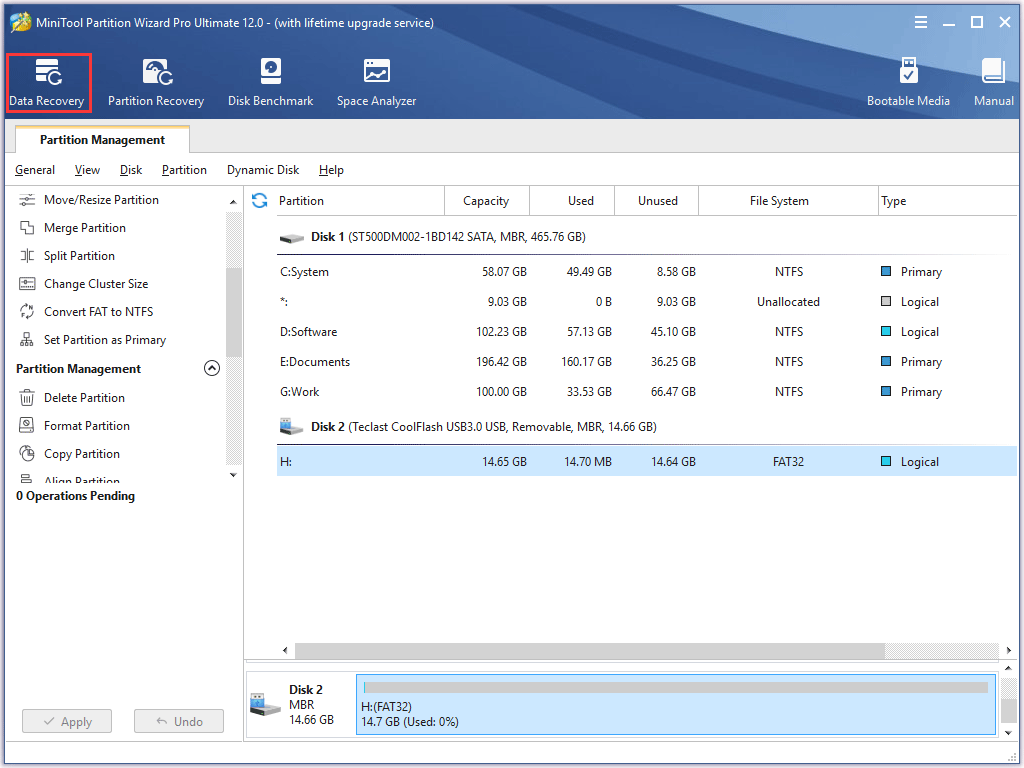 Step 4: Find the memory card and highlight it. Then, click the Scan button. Here I still take Partition H for example.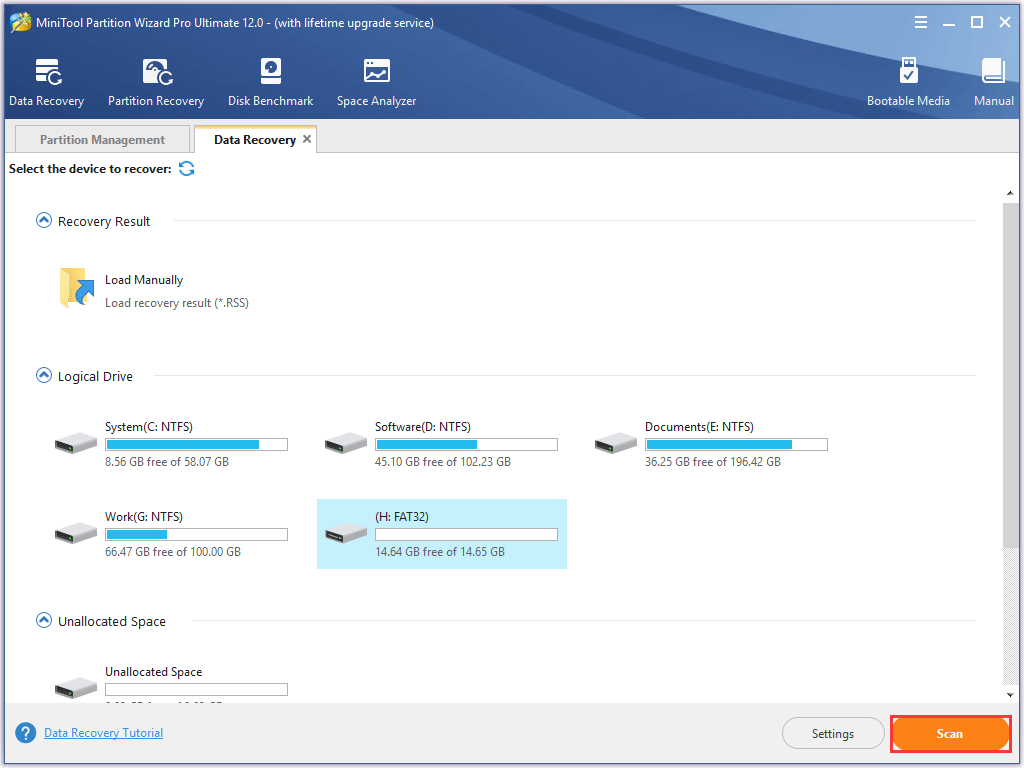 Step 5: Wait for some minutes and you will see the scanning result. Select the data you want to restore, and then click the Save button.
Cautions When Using PS2 Memory Card
To ensure that you can use your PS2 memory card for a long time and avoid some of the above mentioned PS2 memory card issues, you should keep the following cautions in your mind.
YOU SHOULD:
Store it with room temperature after use.
Put it in a place in the plastic cover after use.
Put it firmly in the memory card slot of your PS2.
Save the games you really need.
Check the data on it from time to time and delete those unneeded save games or files.
Try your best not to let it fall to the ground or bump into anything hard. 
YOU SHOULD NOT:
Put your fingers in the opening of the memory card where it connects to the PS2 memory card slot, which might damage the data on the memory card.
Try to open the PS2 memory card as exposing the innards of the card will, in most cases, make it usable.
Remove it while a game is currently saving. This might cause the memory card to be usable afterward.
I would like to share a post with PS2 users who have some doubts about PS2 memory card. The post elaborates the memory card from different aspects, including its size, common issues, as well as daily cautions.Click to Tweet
Bottom Line
Now, I finish what I want to share with PS2 memory card users. Have your doubts about PS2 memory card been dispelled?
Something might be missed out in this post and you can write other doubts down in the following comment zone if you want us to help you figure it out.
In this post, I share with you how to format a PS2 memory card and restore data from the memory card with MiniTool Partition Wizard. If you ran into some questions when using this tool, please feel free to contact us via [email protected].
PS2 Memory Card FAQ
What memory card does PS2 use?
PS2 uses a Sony memory card that has an 8MB capacity. There are many non-Sony manufactured memory cards available for the console, allowing for the capacity larger than the standard 8MB.
What is the biggest PS2 memory card?
The biggest PS2 memory card has 512 capacity. There are other sizes of the PS2 memory card, being 16MB, 32MB, 64MB, 128MB, and 256MB.
How long do PS2 memory cards last?
I can't say an exact number. How long you can use your PS2 memory card depends on how you treat it. Therefore, pay attention to What You Should Do and Should Not Do (I have talked out in the above content) when you use it.
Why is my PS2 memory card not working?
Generally, the possible reason can be the improper connection between the memory card and the PS2 console. And the other possible reason could be the corrupted memory card.