Normally, you can find your profile picture on the Settings window in Windows 10 and 11. However, some Windows users are vexed about the issue "profile picture missing on Settings". This post from MiniTool Partition Wizard provides with you some tricks to get back the profile picture in Windows 10 and 11.
The issue "profile picture missing on Settings" in Windows 10/11 could be triggered by the issues with the Microsoft account sync settings or temporary glitches. Based on these clues, several tricks to restore profile picture that is missing are generated. Keep reading.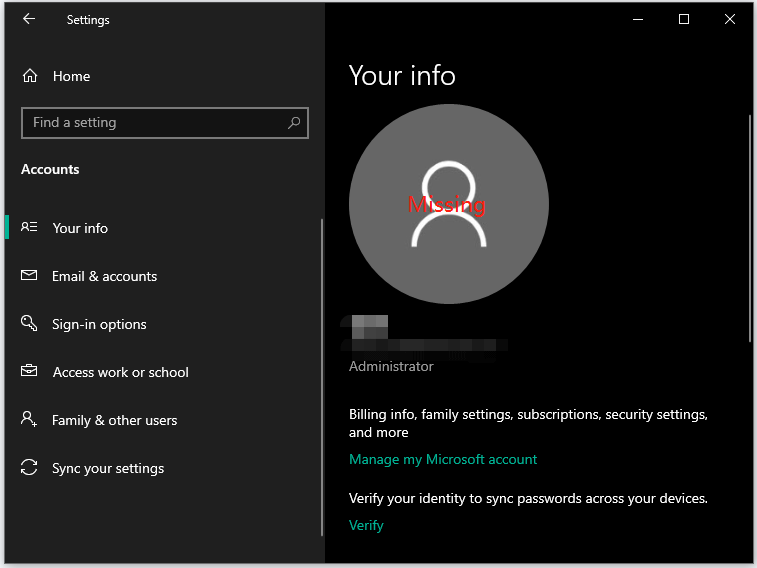 Trick 1: Verify Your Microsoft Account
First of all, make sure that you are logged in with the correct Microsoft account. For that, the steps go like this:
Click the Windows icon on the taskbar and then choose the Settings option.
Choose the Accounts setting and view information on the right side.
If every piece of information is correct, please move to the next trick.
Trick 2: Turn on the Sync Settings Option
Then, you can try to turn on the Sync settings option through Windows Settings because this helps you sync all your settings across devices using the Microsoft account.
Still on the Settings window, choose the Accounts setting.
Switch to the Sync your settings tab on the left side and then toggle on the switch for Sync settings.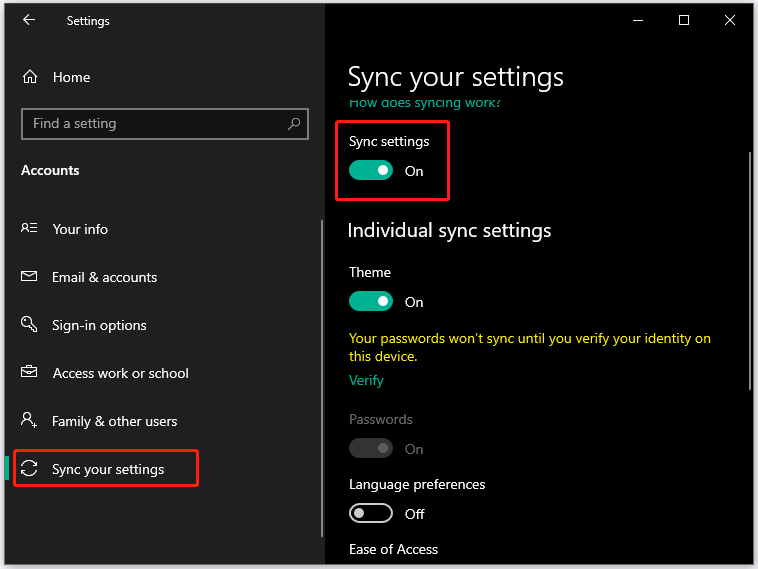 Now check if your profile picture comes back.
Trick 3: Re-add the Profile Picture
Maybe you can try to delete your profile picture and then add it again.
Here is how to do that:
Open File Explorer by pressing Windows + E.
Go to the path: C:\Users\username\AppData\Roaming\Microsoft\Windows\AccountPictures. Note that replace the word "username" with your username.
File Explorer will display all your profile pictures, and now you need to delete them.
Open the Settings window again and access the Accounts part.
Under the Your Profile tab, scroll down the right side to the Choose your picture section on where two options are available and choose one.
Follow the on-screen instructions to finish this trick.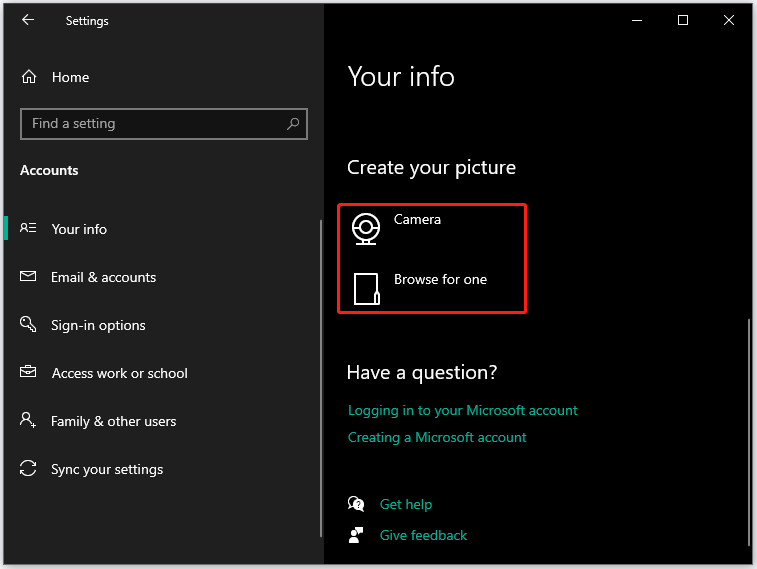 Trick 4: Update to the Latest Version
Updating to the latest version might fix the issue "profile picture missing" and restore profile picture because the Windows updates mean critical security patches and bug fixes.
For that, please follow the guide: Update Windows 11/10 to Download & Install Latest Updates
Have you fixed the issue "profile picture missing"? If none of the above ways is helpful, please try to restore your system to an earlier point in time where this issue did not happen or reinstall your system.
Bonus: How to Recover All Kinds of Pictures
You may have restored your profile picture through the above tricks. Let's see another highly-discussed question — how to recover missing pictures.
If some important pictures are missing in Windows 10 and 11, do not worry as you can use a recovery tool to get them back easily. Here MiniTool Partition Wizard is highly recommended.
MiniTool Partition Wizard is a professional partition manager with multiple functions from OS migration to disk/partition backup, from data recovery to partition recovery, and so forth.
Give MiniTool Partition Wizard a try to let it recover your missing pictures in Windows 10 and 11.